Today's Weed News for June 1st 2018 #COOKINGONHIGH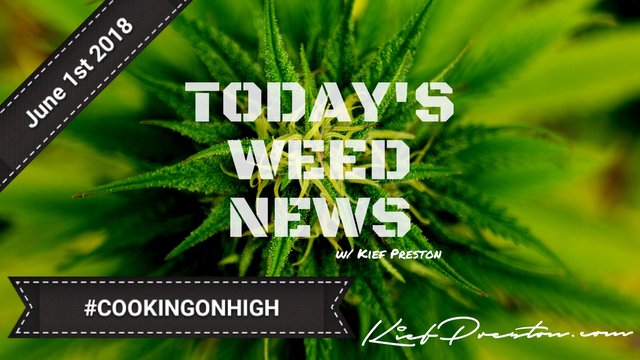 For today's weed news we go to Netflix.
Since cancelling Disjointed, its only weed-themed sitcom, Netflix has been looking for a show that would appeal to the ever-growing number of marijuana-friendly viewers. And they have found just the show!
A first-of-its-kind competitive cannabis cooking show called Cooking On High is comming Netflix next month.
The show will be hosted by comedian Josh Leyva as well as cannabis activist Ngaio Bealum (Cannabis Planet, West Coast Cannabis Magazine) who will serve as the show's "culinary weed expert".
Each episode will start with 10 chefs who are basically going to try to make the best-tasting edibles. Netflix is taking a pretty lenient approach and it looks like not only the judges but also the contestants themselves might actually be stoned during the show. That should make for some interesting moments in the kitchen for sure.
Picture Top Chef or Gordon Ramsay's Hell's Kitchen but where everybody has a couple ounces or even a QP and has to decarb it, perform extractions and make sure they finish on time, all while faded as hell.
Definitely sounds like something I would watch at least a couple times.
It's really starting to look like marijuana is about to go all the way mainstream! That's what's up.
source: bit.ly/2LOymTX
"Take Action Today to Help Legalize Weed Tomorrow" -Kief Preston
START HERE: http://kiefpreston.com/help-legalize-weed/
Wanna GROW? Free GROW BIBLE– http://bit.ly/2podIAg
FREE Harvesting Guide – http://bit.ly/2GIvl5o
If you enjoy my content please leave a comment, ask a question, like it, share it, and subscribe for more! It will help me grow my blog and motivate more people to stand up for cannabis and start enjoying its' many benefits.
Stay UP!
-Kief
▶ STEEMIT https://steemit.com/@kiefpreston.com
▶ Pinterest – http://pinterest.com/kiefpreston
▶ Youtube Channel – http://bit.ly/2GPQg64
▶ Kief Preston's Time-Tested Edibles Cookbook Series http://bit.ly/2EXIwAZ
▶ My website http://KiefPreston.com
▶ You can also support the cause by shopping on Amazon for ANYTHING you need using this link http://amzn.to/2GrxPog
More FIRE TRACKS from LMR & Mr Go Hard http://bit.ly/2plIWbe
▶ Hear me on Smoke Radio here: https://bit.ly/2uR8G4B
》》》Check out the Weekly Weed News 2.0 Podcast on Spreaker: https://bit.ly/2HjLf99 or on Itunes, Stitcher, Soundcloud and iHeartRadio.