Cannabis Cures Leukemia: Scientifically Documented Case Studies
Despite what the mainstream media tells you, there are hundreds of public anecdotes of people curing cancer with cannabis oil. Brave Mykayla aka Mykayla Comstock was diagnosed with an aggressive form of leukemia in 2012. When chemo failed and her cancer started to metastasize to her brain, her parents refused cranial radiation and started her on full-spectrum cannabis oil immediately. One week later she was in full remission. Ms. Comstock is now a healthy teenager.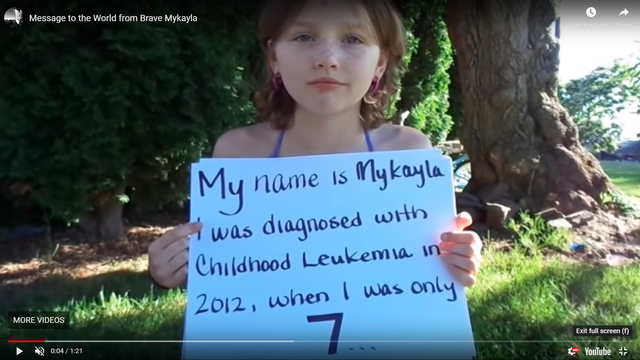 Case studies just like Mykayla's have been scientifically documented. The most noteworthy was P.K., a child diagnosed with an aggressive A.L.L. leukemia with a philadelphia chromosome mutation. P.K. underwent 3 years of chemo-radiation and bone marrow transplants, but the cancer spread to her brain and she was deemed terminal by her doctors.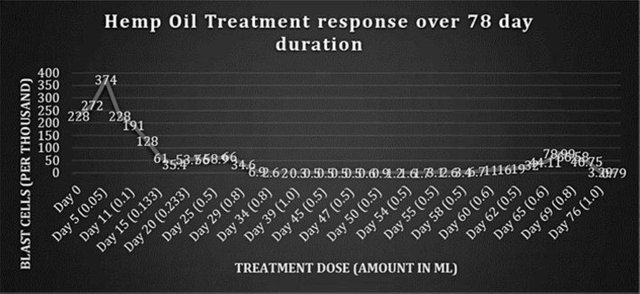 The parents decided to stop all treatment and administer cannabis oil for palliative care. However, a clinical observation revealed a rapid dose-dependent correlation of disease control not attributable to spontaneous regression or other treatment! She was treated at SickKids Hospital in Toronto, Ontario and her study was published in the Case Reports Oncology Journal in 2013.
Day 0: Blast cell count: 194,000 (tripled in 2 weeks)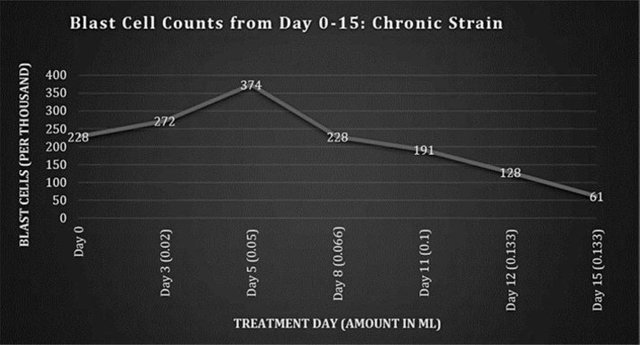 Day 0-15: Hemp Oil #1
Strain: Chronic (indica), 7.5 ml extracted from 2 ounces of dry bud using 1.2L 99% isopropyl alcohol boiled off in a rice cooker
Dose: Rice grain-sized drop of oil 3x daily
Symptoms: anxiety, increased appetite, fatigue
Blast count: reached a peak of 374,000 on day 5 followed by a decrease, correlated with the increasing dose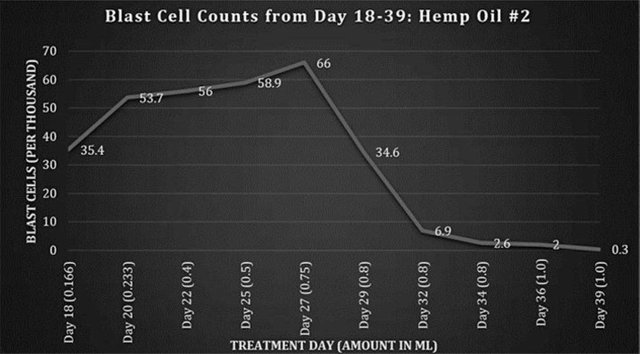 Day 18-39: Hemp Oil #2
"It was noted that administering the same dose [of a new strain] yielded a decreased response in terms of the side effects of euphoria and appetite, and the patient suffered more nausea with this hemp [cannabis] oil. The blast cells began to increase, demonstrated in figure22."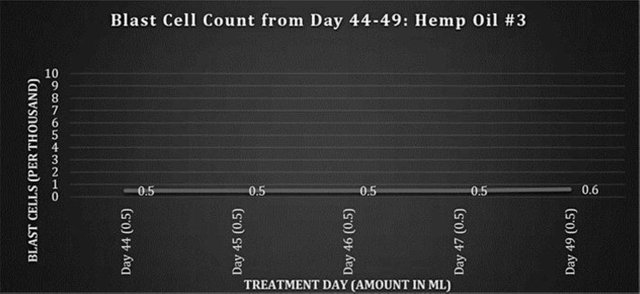 Day 44-49: Hemp Oil # 3
Strain: Afgan/Thai
Symptoms: a stronger psychosomatic response and increased fatigue
Dosing: reduced to 0.5ml twice daily due to hospital policy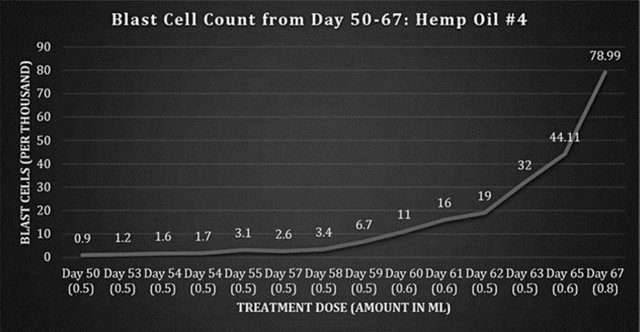 Hemp Oil #4
Dosing: intermittent until day 59, remaining at 1–2 doses per day of 0.5 ml and increasing to 3 daily doses on day 65 (see figure 44)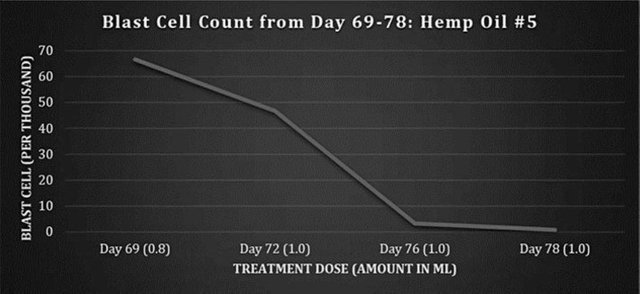 Day 69-78: Hemp Oil #4
Dosing was maintained 3 times a day at 1.0 ml
Although P.K. successfully went into remission just like Mykayla Comstock, she died of a bowel perforation caused by the years of chemo-radiation she received.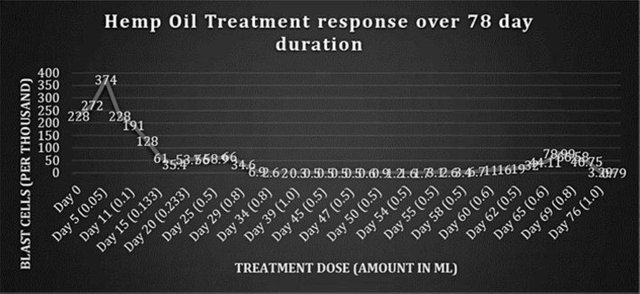 There's a common fallacy that if we even accept the idea that cannabis may treat cancer, that parents will recklessly abandon mainstream treatment for cannabis oil...and think of the children - they could die because of that!
This is easily debunked because you can co-administer cannabis oil with standard treatment, and it only takes days to weeks to find out if a particular strain is working. Let's not even get into the cognitive dissonance of how much harm chemo-radiation are proven to cause and how ineffective they really are.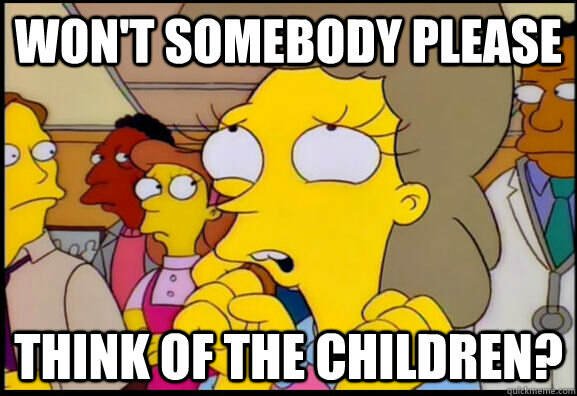 The only reason Mykayla lived and P.K. didn't is because Mykayla had an awake, critically-thinking mother who did her research and advocated for her daughter instead of just blindly trusting the system and waiting for her to die. It's a repeating theme with these anecdotes, that people wait until it's (almost) too late!