How to germinate your Seeds / Wie ihr eure Samen am besten keimen lasst
English
If you ever bought some seeds and wonder why they don't want to germinate? Then look at this little picture and follow these steps. If you do it you can reach a germination rate up to 90%.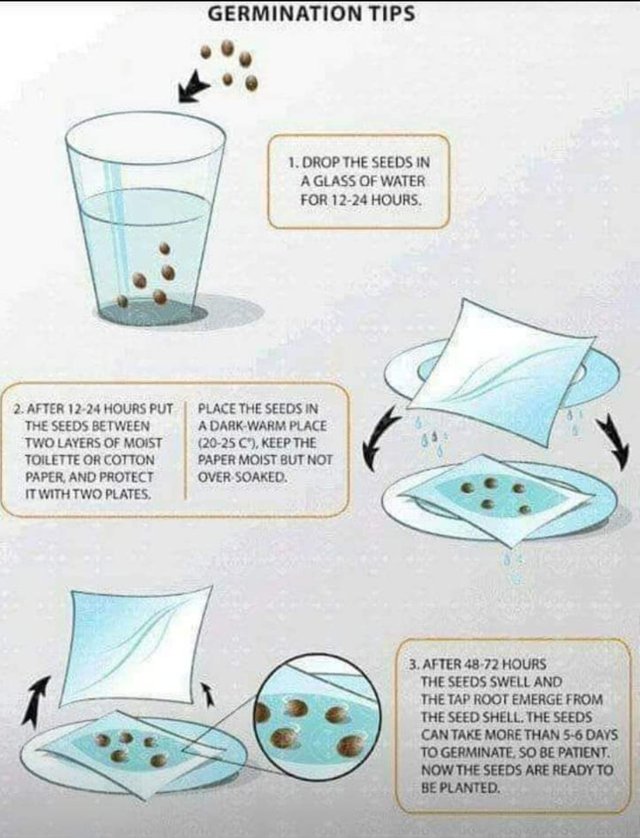 Deutsch
Wer schon einmal versucht hat Samen keimen zu lassen, wird sich wahrscheinlich gefragt haben warum so wenige aufgegangen sind. Cannabis Samen lieben es nass, darum gebe ich euch folgende Anleitung, damit es auch bei euch klappt.
Lasst die Samen in ein Wasser Glas für 12- 24h, ihr erkennt, dass sie sich vollgesogen haben daran, das sie auf den Boden des Glases sinken. Sollte ein Samen auch nach 24h noch oben schwimmen, könnt ihr ihn etwas nach unten stupsen, manchmal ist noch etwas Luft in der Schale, die so entweichen kann.

Nun holt ihr die Samen aus dem Glas und legt sie zwischen Nasse Zewa oder Toilettenpapier Blätter. Die Tücher müssen durchgängig Nass gehalten werden. Wer zu faul ist regelmäßig nach zu wässern, kann die Samen und Tücher zusammen in Folie einpacken, somit trocknen sie nicht aus.
Eine Ideale Temperatur liegt bei 20-25°C , und die Samen sollten im dunklen liegen.
innerhalb der nächsten Tage platzen die Samen auf und der weiße Keimling kommt zum Vorschein. Wenn ihr den Keimling entdeckt habt, lasst ihn noch etwa 12 Stunden auf seinem Tuch, damit er etwas wachsen kann und mehr Kraft für den Start hat.

Mit der weißen Wurzel nach unten ab in die Erde und fertig.