Hot Rods at AMCAR Grand Nationals
I'ts been a while since I've spent much time on Steemit now. I've checked in every once in a while, but with university and work requiring their fair share of time, I haven't really had the time to stay active. Meanwhile, my list of posts I want to write has been growing steadily. Seeing as I have some spare time today, I'll utilize the opportunity to write a short post.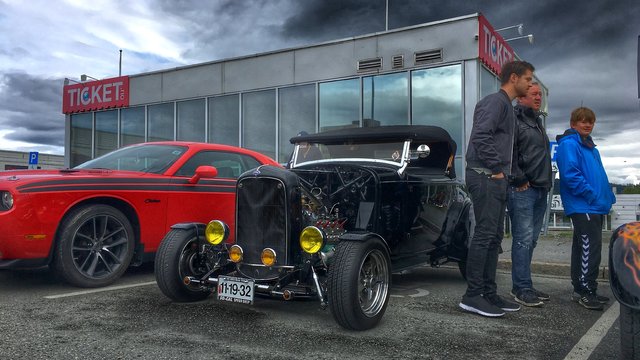 AMCAR Grand nationals
It was at the end of this summer, just after getting back to Trondheim, that I noticed an abundance of American cars cruising around town. It turns out that there was a car show just a 15 minute's drive away. I took a load of pictures, and as I've done in previous posts, I'll divide the post into multiple parts, each focusing on a particular car genre.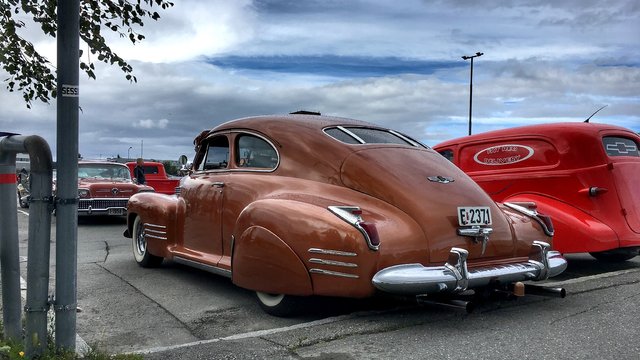 Hot rods
Let's start with the hot rods. One might argue that all cars found at an event targeting classic American cars could be considered hot rods, but in this case I've limited myself to cars which have that classic hot rod look with a track width which exceeds the main body width, with protruding fenders, or no fenders at all.



1939 Chevrolet De luxe
This wagon seems to be a regular at these car shows. Seeing it from the front really makes you realize just how wide those rear wheels are, which might be needed, considering the power from the 5.7 liter v8.



1933 Chevrolet Master
This car silently drove past me the day before, way below my eyesight! This one has a 5.7 liter v8 engine as well, and a super clean two tone paint job. Wagons are so underestimated!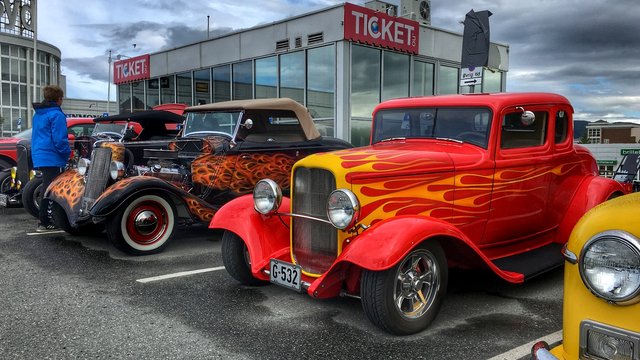 I like this picture because it shows off the diversity in hot rod culture. The cars are both Fords, separated only by a few years, and they are both sporting flame paint jobs. Still, the two cars are so different! Each car has avery distinct style, yet they both look awesome in their respective ways.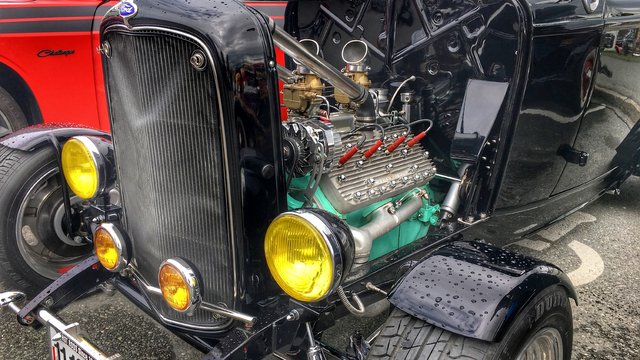 It always surprises me just how small these flathead Ford v8 engines are!



1946 Dodge D24 Coupe
Among all the badass-looking cars at the show, this one stood out with its sheer beauty. Knowing how these cars look in their original form, it's impossible not to be blown away by the completely redesigned body shape!





School bus
Something I did not expect to witness was this super rad school bus. I don't have any info on it, but I guess the images speak for themselves.




1937 Ford pickup
While this might initially just seem like a tastefully modified pickup, the Corvette wheels suggest that there might be more to this car than what first meets the eye. I'm not sure about to what extent the chassis is modified, but in place of the original engine, there is now a newer generation 5.3 liter v8.





When I approached this ratty car, its engine was revving like crazy. Turbo noises were everywhere and the shaking piping was a witness of the excessive turpo pressure the engine was making. I unfortunately don't have any info in this car, but I hope to see it again someday, preferrably in motion.
Thanks for reading. It feels great to spend some time on Steemit again. Make sure to check back at an unknown time in the future to hopefully catch part 2!