You've got mail ✉️...from Soju on actifit
Dear Linny,
This is Soju, the cat, and not my mum @supersoju, the crazy cat lady on Steemit. I've been reading her messages to you. Do not believe her claims that she's a slave in this household.
Dad and I are the slaves.
She is truly the laziest woman on the STEEM blockchain and Earth combined!
Sometimes dad and I check to see if she has a pulse, and the results are always inconclusive! I'm frustrated, I really want to post an actifit report but I can't. My little brother, robot vacuum, and I are trying to get the steps for her. But then she complains about her ankle.
Her ankle?!
How is that relevant when she wasn't even the one moving?!
My mum is nutty going on senile; I worry about her. She needs to get off her backside and do real exercise. Not her gimmicky attempts like her latest purchases. She bought a vibrating plate and a sauna suit on my eBay account! Now, I just internally roll my eyes when she's holding her giant phone standing on her vibrating plate wearing what looks like a garbage bag.
"I'm working up a sweat, Soju!" she'd say. "The harder I'm vibrating, the more steps I'm getting!"
Is she cheating the rules of @actifit?
Does artificially generated movement actually count, Linny?
Why can't she just go for a walk with her phone like normal people?
Anyway, I know you miss our posts, I'm doing everything I can.
Mum...well....
She's doing absolutely nothing! Besides giving herself nerve damage from all the unnatural shaking, and potential heat stroke walking around wrapped in plastic!
Here's an example of her actifit attempts!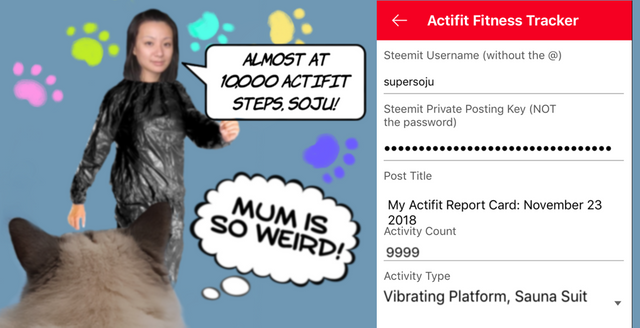 Meeeeeeeeeeow!!
Soju the frustrated cat
My other letters:
My little brother, robot vacuum
My secret life and cool friends
My crypto investment in eBay coins...