Update time: Peanut and Yoda go to the vet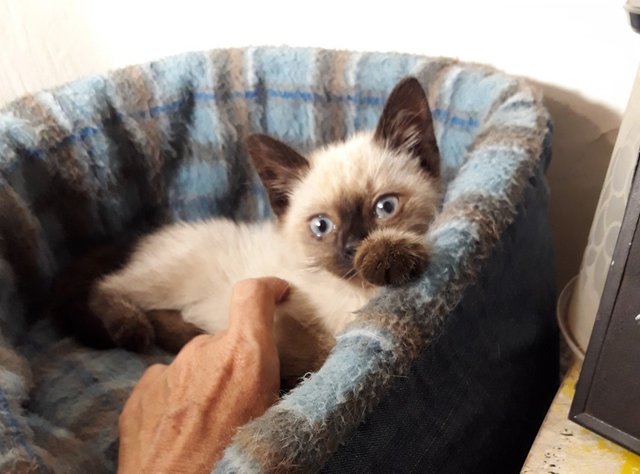 Peanut has progressed very well, gaining confidence and trust. He still tends to run away if approached although he comes back if called and he comes to the door when I first come in in the morning with his tail held high, a friendly sign. He also lets me pick him up and so I thought that he would be ok to go for his first vet visit and vaccinations.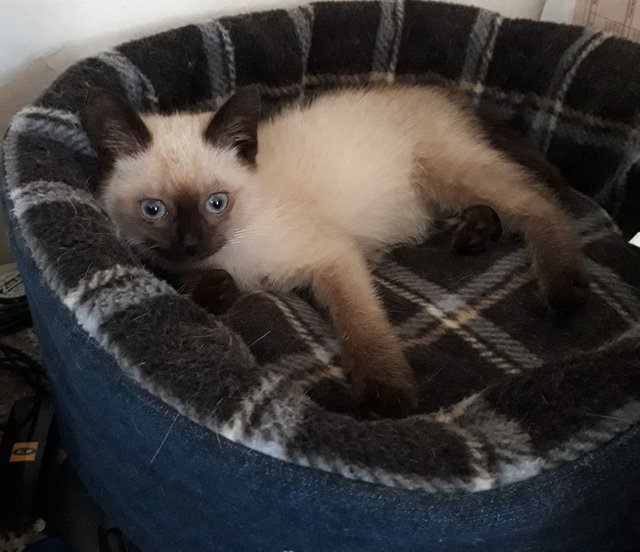 All in all, it went well: he didn't freak out in the car and met the vet and allowed her to handle him without too much fear. I was worried that he would be retraumatised but he shows no sign of regression to a fearful state.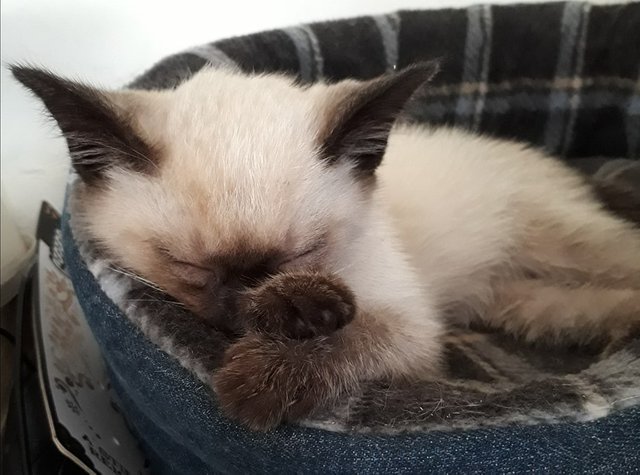 taking a nap after the vet visit
After we got home, he was lethargic and a bit unhappy for a few hours but that's to be expected. Kittens can become feverish as they mount an immune response to the vaccinations. My vet estimated his age at about 10 weeks which shows just how young he was when he turned up three weeks ago at the shop where I work. She says he's a little pot bellied and recommended that I deworm him again. I put kitten Revolution flea treatment on him 10 days ago as he had plenty of fleas and that also kills some worms but it's likely that he also has tapeworms from the fleas.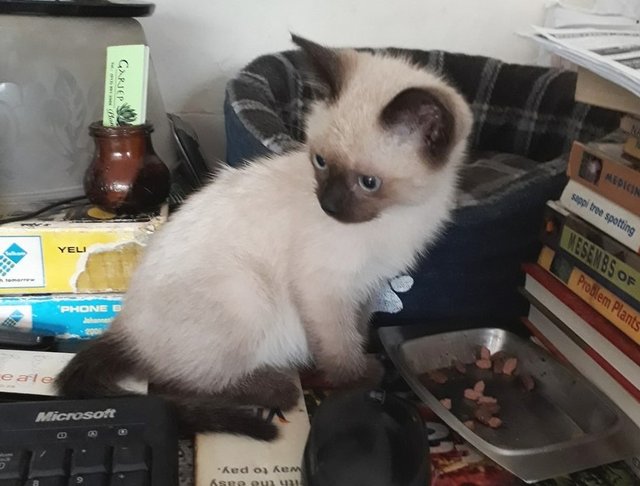 Like all good cats, he prefers to conduct his business wherever my attention is focused, so, eating on my mousepad is mandatory. Naturally, I obliged and moved my mouse to the books
Yoda, as I mentioned here, is a rather difficult cat but he was well behaved at the vet this time and although she said she hasn't seen anything like his paws before, she was prepared to treat on a presumptive diagnosis of Pillow foot because there aren't any conditions that look exactly like this and she didn't want to go cutting out bits of his paw for biopsy as healing could be difficult. I was very relieved, because that was going to be very expensive and I am broke.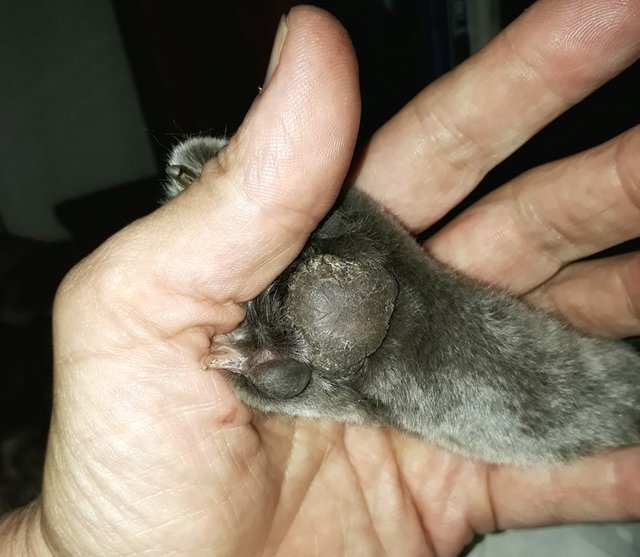 Pillow foot is a rare autoimmune condition and the preferred treatment for this is 60 day course of Doxycycline, because it modulates the immune system. I had to laugh though: she knows what Yoda is like and she only gave me one week's worth of tablets saying "we aren't allowed to accept returns of unused medications so before I make you pay for lots of tablets, let's see if you can actually get these pills into him. If you are successful, come back for more."
Yoda takes tablets, it's just that you are likely to bleed a lot during the process and he might decide that he would prefer to live outside even more than he currently does. So far, we are one down, 59 to go. Wish me luck