Alertgy NICGM for diabetics won NASA iTech 2019 (cycle II)

Noninvasive CGM for diabetics by Alertgy
Noninvasive CGM for diabetics has been introduced on NASA iTech Cycle II with a great success. This is the presentation of this product which has been presented on this event.
https://livestream.com/NASAiTech/2019Cycle2/videos/197946049
It is a wearable continuous blood glucose monitor that provides accurate measurements without invasive probes or sensors. Some has been already announced - like SugarBEAT.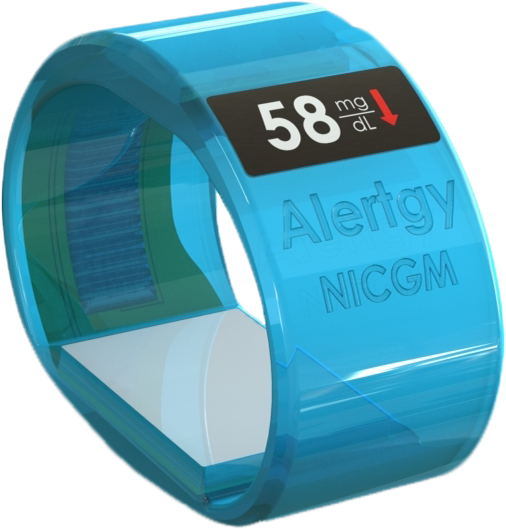 The Alertgy NICGM is a band that wears around a wrist that works with an app on a smartphone to measure the blood sugar. The band will be waterproof, hypo-allergenic, and is worn 24 hours a day.
When will it be available?
The goal is to have the device available for purchase no later than 2020 said Alertgy on their website, but I doubt that. If it will be here in 2022 it will be a miracle, in a good way.
The technology works and they are currently building a prototype. The Alertgy team will be refining this prototype over the next two years, with the input of diabetics. Alertgy will also make sure that it meets the requirements of the FDA. Alertgy goal is for the device to provide better readings then is currently possible using test strips and glucometers on the market.
So I hope it will be here soon, but I can not redeem the future.
Best wishes for all diabetics!
Alertgy vymyslel neinvazivní CGM pro diabetiky
Tento systém byl představen v druhém kole NASA iTech 2019, kde se setkal s velkým ohlasem a byl vybrán do finálového kola, ze kterého vzešel společně se dvěma dalšími jako vítěz. Na níže přiloženém videu je pak celá prezentace jejich CEO https://livestream.com/NASAiTech/2019Cycle2/videos/197946049
Mimochodem do stejného finálového kola NASA iTech 2019 se dostalo celkem 10 projektů mezi nimiž byl i český - baterie HE3DA (prezentace https://livestream.com/NASAiTech/2019Cycle2/videos/198047274), kteří ovšem tak úspěšní nebyli.
Když se vrátím k CGM pro diabetiky od Alergy, tak jen doufám v brzké ověření v praxi. Dle jejich předpokladů by to mohlo být někdy v roce 2020, no já si myslím, že to, když pánbů dá, bude nejdříve někdy v roce 2022.
Tak snad to vyjde!