Fifty-word challenge prompt for the week!
Hi everyone! It's time for a new Fifty-Word Short Story challenge. (Actually this post is overdue. Thanks for your patience! I got caught up on a "Ten Random Things About Me" post, among other things.)
If you're unfamiliar with the #fiftywords challenge, this is a weekly writing opportunity to see if you can write with extreme brevity. The goal is to craft an entire story in just 50 words. We have a community of writers who enjoy honing our skills by writing these micro-fiction short stories. I hope you'll join us.
There are a lot of goodies here. Each challenge post includes a short micro-fiction writing workshop, some story highlights from the previous week and a new challenge prompt.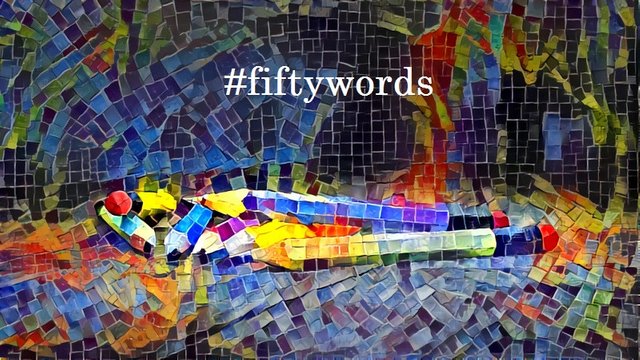 Source: Pixabay image by Monoar

Mini writing workshop
Let's talk about mainstream publishing. For me, that has been the ultimate goal since I started writing many years ago. But with one thing and another (a busy family life, insecurity, loss of focus), I have never really gotten to the point where I felt ready to submit work for publishing. Until now.
What has changed is time and commitment. I have a bit more time, and I've decided that nothing is going to get in the way of pursuing this dream.
I love publishing my stories on Steemit, because it is immediate gratification. But I really do want that validation that will come from having my work accepted by an editor and produced in a literary magazine.
There are many ways to pursue publication, but I wanted to share one specific opportunity for you, Fifty Worders: an ongoing 50-word short story contest where you can submit work: https://fiftywordstories.com/.
Exciting, hmm? Please let me know if you try it and get accepted! I plan to do so as well, and will report back.
Okay, let's survey the 50-word stories from last week!

Last week's story collection
I'd like to welcome our newest contributor,
@blueeyes8960
. Thanks for joining the Fifty Worders!
Here is the complete list of stories inspired by last week's "pumpkin" prompt. I hope you will read them all:
If I missed yours, please let me know and I will add it! I always try my best to list them all, but I do occasionally miss one.
Highlights of the week
Each week I choose a few well-told stories from the previous week's entries to share as inspiration. As usual, it was difficult to choose just a few!
Enjoy this sampling of the contributions from all of our wonderful fifty-word storytellers.

Ostensibly gruesome, this story is more palatable that it may seem at first. It is so cleverly done, and with a wonderful twist.
The torture was horrible, worse than when she was torn from Mother. The knife ripped her flesh mercilessly.

Her sisters were lined up in a grim display near her.

But she'd not be a showpiece in their brutal game.

The pumpkin rolled, falling off the porch of the suburban house.
This story says so much and is so beautifully poignant. I just love it.
Timmy wandered through the pumpkins till he found the perfect one. He tried to lift it but his ghost hands passed through.

Dangit!

Laughter. Timmy turned towards the sound. Two living children played as they searched.

"Over here!" He waved his arms, hoping they could see him. "Take this one!"
This story tackles the bully problem in a funny way, and its staccato sentences match the theme.
Emily crouched low in the bushes. Every year she poured her heart and soul into carving a pumpkin only for Timmy to smash it to bits. Not this year Timmy. Footsteps approached. Emily sprang into the porch light illuminating her newly acquired zombie mask. She screeched. Timmy ran. Objective complete.
This author captures the delightful fear and fright of Halloween.
Melanie hurried home, her pulse quickening, the darkness broken by flames flickering behind jagged teeth and evil eyes. One of them winked at her —the pumpkins were alive!

Silhouettes rose tall and blocked her path. She ran, screaming, and tripped over her feet as cheerful voices shrieked, "Trick or treat!"
This charming story reminds us that when children hurt, we hurt with them.
"You're OK, Sweetheart."

Roger scooped up his four year old just as her tears began flowing.

"She bit me!" Bella sobbed. He could feel her little body shudder, and almost began crying himself.

"Pumpkin, puppies are protective of their bones. Astrid didn't understand you wanted it for a Halloween decoration."
This author delivers some very power imagery with his unique story.
Under the autumn dawn, the Witch, Ashley, and her Impish-aide, Red, tended the garden. Then the ground rumbled and rabbit-dæmons spawned. Red transformed to her scepter and Ashley started hexing waves of rabbit-dæmons into pumpkins; kicking them back at the horde. By dusk, the two slumped together on a pumpkin.
Great work, everyone!
This week's 50-word story prompt
The prompt for this week is "
witch
." Deadline for this week: Saturday, October 20th, with a grace period until the new prompt is published. (I will be traveling, so it will most likely be late again.)
I look forward to reading your stories, Fifty Worders!

Guidelines
Please review and follow the guidelines for proper use of images.
Note that
Write a story in 50 words. (Try to hit 50 words exactly.)
Use the #fiftywords tag, and post the link in the comments of this post.
Be sure to read and upvote the work of the other participants. It's all about community!
Use only artwork that you have the right to use, and attribute it properly. See the following guidelines.
Proper use of images
Proper use of images means one of the following:
The image is public domain, or under creative commons licensing rules.
It is your own image.
If it is not one of the above, you must have actual permission.
Be sure to properly attribute the image's source or mention that the image is yours. And if it's not public domain, under creative commons license, or your own image, be sure to state that you have permission.
I have two resources for you, from my friends at @thewritersblock:
And speaking of @thewritersblock, it's a great place to hang out and rub elbows with other writers. Check them out on Discord.

The 50-word story clan
I'm mentioning you here if have participated in the
#fiftywords
short story challenge in the past. Please let me know if you would like your tag removed in this or future posts. (Note that I do trim the list. Those who have not participated for a long time or are not active on Steemit will eventually drop from the mentions.)
@ablaze, @adigitalife, @agmoore, @ahmadmanga, @akdx, @aksounder, @aleli, @alexandered, @alheath, @amelin, @andersonrivas, @anikekirsten, @anixio, @anonymummy, @anutu, @aresbon
@beginningtoend, @bex-dk, @blueteddy, @botefarm, @brectar, @bryarose23
@caleblailmusik, @carn, @celsius100, @cheekah, @cizzo, @clacrax, @creatr
@damianjayclay, @dbzfan4awhile, @deigoam, @deirdyweirdy, @desmoniac, @diebitch, @dirge, @donnest, @drahries
@eaglespirit, @elbrujo, @elementm, @emergehealthier, @emwalker, @erh.germany, @eroticabian, @esttyb, @evgsk
@fairyhedgehogg, @feebie, @felixgarciap, @felt.buzz, @ficciones, @four20, @foxfiction, @foxyspirit, @fromage
@gaby-crb, @gaming-stuff, @girlbeforemirror, @gmatthe2, @goastrighter
@iamthegray, @intothewild, @isa93
@jadams2k18, @janine-ariane, @jasminearch, @jayna, @jonknight,
@kaelci, @kally, @khadija14, @kimberlylane, @kingspiration, @ktfabler
@lightoj, @liverussian, @lucylin, @luiskrupaz
@manoldonchev, @marciabon, @marie-jay, @mineopoly, @mizdais, @momzillanc, @mydivathings
@paintingangels, @papacrusher, @pizzachain, @poeticnest, @poetrybyjeremy, @preparedwombat, @prydefoltz, @purpledaisy57, @pyrowngs
@ravencorinn, @rensoul17, @riottales, @rodrigocabrera, @roxy-cat, @rvag5
@sidequest, @spalatino, @stbrians, @steemgiant, @steemitdiversify, @sue-stevenson
@tanglebranch, @thatlovechild, @theironfelix, @therosepatch, @thinknzombie, @tuwore, @tygertyger
@yeceniacarolina, @yimiipsa, @zen-art
Thanks so much for reading! I hope you try the 50-word challenge. It's so fun to see what can unfold in a mere 50 words!

p.s. Be sure to check out my caption contest and fund-raiser for TARC. It's another great mini writing opportunity!

---
Posted from my blog with SteemPress : https://jaynalocke.com/2018/10/16/fifty-word-challenge-prompt-for-the-week/
---