✴️ WIN FIVE (5) STEEM | STACKIN PREDICTION CONTEST: GUESS THE PRICE OF STEEM! 🤑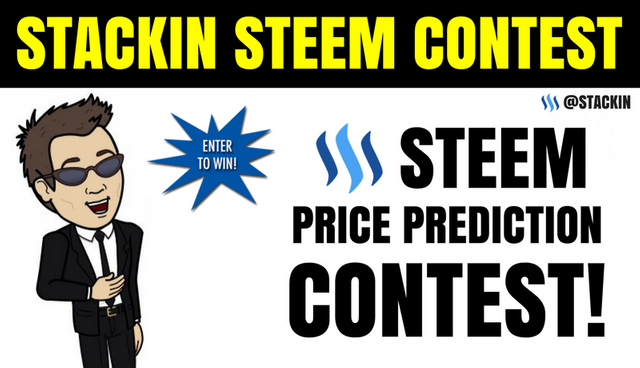 "When investing, especially in cryptocurrency... always buy red and sell green"  ~ Charles Fuchs.
What's Up STACKERS! 
The "Cryptocurrency" is looking really good today (about time)! With the huge spike in the Crypto markets, what better way to celebrate by doing one of those awesome "STACKIN Prediction Contest". 💁🏼‍♂️
Many are saying that this price spike is just manipulation and a few are calling it a bear trap before we make a new lower low in the month of April. Only time will tell, for me it really doesn't matter as I'm HODL and DCA (Dollar Cost Averaging) for the whole year. 📊
The "STACKIN" contest has already awarded $1000's worth of Steem and SBD to "Price Prediction" Steemians, are you going to win the next one? There will be "One Winner" that will be chosen on April 13th at 12:00 P.M. to win "5 STEEM". 
The "STACKIN Price Prediction" for the day will be STEEM!! 🎉

Here Are The "STACKIN" Contest Rules: 
Follow @STACKIN on Steemit. 😎
Must *Comment and *Resteem this post. 
Guess the correct "Price of STEEM" will be exactly at 12:00 PM PST.
The Last Guess Stops at 9:00 A.M. PST. APRIL 13TH!
One (1) WINNER without going over will win, No Edited Posts!
The Winner will Win FIVE (5) STEEM! 💰

The current price of STEEM is $2.64 USD.
* All you have to do is "Comment" your prediction below and "Resteem" just once to qualify. You have til' 10:00 A.M. PST April 13TH to lock in your "Bitshares Prediction". 
* Please do not edit your guess or prediction before the deadline, you will automatically lose and get flagged. We want everyone to have a fair chance of winning!
My Price Prediction for STEEM Will Be $2.29. I see a little profit taking that will happen later today but who knows, the markets are so unpredictable. 🤷🏼‍♂️
Good Luck STACKERS and Keep On STACKIN! 💞

P.S. For those who's interested in following my "Content" and "Daily" Posts... you can just follow me @stackin to get my updates.
---



---