❇️ GOODBYE: I'M LEAVING STEEMIT.COM! 😢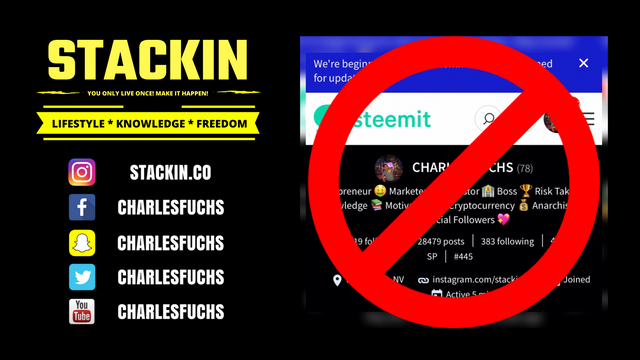 I've been on the Steemit.com platform for almost 3 years and I decided that Today will be my last day using it. 🙇
After the shit show Justin and Tron caused in the recent weeks with the takeover of Steemit.com, I'm 100% over it. 🤷‍♂️
Does this mean @STACKIN is leaving the Steem Blockchain? Heck No!
Starting right now, I will only be using trusted websites such as Busy.org, Steempeak and Appics to post my content on the Steem Blockchain. 🙋‍♂️
If you haven't made the transition as of yet... I highly recommend that everyone do it ASAP and make SteemPeak, Busy, and Appics apps your main focus from now on.
I've lost 100% complete trust in the TRON Team and with their recent actions... they cannot be trusted in my eyes. 🤦
I'm just sick of all their lies, deceit and shady ass nonsense. 🤬
Regardless who's right or wrong, I made this decision based on my personal beliefs and reasons.
Stay Strong Steem Community, a lot of drama is happening behind the scenes.... Lets see if we can get out of this shit show in the next few weeks. 💩
Join The "STACKIN 🔰10X Life Community" Right Here... I will start posting most of my content there in the near future.
Keep on STACKIN! 😎
~ Charles Fuchs
For those who's interested in following my "Content" and "Daily" Posts... you can just follow me @stackin to get my updates.
You Can Follow Me Here:
➡️ UpTrennd: https://uptrennd.stackin.co
➡️ Facebook: https://facebook.stackin.co
➡️ Twitter: https://twitter.stackin.co
➡️ Instagram: https://instagram.stackin.co
➡️ Steem: https://steem.stackin.co
---
PI NETWORK: Pi is a new digital currency you can mine on your mobile phone for free without draining the battery or using data. Use The Referral Code: ( stackin ) to be on my personal team.
---
Crypto.com: Get The World's First ELITE Cryptocurrency MCO Debit Card and we both get $50! NOTE: You must stake 50 MCO to get the $50 + 2% cashback on all purchases. Must use Ref code: ( mqanqykcym )
---