✴️ WIN FIVE (5) STEEM | STACKIN PREDICTION CONTEST: GUESS THE PRICE OF (BTS) BITSHARES! 💰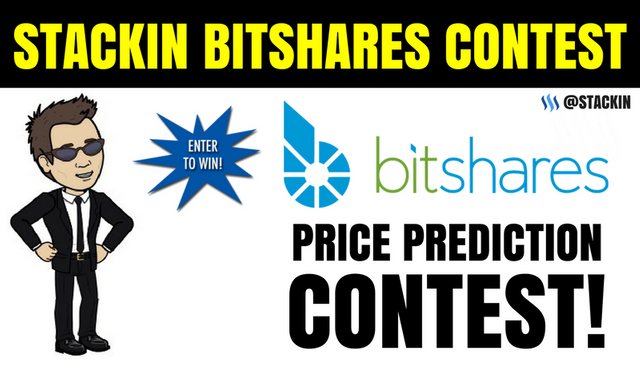 "You only have one life, live it the best that you can... everyday" ~ Charles Fuchs.
What's Up STACKERS! 
Guess what guys? It's the first "STACKIN CONTEST" for the Month of April! For the last several months, I've given away $1000's of Dollars in Steem and SBD to lucky Steemians. It's just a way for me to give back to this Awesome Steemit Community! 💁🏼‍♂️
So what is the "Crypto" pick of the day? It's (BTS) Bitshares! 🎉

Here Are The "STACKIN" Contest Rules: 
Follow @STACKIN on Steemit. 😎
Must *Comment and *Resteem this post. 
Guess the correct "Price of Bitshares" will be exactly at 12:00 PM PST.
The Last Guess Stops at 10:00 A.M. PST. APRIL 6TH!
One (1) WINNER without going over will win, No Edited Posts!
The Winner will Win FIVE (5) STEEM! 💰

The current price of Bitshares is $.143490 USD.
* All you have to do is "Comment" your prediction below (make sure to make it at least 3-4 digits .0000) and "Resteem" just once to qualify. You have til' 10:00 A.M. PST April 6TH to lock in your "Bitshares Prediction". 
* Please do not edit your guess or prediction before the deadline, you will automatically lose and get flagged. We want everyone to have a fair chance of winning!
My Price Prediction for Bitshares is $.14021. Let's see if I'm capable of winning my own contest with my "technical analysis" skills. 🤣
Good luck Stackers and Keep On STACKIN! 💞

P.S. For those who's interested in following my "Content" and "Daily" Posts... you can just follow me @stackin to get my updates.
---



---