Dark Web Child Porn Site Shutdown, Over 300 Arrested Worldwide
An operation consisting of law enforcement from the UK, US, Germany and South Korea resulted in the arrest of 338 people worldwide. Arrests took place in Australia, Brazil, Canada, Czech, Finland, Finland, France, Hungary, Ireland, Italy, Poland, Saudi Arabia, Spain, Sweden and the UAE.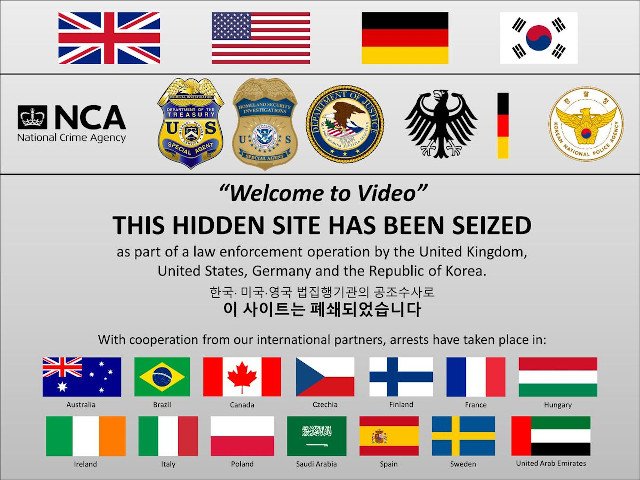 Source
Officials described the network as one of the largest child porn operations they've seen. The site was called "Welcome to Video", and is now shutdown. They sold 250,000 child sexual abuse and rape videos, mostly via bitcoin.
The site specifically said to not upload adult porn. It was completely geared towards pedophilia videos.
Some users of the site were direct abusers of children who sold their videos of abuse. The arrests led to 23 victims being rescued in the US, UK and Spain. many videos have yet to identify the victims.
Most of the content had images never seen by the authorities, which indicates the explosion of sexual abuse content online.
The owner of the site was a South Korean named Jong Woo Son, who is serving 18 months in jail, and is indicted on federal charges in the US. Other have already been convicted and are serving up to 15 years in prison.
Users thought they could hide their identities by using Bitcoin as the primary means of selling and buying. but these "bottom feeders of the criminal world" were mistaken.
When the site was taken down in March 2018, the Justice Department says it had already collected at least $370,000 in Bibtcoin. The investigation started when a tip was sent to the IRS, but other agencies have different narratives on how the investigation began and how it succeeded in tracking people down. The Justice Department says the site leaked it's IP, while the UK's National Crime Agency said a blackmailer who was caught in October 2017 was how they got onto the site.
Anonymity isn't secured by using Bitcoin while hiding personal transaction info that authorities normally trace. Despite not breaking the encryption in Bitcoin, the depraved scum were still caught.