from Irresponsible to Brian Eno's first Video track
Did I tell you the story of wanting to act irresponsibly and skip the tasks I needed to do this weekend and join the sounds of Heiko Laux on the dance floor at Panama club in Amsterdam?
Well, I decided to be irresponsible on Saturday morning... But then I found out, Heiko already played the night before... WTF?
Euhm... What is happening with me? Reading dates wrong, over and over again. I checked a few times last week what day the party was going to take place and my mind got stuck with Saturday.
Pfffff... Nothing could be done about this, so I made a different plan; Invited some friends for a gigantic home cooked dinner; Big Meatloaf Aussie style; Three different choices of vegetables and Sweet Potato cakes... To top all of this off, we dug into the chocolate cake I finished after midnight... With the energy coming from all the cacao and chocolate, we spend hours and hours conversing and listening to all sort of music, from techno back to disco. At some stage we wanted to wind down, preparing for the night (well, more like morning) sleep and went back in time to listen to AND watch the first ever video album produced by ambient specialist Brian Eno.
Below I've linked the version we actually had on play through my friends
LED projector. The original is cool as well, but for some reason we liked this version better. The music is a remastered edition of the original, the visuals are from some other guy.
NJOY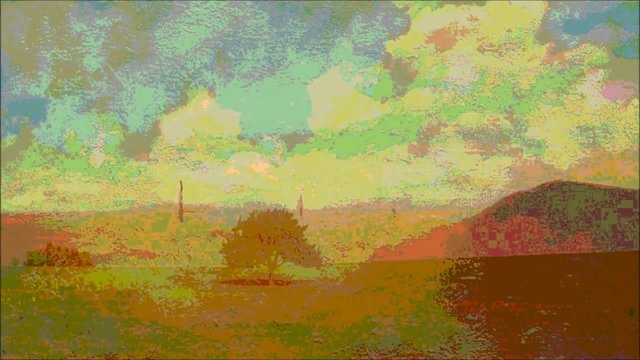 © Brian Eno - from the original video (source)

Artist: Brian Eno
Track: Thursday Afternoon (Re-Mastered)
Year: 1984
Country: UK
Artist Music
Spotify Beatport Bandcamp Soundcloud YouTube
Artist Discography
Artist Gigs
Artist Website
Previous Posts
Brian Eno - Ambient 1: Music for Airports (1978) ... album | play | post

Music Library with more than 250 Entries
blockchain curator and reviewer for @illuminati-inc and @qsounds
you like to follow @qsounds curation trail? use this direct link:
https://steemauto.com/dash.php?trail=qsounds&i=1