Increasing Mass Adoption Through Crypto-enabled E-commerce Platform


For this past one decade, Bitcoin has sparked a global debate and it had lead the revolution that changed the way we transact in the digital world. The concept of decentralized currency is truly a blessing to our world and its impact can't be undermine in the way we transact and do businesses with people on the internet.
The Internet is an innovative technology that has been the bedrock of many disruptive business model of which ecommerce is one of them. Since the time people start selling and buying online, it has grown to be a multi trillions dollars market with participation of many people in it globally.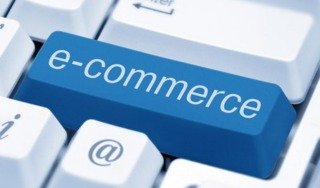 There's a growing call for mass adoption of Cryptocurrency and its underlying blockchain technology and when we are talking about adoption, we are referring to the integration of blockchain technology and crytpocurrencies to existing business model that can be easily adopted by many even with no knowledge of our it works and if there is a business model that can easily be created on blockchain technology and fuel by Crypto coin or token, then we don't need to disturb ourselves much, e-commerce business is perfect for the concept of decentralization. Though many third-party applications have bridged the gap to some extent but it has not been that easy for most sellers online to accept Cryptocurrency because of lack of customized ecommerce infrastructure but the good news is that a dedicated and customized crypto-enabled e-commerce infrastructure is available and this need is the core reason for the creation of Chimpion.
Chimpion create a state of the art and easy to use Cryptocurrency payment system for merchants with a custom e-commerce and settlement backend structure. Through the infrastructure of Chimpion, merchants will be able to launch a full-fledged ecommerce storefront and accept any crypto coin or token they are willing to set as the base currency of their storefront. Chimpion is created with an incentive program and customized wallet which gives businesses a seamless connection to the world of buying and selling.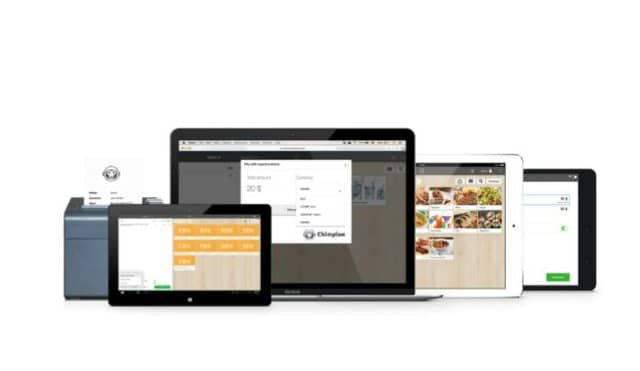 With many uncertainty in the world now which includes trade war between the two largest economy, unpredictable inflation and unstable interest rate, ecommerce will be somehow hard especially for merchants with international suppliers and with Chimpion, they will be able to enjoy income stream flexibility regardless of whether they deal in Crypto or fiat currencies.
Chimpion Vision
The vision of Chimpion is to empower businesses and individuals to succeed in a blockchain-enabled economy which will be done by simplifying the act of buying and selling with Cryptocurrency and through this merchants and shoppers will be able to enjoy all the benefits that comes with blockchain technology and crytpocurrency which will include avoidance of high payments processing fee, Chargeback and long delays that comes with conventional ecommerce system.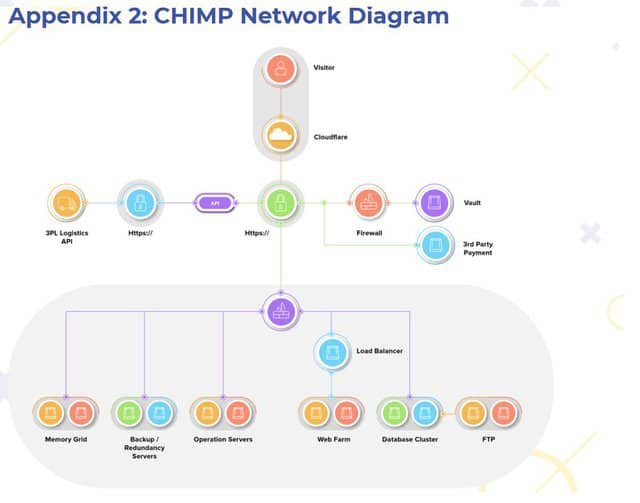 Chimpion is highly unique and it is not like many Crypto projects out there that seek to raise money for them to build their platforms. Chimpion did not do any ICO and they are not planning to do anyone. The robust ecommerce platform of Chimpion has already been developed and launched, as an writing this article some merchants in US have started using Chimpion platform. This merchants include Mark Jewelers, Mahone's Wallpaper Shop, NewParts, Rosetta Coffee and many more.
Dual-Token Fuelled Platform
As a platform built on blockchain technology, it's operation will be powered by Crypto coin or token but what makes it different from many crypto-enabled ecosystem is because Chimpion operates two token system and each of the token empowers distinct operations on the platform. The tokens are CHIMP and Banana Token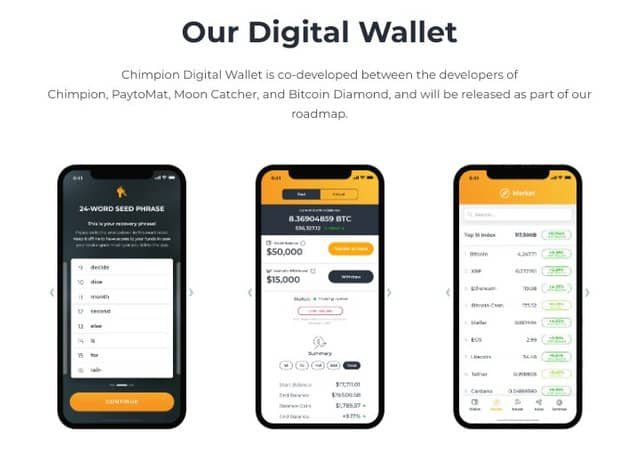 CHIMP is what powers merchant storefronts and the e-commerce ecosystem. It's also the bounty incentive token to bring merchants to the platform in order to increase adoption. The token will also be the base currency in the Chimpion store on the platform which feature their exclusive apparel products line couple with giftcards from retailers and merchants from the directory of Chimpion.
The second token which is NANA token powers the loyalty rewards layer of the system and it is earn through buying from merchants on Chimpion platform with CHIMP token or any other Cryptocurrencies. NANA token acts like loyalty card points which can be redeemed for promotional offers, discounts and exclusive products and services. The NANA token is trading already on Mercatox.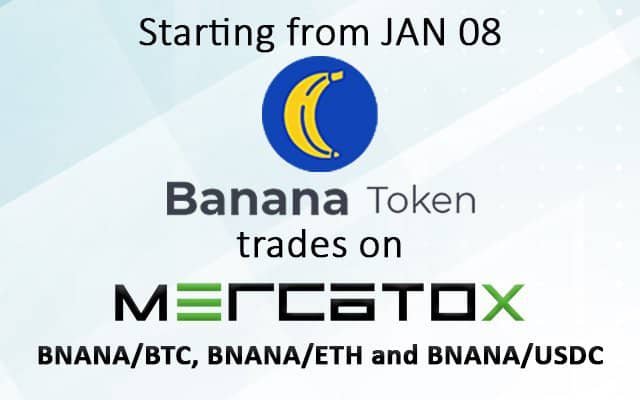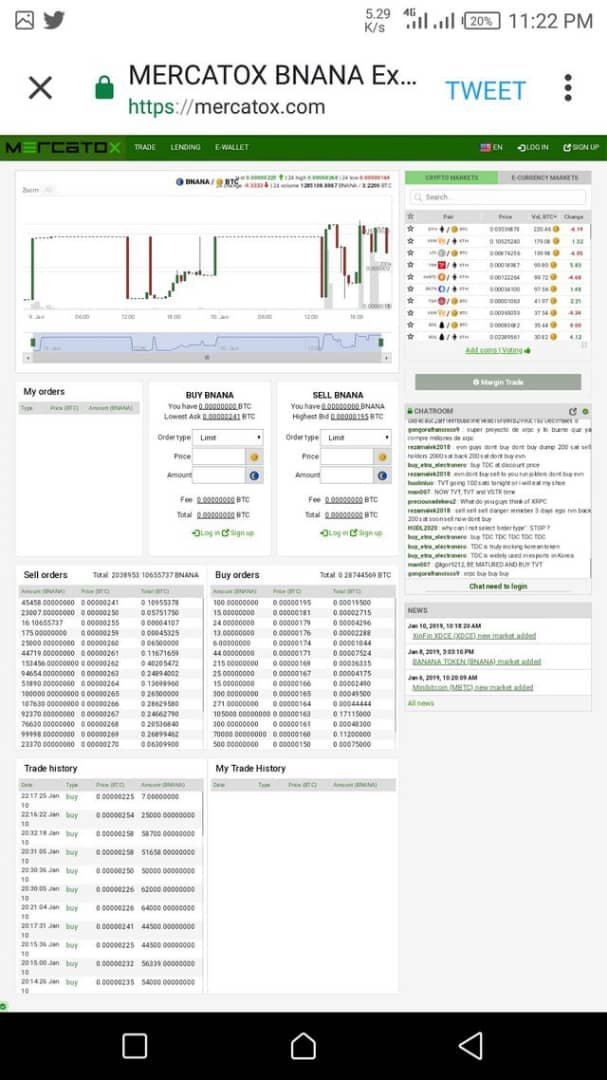 Chimpion Platform was developed with a real life use cases in mind especially in the ecommerce industry and with this in view the platform will go a long way in the space for a new global crypto-enabled economy. For instance, there is an increase in the use of cryptocurency in emerging economy like Nigeria and Venezuela where fiats currency is somehow volatile and people are seeking ways to sideline banks in their business activities. Due to some limitations which includes high transactions fee, lack of adequate security and complicated processes, it is very difficult for merchants from this country to sell directly to global customers but with Chimpion that can easily do this even in a way that they will be able to sideline the volatility of cryptocurrency through stablecoin.
Further more, with Chimpion Chargeback will be history. Chargeback is something that is very common in many digital payment platforms. I have read of many occurrences of Chargeback on PayPal and most times, merchants bear the brunt of this but the good news is that with Chimpion Chargeback will soon be an history because transactions on Chimpion will be super fast and also a blockchain driven platform, all transactions will be public verifiable on the platform.
Chimpion Team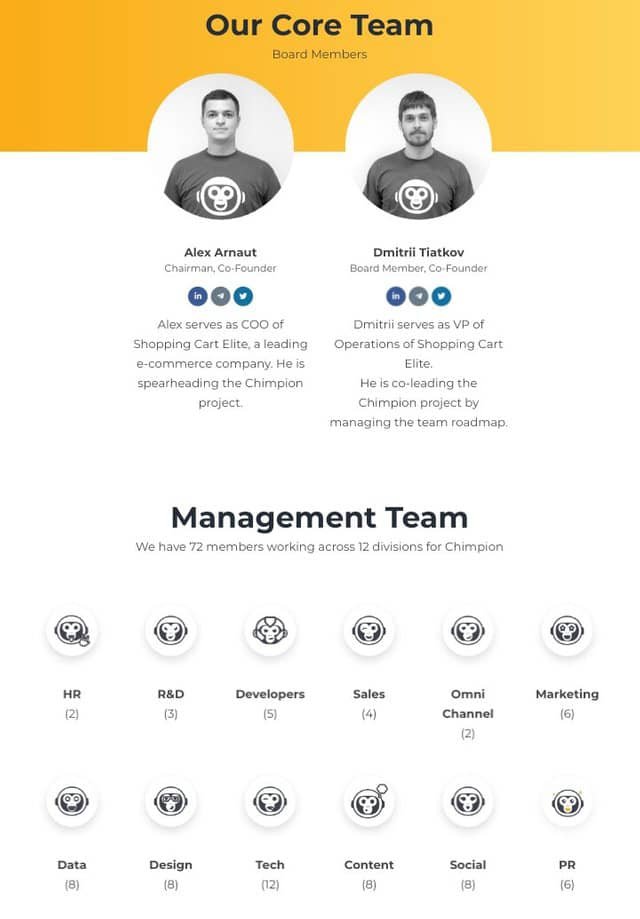 Chimpion Roadmap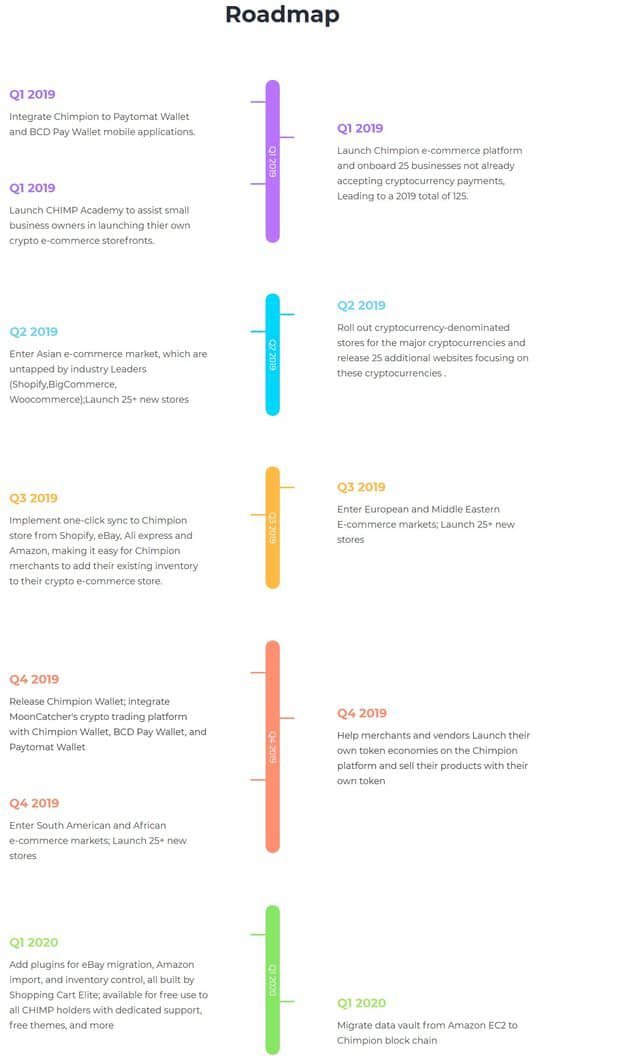 Chimpion Partners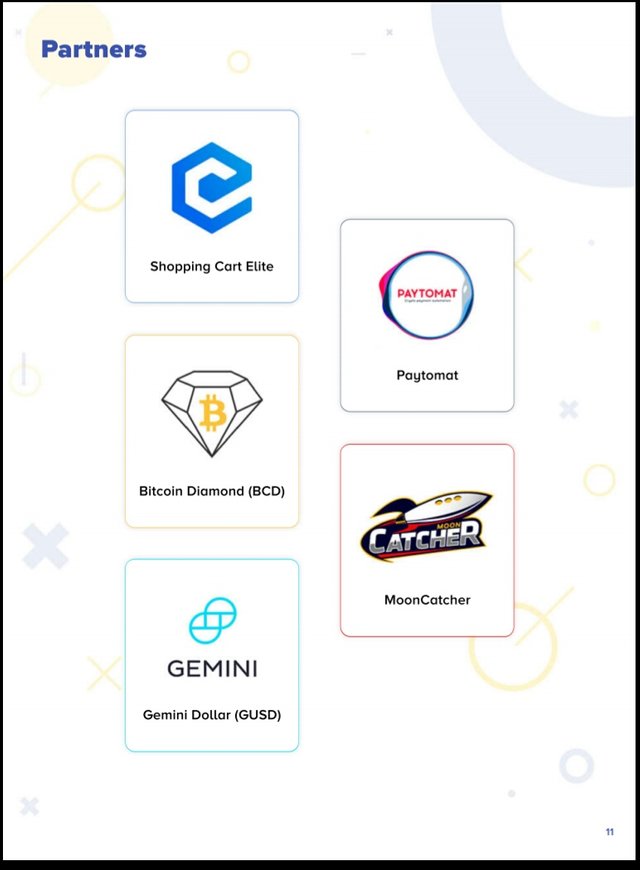 https://www.chimpion.io/whitepaper/Chimpion%20WhitepaperV8b.pdf
https://twitter.com/chimpionio
https://www.facebook.com/Chimpionio
Bountyox Username: Bitman