CONTENTMENT
We live in an age when many people are interested in making quick and more money without necessarily working hard for it. Many people have the desire and rush to be rich by all means. It is sad to note that some Christians today are being carried away by this "get-rich-quick" syndrome because they believe that those that have made it are highly honoured.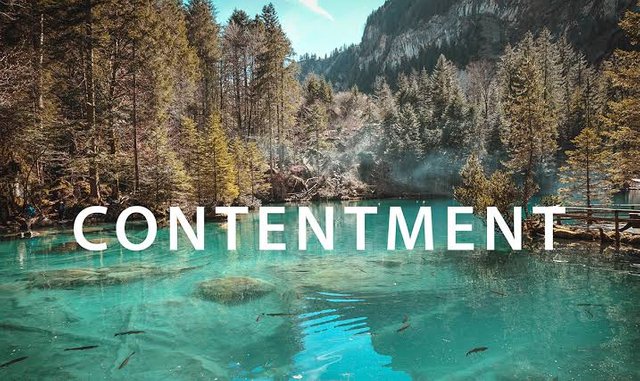 Text 1Timothy 6:6-7
Yet true godliness with contentment is itself great wealth. After all, we brought nothing with us when we came into the world, and we can't take anything with us when we leave it.
There is no need to be covetous or greedy. God has promised to supply all our needs according to His riches in glory by Christ Jesus. (Phil.4:19)
The word contentment means a State of being happy and satisfied. It is accepting the state of one's life and being grateful or happy with.
A Christian trust should be absolutely on God, being satisfied with his/her condition regardless of the circumstances. Some Christians worry over issues of life. In spite of his situation, must be satisfied and secured with what he has, what he is and where he is going.
Generally, greed is the underlying cause of discontentment because human wants are insatiable. Greed to acquire other people's possession, coveting other people's interest, love of money, dissatisfaction and displeasure with one's condition, inordinate search for happiness and more success, comparing one's elf with others, withdrawal to oneself due to discontentment.
Similarly, we can not say we are Godly yet be discontent; a sign of Godliness is that we are content with God's provision. Christians are to admonished to trust God, and do good; he must be sold out to God, for God to grant his heart's tosire and must further bring God into all he does, trusting God for all he does, trusting God for direction and guidance.
Growth is inevitable; therefore in every spheres of life one should aspire to make progress using Godly principles. Much as Christians should be grateful to God for their current achievements, there is need to aspire to higher heights.
It is God's wish for every Christians to prosper. In line with this, aspiration does not negate our being satisfied with our present position in life. Jeuse increased in wisdom and stature and in favour with God and man (Luke 2:25). Hence, Christians should aspire to increase in all they do.
Understanding that God will never leave nor forsake His own and will also not leave His children to beg for bread helps us to remain still while looking up to God. We must be constantly reminded that God supplies our needs according to His riches in glory. When we realize that we brought nothing into this world and certainly shall carry nothing out, it will strengthen us to be content with whatever we have and what we are.
CONCLUSION:
Let everyone therefore aspire to to trust God daily to take us from where we are, to where God wants us to be. Godliness with contentment is great gain.