Do You Want To Live Long?
But it shall not be well with the wicked, neither shall he prolong his days, which are as a shadow; because he feareth not before God. Ecclesiastes 8:13 (KJV)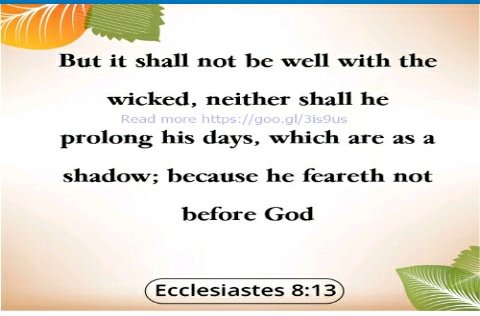 The length of your days on earth depends on the choice you make. Remember that God is the creator of time and He determines how long a person should live on earth, Genesis 6:3. As a child of God, if you want to live long on earth, then you have to fear God and choose righteousness over wickedness. To fear God simply means to know who God is, love what God loves, hate what God hates, and do what God does. God loves righteousness; He hates evil and sin, and does what is good every day. Follow and imitate God in the person of our Lord and Saviour Jesus Christ and God will prolong your days on earth, Ephesians 5:1-2. Praise the Lord! Be An Overcomer!