Filipinos go all out and all in during Christmas. But what makes a Filipino Christmas distinct from all others? Below are clues from food writer and researcher Doreen Gamboa Fernandez. This is part of her essay on a quintessential Filipino Christmas. I can't seem to find the rest of this essay:
"For food is at the center of the Philippine Christmas…The food must be shared because community and family feeling are at the core of the Filipino Christmas. More important than what is eaten is the fact of eating together, of the coming home of sons working in Saudi Arabia, daughters who are nurses in the United States, and of whole sets of cousins and brethren from whatever part of the world has sheltered them before Christmas.
Come, therefore, friend or colleague and savor Christmas with us. Wake with us in the chilly dawn when the bells ring and walk to Church for mass joyous with music, sometimes including castanets and violin. Share the children's anticipation of the food to follow: the bibingka of rice flour, carabao cheese and salted eggs cooking in aromatic banana leaves on coal; the puto bumbong steaming out of upright bamboo tubes to be eaten with grated coconut and sugar; the hot salabat, the ginger said to enhance the singing voice and save the throat, given free to all comers, shapes and textures depending on the region — or may hold, as well as arroz caldo, a chicken-and-rice congee of Chinese origin.
The Noche Buena or 'Night of Goodness' is to the Filipino not just Christmas Eve, to which the term refers to, but also specifically, the meal shared by the family after the midnight mass. It is called media noche meaning midnight because in some families no one is allowed to eat till after midnight mass, one fasts, especially from meat, for this Christmas morning feast. It is not usually shared with guests, only with the nuclear family, the very closest and the dearest.
… Yes, Christmas is family time and its food comes from family traditions…Christmas is one of the Filipinos' most precious statements of what they are."
Have a joyous Christmas season!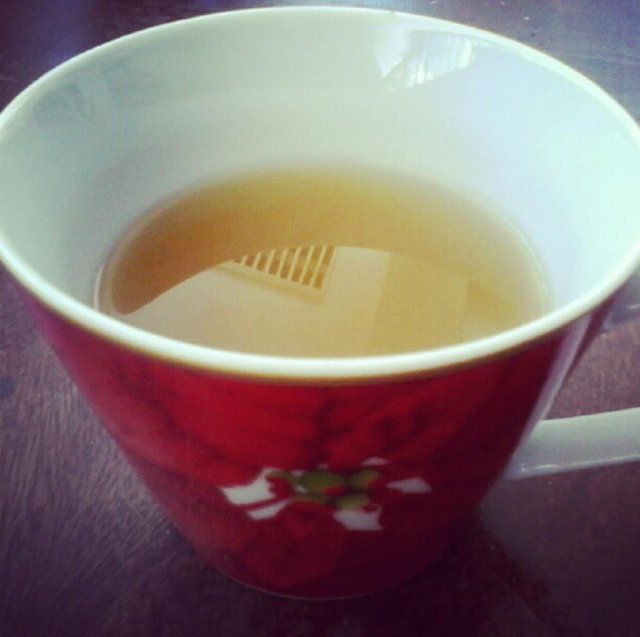 Enjoying my cup of salabat (ginger brew).