Got myself some suspenders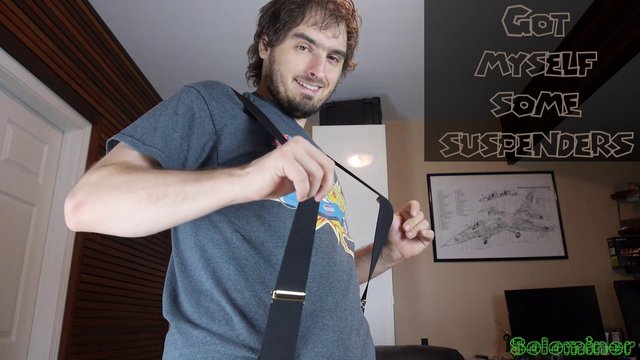 Ive been wearing belts most of my life but curious about suspenders. I decided to buy some and give them a try. I quickly got to liking them as they do not squeeze my mid section like belts do. Hah, for the longest time one of the reasons I did not buy any suspenders as I think only people out in the country wore them. Its pretty silly now I think about, I saw many people wearing them in the city. But now im living in Georgia I no longer have that excuse, so I bought two kinds. One that has a larger clip, and another that has a smaller clip. Not sure which one ill like more until I wear them for awhile.
One thing I did not realize until I got them, is now I will need to tuck my shirts in. As the clamps go right where the shirt tail would otherwise hang. Not a big deal, just didnt think about that. I rarely tuck in my shirts unless its somewhere important I got to go.
Since getting these ive opted to wear the suspenders any time I had to choose between them and a belt. The way they hold up my pants feels alot better than a tight belt around my waist. The straps on my shoulders go unnoticed a few minutes after putting them on. Sometimes if I make weird movements they can fall off one shoulder. Like if im working on something, so I need to be aware of that but otherwise not much of an issue.
Another thing ill need to be aware of is rubbing up against important stuff. With the metal buckles they can scratch paint and such so I need to be careful near cars and not lean on them.
By and by I like them and think they will be keepers in my closet. Besides my waders I use for walking in water, these would be my first experience with them. And its been a good one, and living in Georgia I dont feel so out of place wearing them now.
---
Addresses below to help me buy better camera equipment and support me to travel to locations to do photo and video and overall great blogs in new places. I would be happy to list some of the contributors in my posts for donations that help me along the way.
| Coin | Address |
| --- | --- |
| BTC: | bc1qhfmvd2gywg4fvrgy2kkkkyqta0g86whkt7j8r7 |
| LTC: | ltc1qdyzm5cwgt8e2373prx67yye6y9ewk0l8jf3ys9 |
| DASH: | XkSqR5DxQL3wy4kNbjqDbgbMYNih3a7ZcM |
| ETH: | 0x045f409dAe14338669730078201888636B047DC3 |
| DOGE: | DSoekC21AKSZHAcV9vqR8yYefrh8XcX92Z |
| ZEN: | znW9mh62WDSCeBXxnVLCETMx59Ho446HJgq |