浅谈仓位管理在资本投资中的重要性(Talking about the Importance of Position Management in Capital Investment)
北京时间2018年4月23日关于STEEM/USD的没有被打脸,今天原本准备写一篇STEEM/USD的最新走势文章,打开电脑一看,只能无奈放弃,因为如此的走势,实在没有什么写的必要,最多只能预测一下几个小时的趋势变化,出现偏差的可能性还比较大,毕竟币市火了,更多的资金投入,比方我们新手村的很多村民都骚动起来,所以短期走势要实时分析了,写的意义真的不大。
Beijing time April 23, 2018 on the STEEM / USD forecast is accurate, today was originally prepared to write a STEEM / USD latest trend article, open the computer to see, can only help but give up, because of this trend, there is nothing written If necessary, the trend can only be forecasted for a few hours at most, and the possibility of deviation is still relatively large. After all, the currency market is burning and more capital is invested. For example, many villagers in Xinshoucun are upset, so the short-term trend is Real-time analysis, the significance of writing is really small.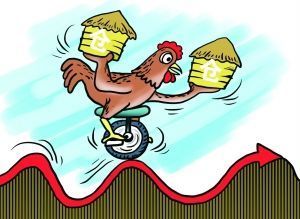 那么就给大家扯一扯,仓位管理这一资本投资的基本素养吧,相信这给很多新手一个参考。
仓位管理就是在你决定做多某个投资对象时,决定如何分批入场,又如何止损/止赢离场。这里我就不给大家说很多专业名词了,只说一句,就是只要进行资本投资必须学会仓位管理!运气、盘感、技术也比不上一个科学的仓位管理,对于很多非专业投资者来说。
在股市沉浮多年,很多朋友跟我说过,A股套了我很多年了之类的话,我的心中只有一句话,你不会仓位管理,我们不是神,我们的投资不会每一笔都上涨,不然哪里来的盈亏?
既然我们做不到每一笔交易都是正确的,那么你哪来的自信一笔重仓甚至全仓买入呢?可笑的是很多人被套在一种资本产品上。
请恕我言辞克扣,实在是满心的无奈,我曾经试图跟很多朋友讲述一下仓位管理的重要性,但是再多的苦口婆心,最后都抵不上那K线的拉升,当他们被深深套牢的时候,转过头问我怎样解套时,我只能无语对苍天。
那么我就给大家分享一个比较实用的仓位管理方法吧,至少它能让你很少被套,再做趋势投资时,仓位其实可以分成100层,就是再看好的产品,你对它的投资也不要高于30层,你的手上永远要留30层的调度资金,这笔资金在你投资产品被套时,你可以寻找机会进场,有收益是就出场,这里有一条要严格执行的准则就是调度资金即使进场亏损也要割肉出来!
这里在复述一句:仓位管理,你一定要会!
关注和投票啊!
https://steemit.com/@chineseman
Then give you a pull, position management of the basic quality of this capital investment, I believe this gives a lot of novice a reference.
Position management is when you decide to go long for a certain investment object, decide how to enter in batches, and how to stop loss or stop winning. Here I will not give you a lot of professional terms, just to say, as long as the capital investment must learn position management! Luck, disk sensation, and technology are less than a scientific position management, for many non-professional investors.
In the stock market for many years, many friends have told me that the A-shares have covered me for years, and I only have one sentence in your heart. You will not manage your positions. We are not God. Our investment will not be in every case. Rising, or where does the profit or loss come from?
Since we can't make every transaction right, then where do you have the confidence to buy a position or buy it in full? The funny thing is that many people are trapped in a kind of capital product.
Forgive me for the deduction. It is full of helplessness. I once tried to talk with many of my friends about the importance of position management, but with so much bitterness, I can't get up to the K line to pull up when they are deeply locked up. When I turned my head and asked me how to solve the problem, I could only speak to heaven.
Then I'll share a more practical position management method for everyone, at least it can make you very quilt, and when you do trend investment, the position can actually be divided into 100 layers, which is a good product again, and you don't invest in it. Above 30 floors, you will always have 30 layers of dispatch money on your hands. When you invest in a product, you can look for opportunities to enter the market. When you have a profit, you have to play. There is a criterion to be strictly enforced. Dispatch funds even if they make losses on the market!
Here is a retelling: position management, you must be!
Follow and vote!
https://steemit.com/@chineseman