Watercolor #15: Trees In Autumn 秋天的树丛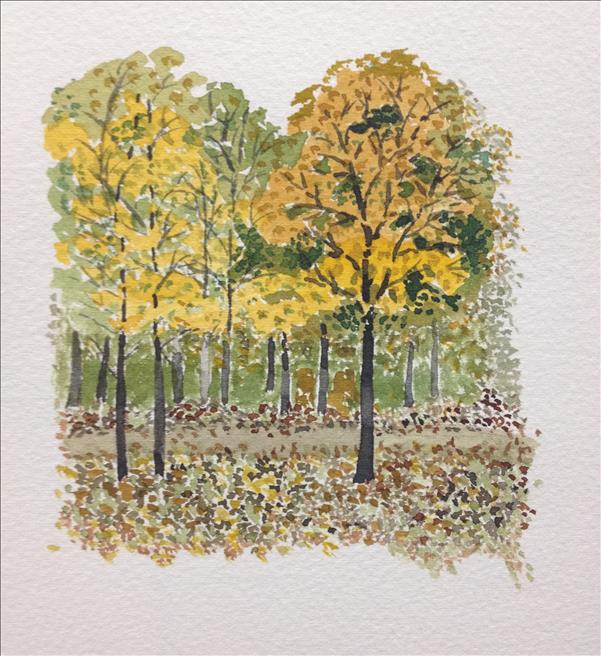 三毛有首诗,这样写道:
如果有来生,
要做一棵树,
站成永恒。
没有悲欢的姿势,
一半在尘土里安详,
一半在风里飞扬;
一半洒落荫凉,
一半沐浴阳光。
非常沉默、非常骄傲。
从不依靠、从不寻找。
我愿在来生也做成一颗树,站在天堂和世俗之间,欣赏着天堂和世俗之间的四季美景。我喜欢在樱飞草长的春天赏花问柳,也喜欢在草木摇落的深秋欣赏落叶。
秋日漫漫,走在林间小道之中,落叶撒了一地。没有什么力量可以让它们重回枝头,这是一种自然的过程,仿佛人生的晚境。它们最后将深入泥土,化为淤肥,滋养另一批新的生命。或许它们的梦想已经破灭,但是它们还是如此优雅的飘落,这大概就是落叶的美丽的瞬间吧。
I would like to become a tree in future life, standing between heaven and world and enjoying the beauty of seasons. I love to go for a walk in the country in spring, and also like enjoying fallen leaves in autumn.
Now it is autumn, if you walk in the forest path, you can see many leaves lying on the ground. There is no power to bring them back branches. It is a natural process, as if it were the end of life. They will eventually go into the soil, turn themselves into fertilizer, and nourish another new life. Perhaps their dreams have been dashed, but they floated so gracefully which is probably the beautiful moment of fallen leaves.
---
Today I'd like to share with you the watercolor---trees in autumn. The ground was covered with colorful leaves, and it's best to use such pointillism. The leaves have been painted as a kind of pointillistic method with several different colors.
今天画的这幅水彩画是秋天的树丛。地上铺满了密密麻麻的落叶,用这种点画法最好了。调和几种不同的颜色,大小,形状,疏密不同的点,就可以把落叶点缀出来了。
Process 过程图:
1、先画树的底色,分别用中黄和土黄色勾勒出近距离的两颗大树的树冠。有意无意地留出一些空白。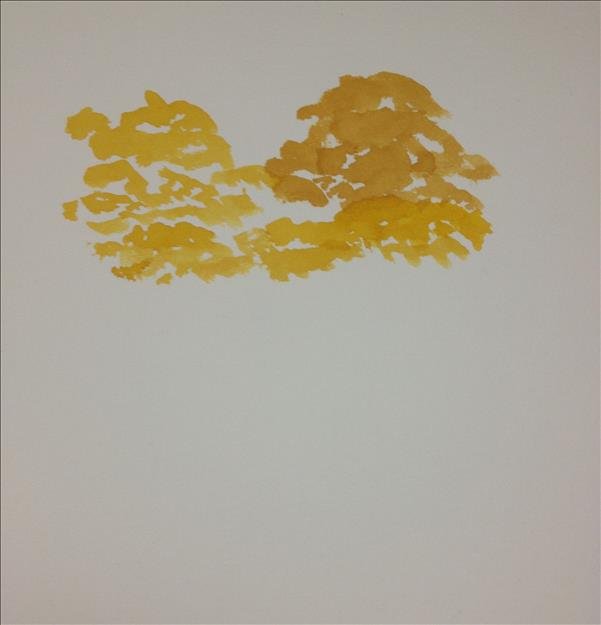 2、之后又选了两种不同的深绿,浅绿和橄榄绿色混合,调和出柔和一点的绿色来搭配这两颗树冠。最好有明暗的效果,这步实在是不好画。我画了两次,还是没画好。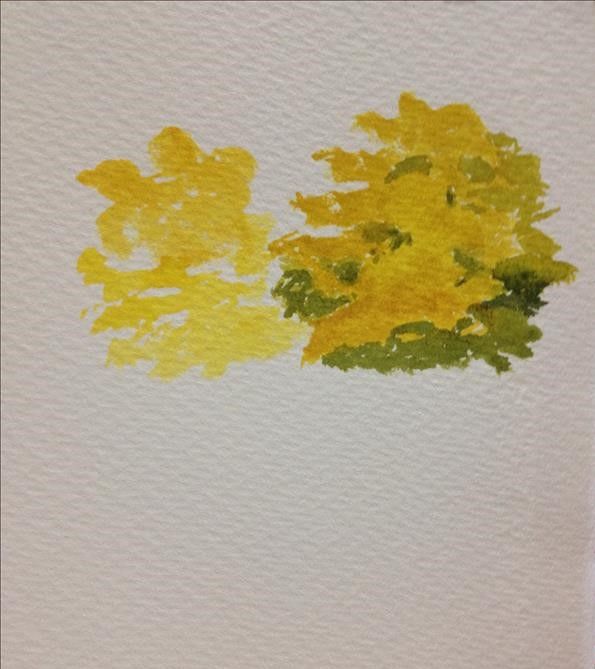 3、然后再用点画法深入刻画树上的叶子。用绿色的,黄色的相互点缀。再修饰一下树的外部轮廓。
4、再用深灰色画出树的主干。近景部分深一些,远一点的丛林里的树干适当的浅一些。上面的树枝用细的笔小心翼翼的来画。要放松的表现出树枝洒脱的状态,树枝和树叶相互映衬得协调,也不是那么容易的。。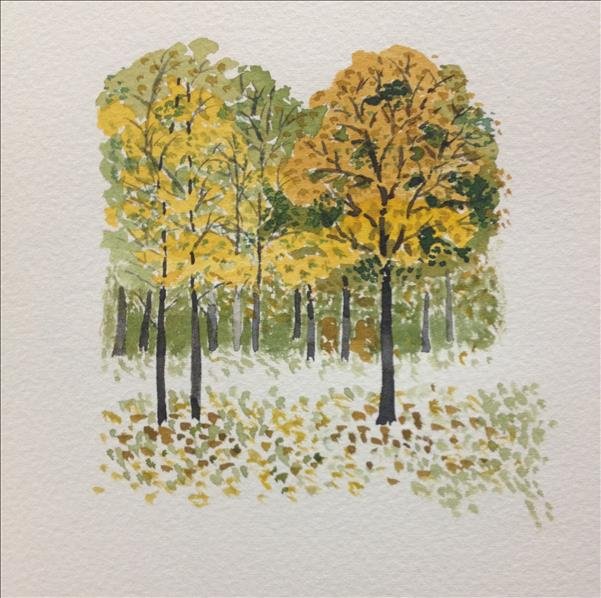 5、深入刻画地上的落叶,我用了褐色,紫色和灰色来调和几种不同的暖灰色来随意的点。
6、远处的树木和树叶,色彩的明度对比都很弱,调和的浅一些,让它们成为近景两棵树的背景。这幅深秋的树丛就完成了。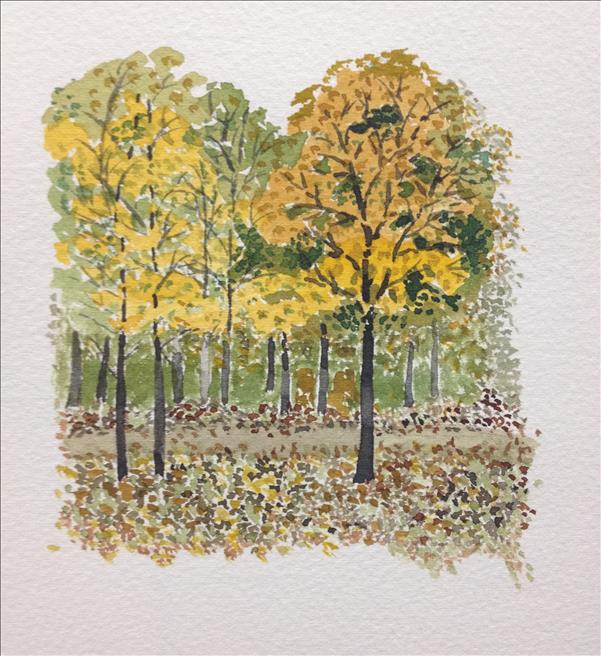 绘画正如学习其他技能一样,练习的越多,收获越多。大脑对图像感知的神经也就越敏感,并且这种图像感知会长久的印在脑海里,日积月累,你握的笔会越来越灵活。所以多多记录一下身边的美好事物吧。:)
thank you for watching!