Didn't play for long @steemmonsters, but season is going end, I hit GOLD I. auto is coming, plus the Guilds too!


With sliver battle decks, so lvl 5 of summoners, I hit GOLD I today.
Around season ends, it's pretty much the easiest time to PUSH the rankings!
Just got a little gifts fr #spt.
GOLD or LEGENDARY soon?
It's kinda back to normal for me in @steemmonsters.
The systems, operation, people are great, but want something cool!
Any new games rules or mod coming?
---
herons-unlimited, things are to be auto?
https://steemcn.herokuapp.com/splinterlands/@tcpolymath/introducing-herons-unlimited-automatic-staking-management-for-splinterlands
Guilds....Coming Soon???
https://steemcn.herokuapp.com/splinterlands/@steemmonsters/guilds-coming-soon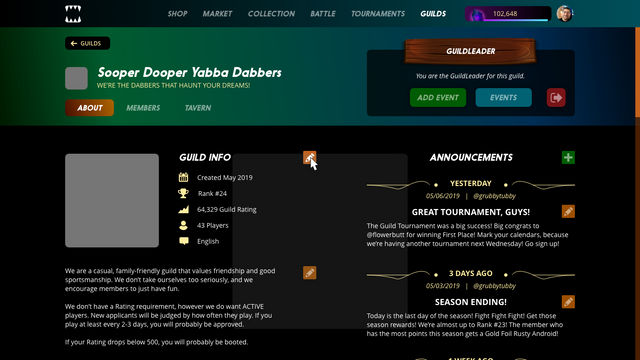 ---
Saw on Discord, packs are soon to be consumed in 1,500 packs per day
It's a banner showing 30% to go, would you get some?


---
Caught some updates for me today, enjoy the game!