Confession nutbox,Upvote for you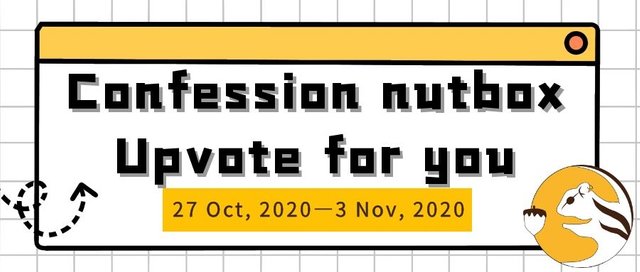 Nutbox is committed to becoming a Dapp incubator for the Steem community.
Nutbox raises SP in the Steem community through SP delegation mechanism, hoped to fuel the development of start-up DAOs on Steem by incubating Dapps in the community as Y Combinator had done in financial area.
This promotion compaign is available for any user who have delegated SP to Nutbox.
Anyone, who sends a post including a screenshot of Nutbox and a paragraph of positive-attitude words and leaves the link of the original post under this post, will get upvotes from Nutbox.mine and wherein (Posting by WhereIn may have more chance to get more than 50% upvote).
The Rules
1.Posts should have at least 50 words, and any kind of language is acceptable.
2.The top 5 post tags should include #nutbox and #nutboxactivity.
3.All posts must be original, any plagiarism is prohibited from participating in the event.
4.The amount of your SP should exceed 100.
The Prizes
High-quality posts will receive upvotes from Nutbox.mine (314 K SP) and wherein (1074 K SP) .
Activity Duration
27 Oct, 2020——3 Nov, 2020
We are looking forward to your participation, to sharing the difficulties you encountered as well as your precious expectations and suggestions.
Project introduction:
CN | https://steem.buzz/cn/@nutboxs/nutbox--y-combinator-of-steem-blockchain-20201016t055718157z
EN | https://steemit.com/cn/@wherein/nutbox--y-combinator-of-steem--will-coming-soon-20201017t190449041z
KR | https://steemit.com/hive-196917/@ayogom/steem-nutbox-y-combinator
Nutbox whitepaper:https://docs.nutbox.io
Steem:https://steemit.com/@nutbox
Discord:https://discord.gg/zPkMuGY
Telegram:https://t.me/joinchat/PrBejBh_Grp6lFZEGArDpA
Please vote for our witness smt-wherein:
https://steemconnect.wherein.mobi/sign/account-witness-vote?witness=smt-wherein&approve=1
CN
Nutbox致力于成为Steem社区的Dapp孵化器。
Nutbox利用Steem Power(SP)代理挖矿的机制,在Steem社区筹集SP用于孵化社区里的Dapp,期望能像Y Combinator一样,推动steem上初创DAO的发展。
此次活动面向所有代理给Nutbox的用户,每一位代理给Nutbox的朋友发一篇代理截图的帖子,并将原贴链接留言到该活动贴下面将会获得Nutbox.mine的点赞(用WhereIN发帖更有机会获得超过50%的点赞)。
参与规则
参与帖在50字以上,不限语言。
参与帖标签需在前五加上#nutbox #nutboxactivity。
所发帖需为原创帖,任何抄袭将禁止参与活动。
SP代理数量需大于100。
参与奖励
nutbox.mine(314 K SP)以及wherein(1074 K SP)对优质帖的点赞。
活动时间
2020/10/27——2020/11/03
我们期待你的参与,分享你在Nutbox代理时遇到的困难,以及对我们的期待和建议。
想了解更多,点击以下链接:
CN | https://steem.buzz/cn/@nutboxs/nutbox--y-combinator-of-steem-blockchain-20201016t055718157z
EN | https://steemit.com/cn/@wherein/nutbox--y-combinator-of-steem--will-coming-soon-20201017t190449041z
KR | https://steemit.com/hive-196917/@ayogom/steem-nutbox-y-combinator
App官网:https://nutbox.io
Nutbox whitepaper:https://docs.nutbox.io
Steem:https://steemit.com/@nutbox
Discord:https://discord.gg/zPkMuGY
Telegram:https://t.me/joinchat/PrBejBh_Grp6lFZEGArDpA
请为我们的见证人 smt-wherein投票:
https://steemconnect.wherein.mobi/sign/account-witness-vote?witness=smt-wherein&approve=1