A Stroll Through the Streets of Paris - Part 2 / 徒步巴黎之二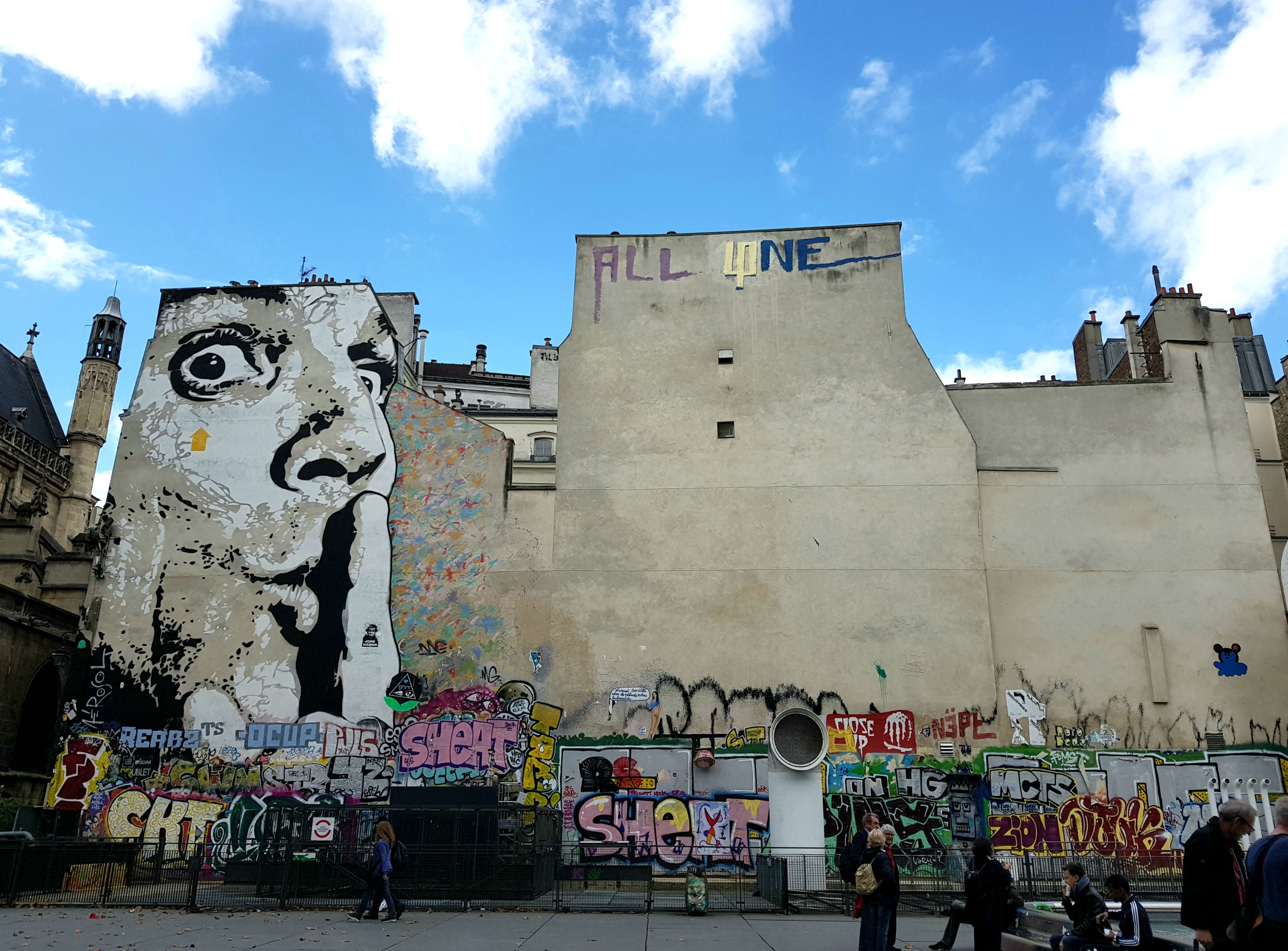 ---
Musee du Louvre
Continuing on from the last part of my Parisian trip, we arrived at the world famous Musee du Louvre. Being quite a well-known attraction, the instantly recognisable glass pyramid structure brought back pleasing memories from my last visit here.
What a magnificent and unique sight!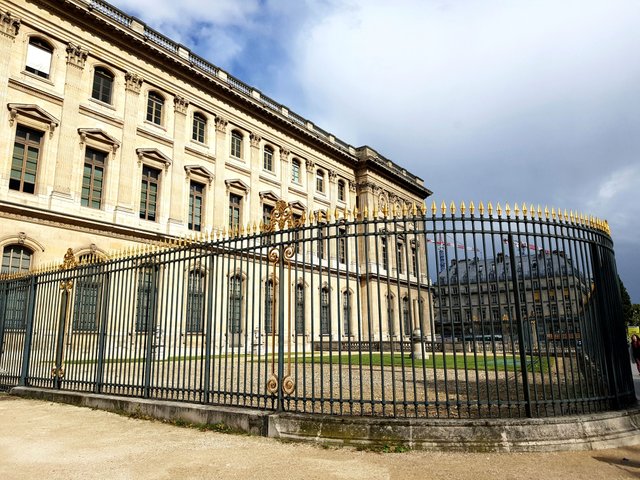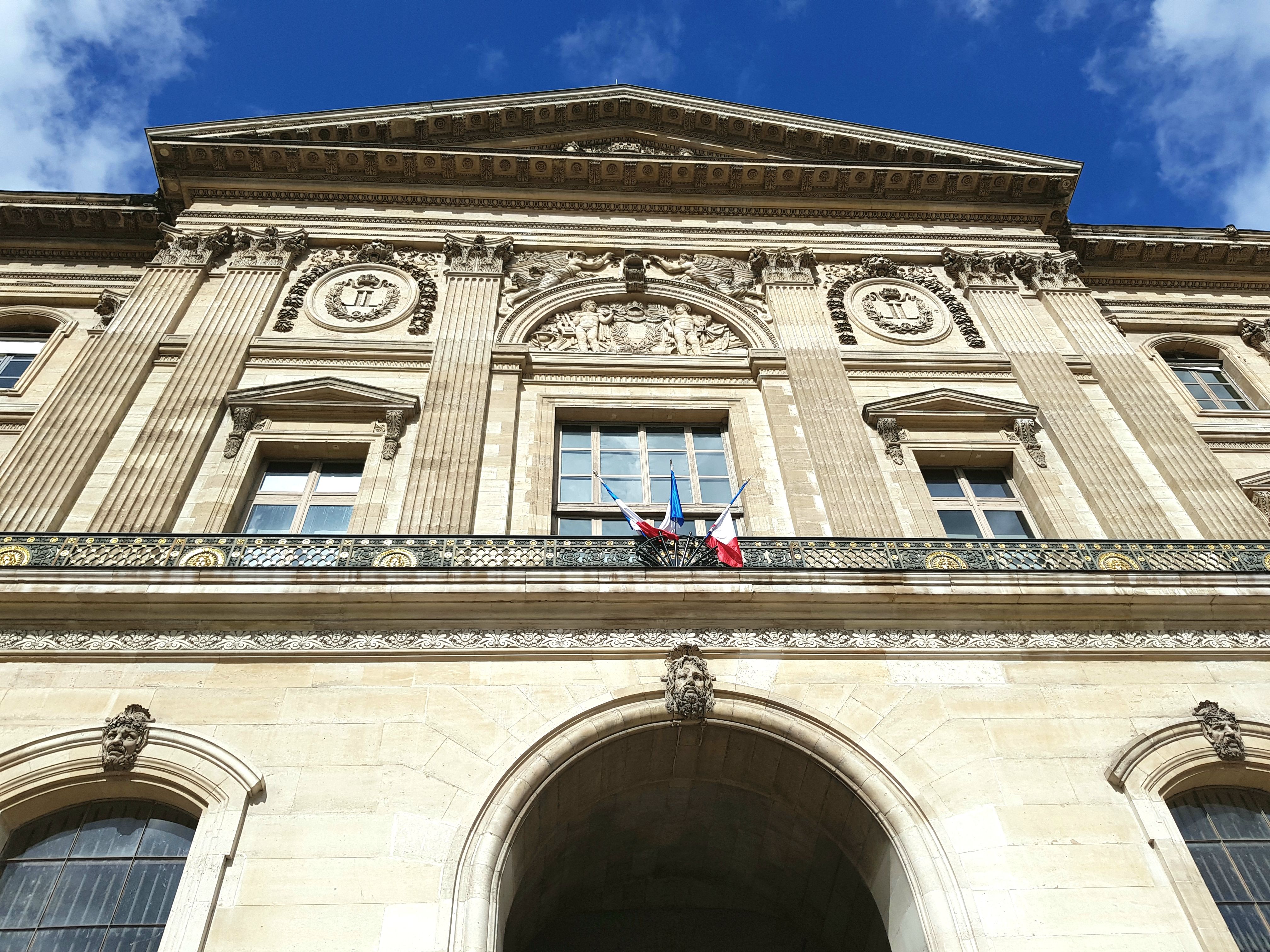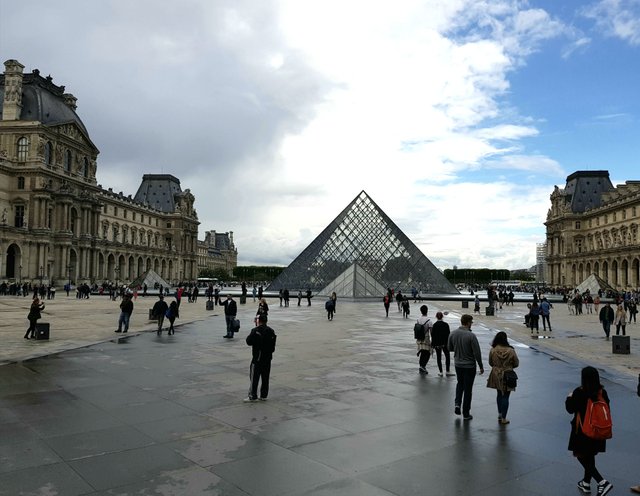 The Louvre needs almost no introduction at all. It is home to the famous and extraordinary Mona Lisa painting, the Venus de Milo, Winged Victory of Samothrace, Michelangelo's slaves, Vermeer's Lacemaker and some of the greatest and most fascinating finds from the historical worlds of long ago.
Today, The Louvre is one of the world's largest museums that holds 70,000 pieces of art spread across more than 650,000 square feet of gallery space. Therefore, it should come as no surprise that it is also the most visited museum with approx 8.8 million annual visitors. This and the Eiffel Tower are undoubtedly the most popular attractions in all of Paris.
The Louvre exterior is made almost entirely out of glass and metal designed by Chinese-American architect I.M. Pei, as well as having three smaller pyramids adjacent to it in the main courtyard. The large pyramid also serves as the entrance to the actual Louvre Museum itself.
I would recommend taking a short while to admire the architectural excellence that went into it's design. It really is such a visually impressive showpiece and equally enormous in size too!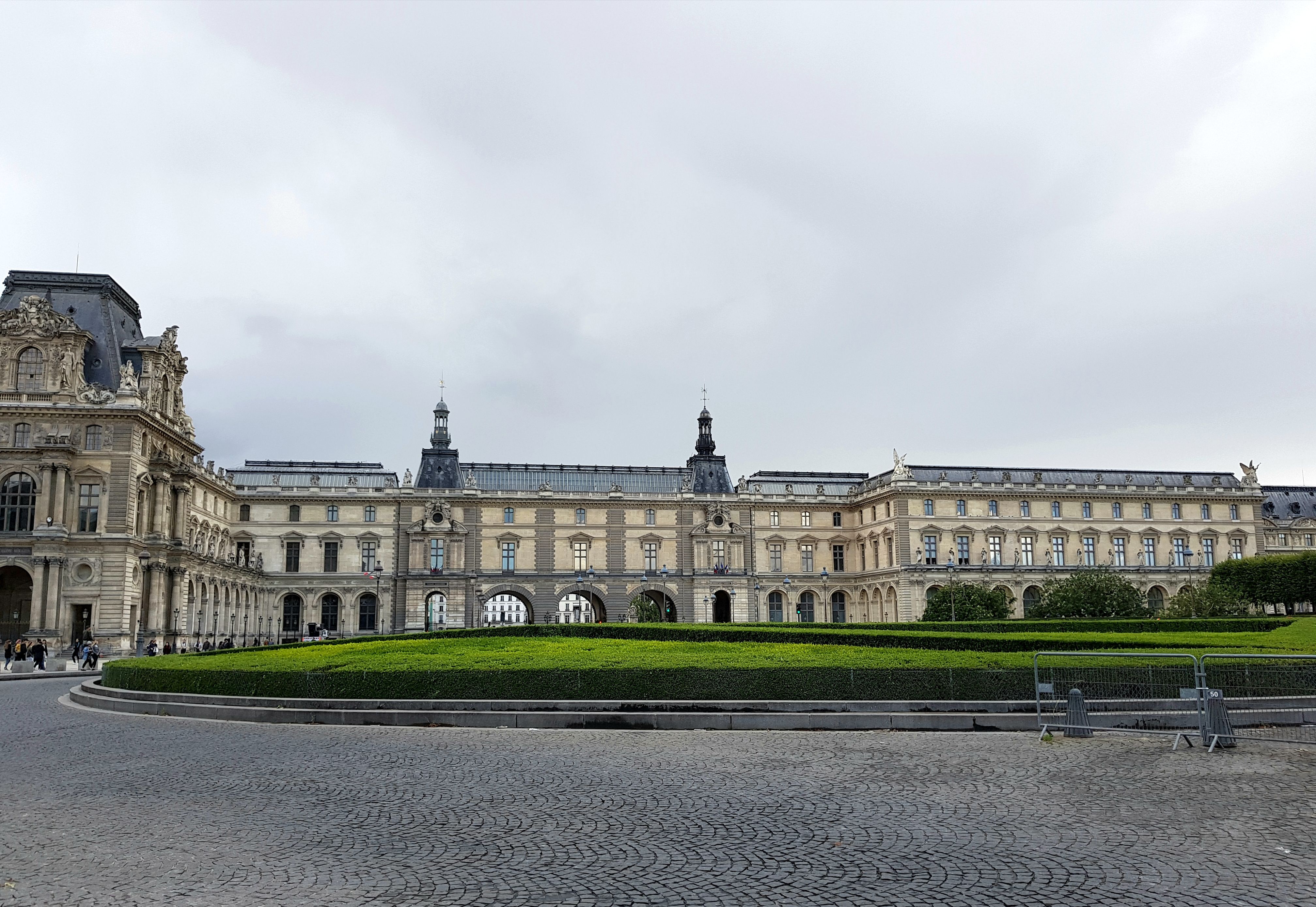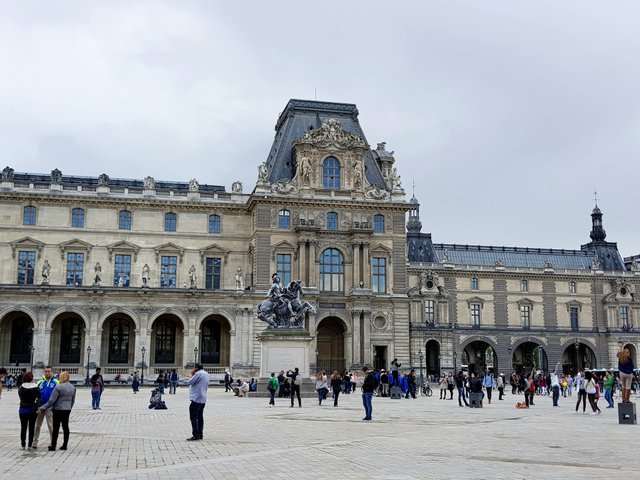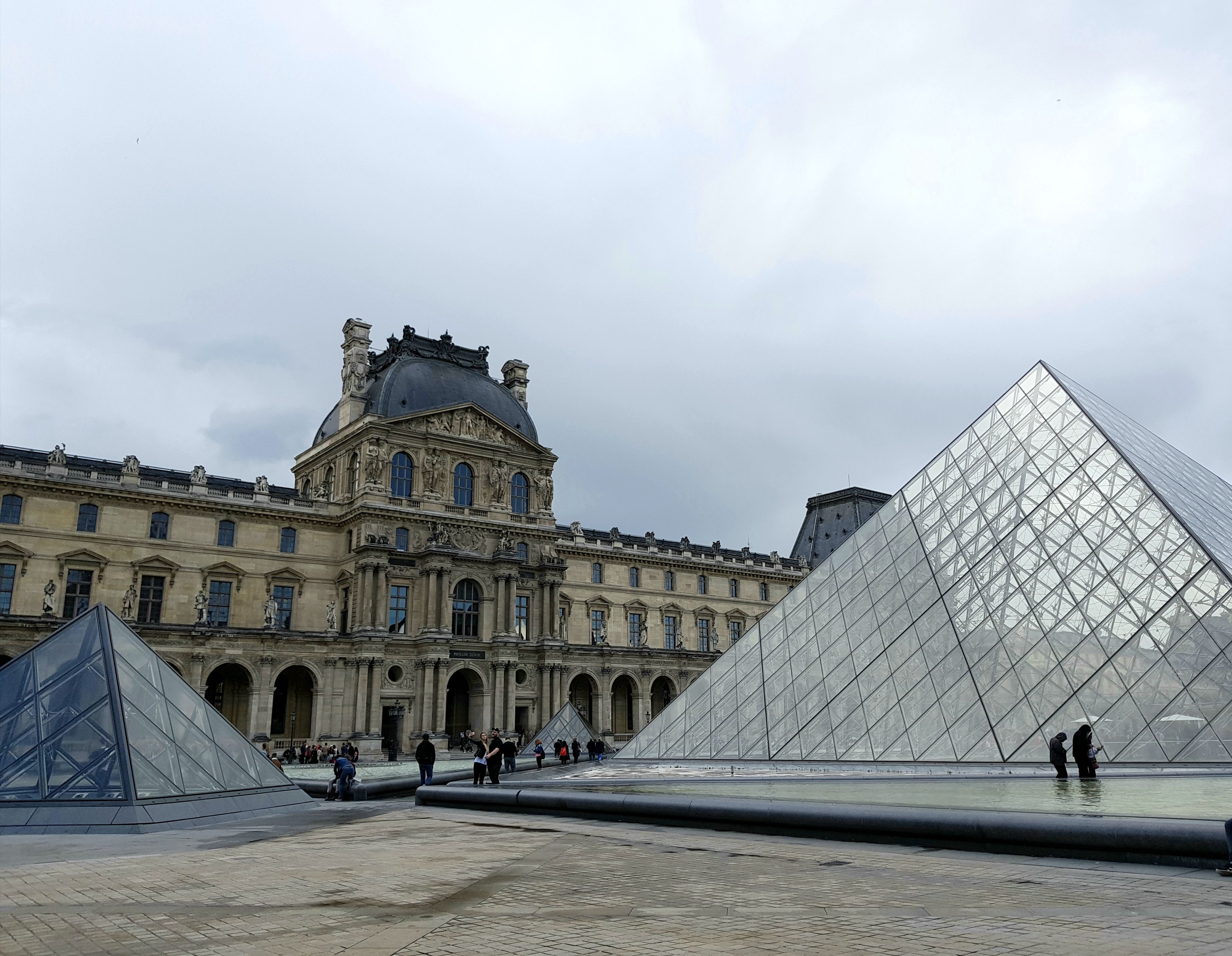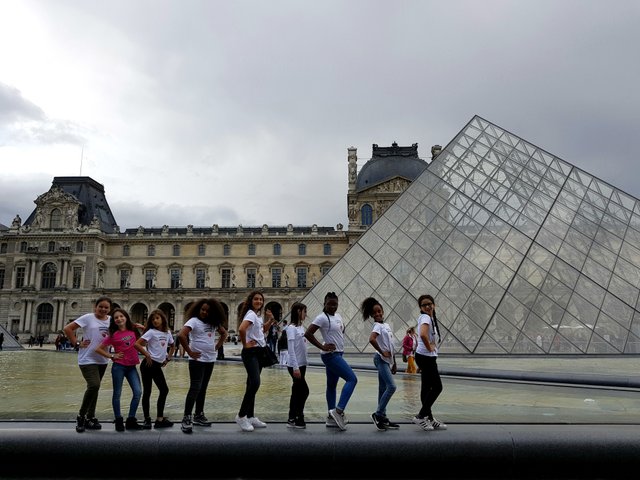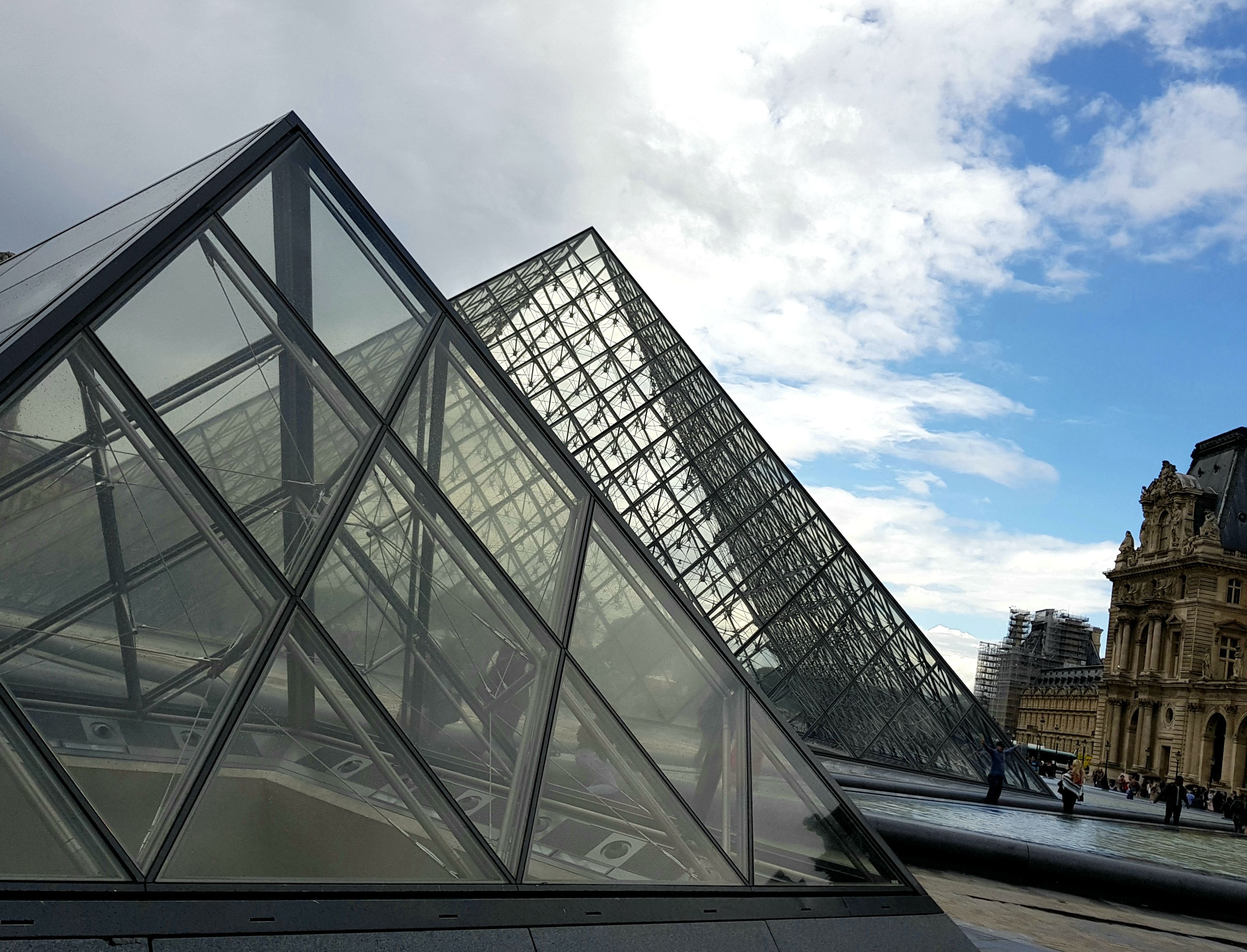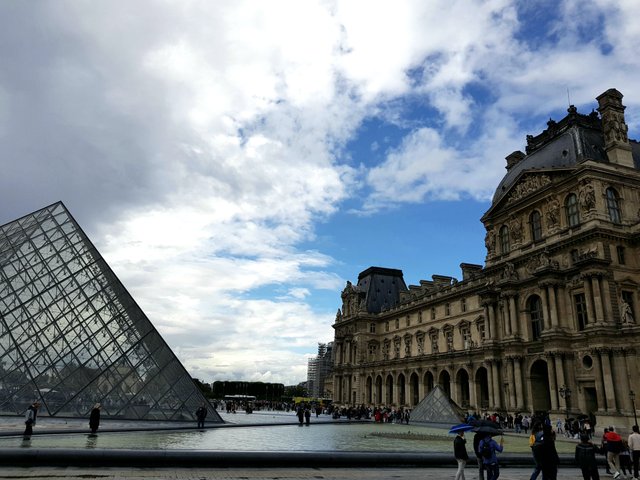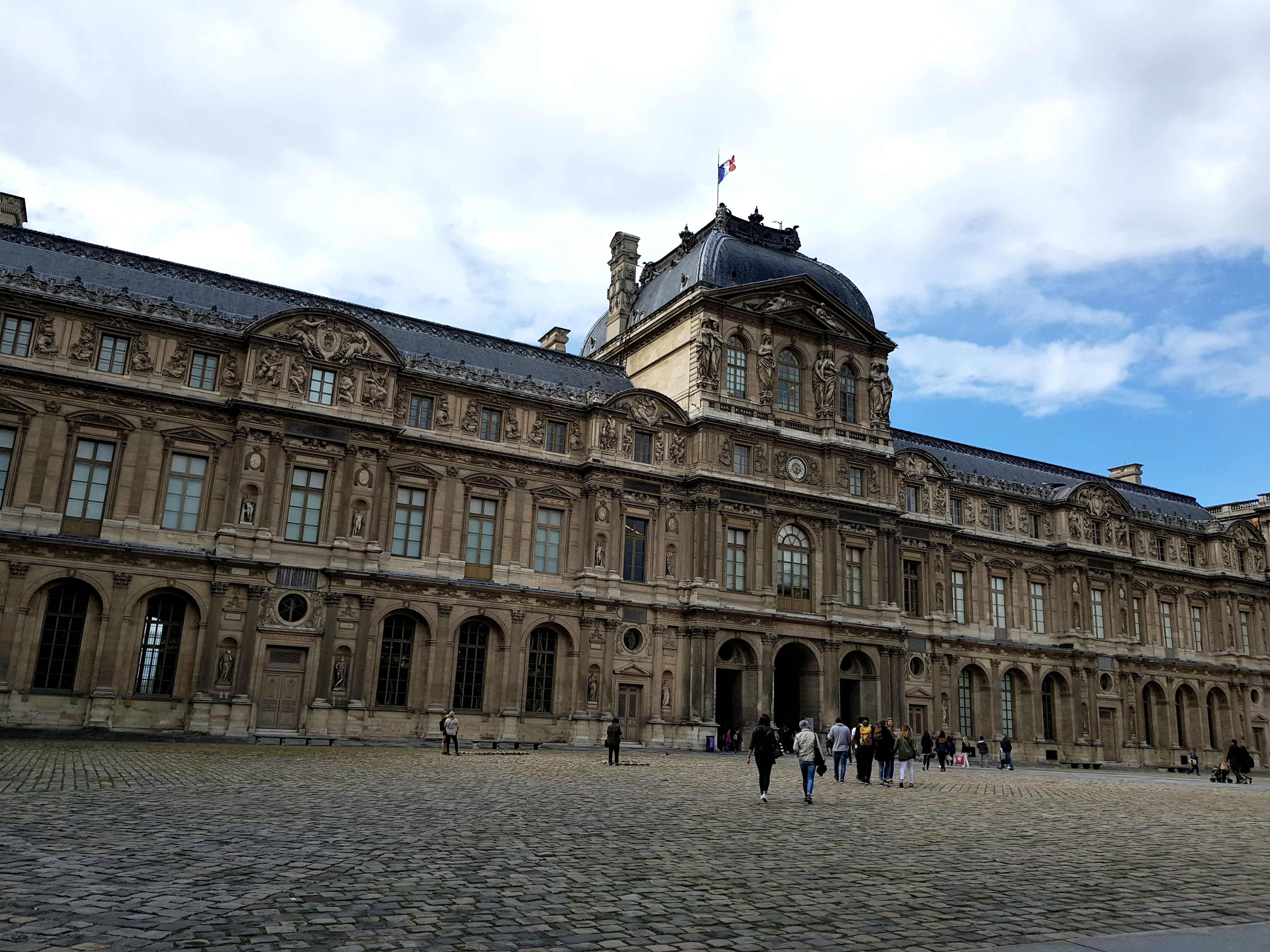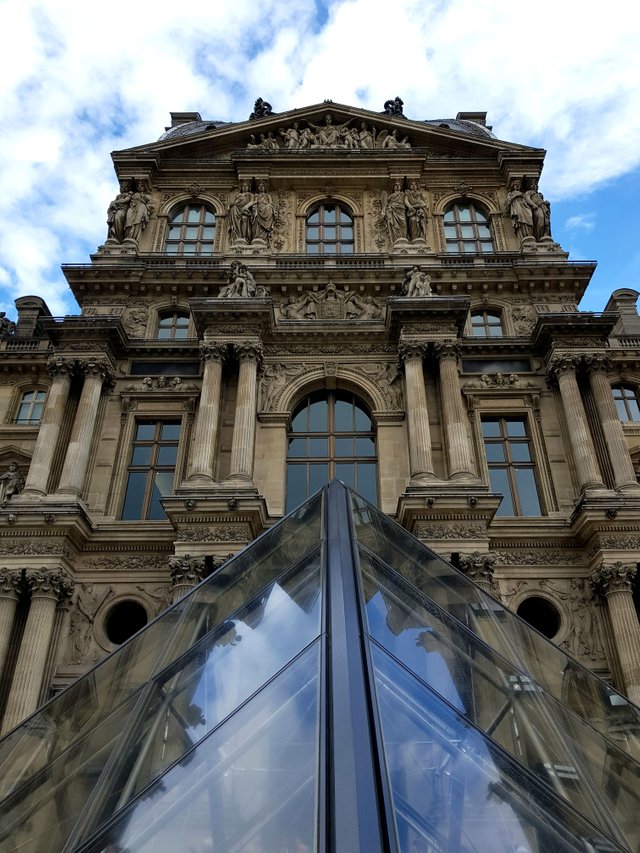 Because I had paid a visit to this wonderful venue several times before and being on a strict time limited already, I decided to just observe it's beauty from the outside and continue on. But I remember the inside of the museum only too well and it is absolutely huge. Even using their detailed map as your guide, it's a place you can easily get lost in, lol. It is said that it will take around 100 days to view every single piece of art! There are so many astonishingly beautiful things to see. You either just wonder aimlessly taking in the ingeniously creative explosion of artwork or you will simply have to select and focus on a specific main area of interest.
In a place like this, time will always be of the essence!
The sheer amount of variety on offer is incredible however I personally loved the Egyptian and Ancient Greek areas in particular. An amazing place with unbelievable artwork! One of the best I have been to... If not the best.
This is one of the "must see" tourist locations in Paris. In fact, that almost goes without saying.

Allure of The Streets of Paris
As you may have figured out by now, one of my favourite things to do is taking carefree strolls around the city and discovering the astonishing amounts of diversity and freedom big-city life in Paris has to offer.
Walking the chic, distinctive streets of Paris, is like no other place I can think of. Most neighbourhoods have been designed with a "pedestrian's view" in mind, given all the city's dizzying variety and fascinating landscape.
It's something I never seem to get bored of and so much fun. The trademark French retail outlets, plentiful designer shops, gorgeous attractions and amazing restaurants. If a burning desire of yours happens to be shopping, then this placce could be easily classified a "fashion haven". You are almost "guaranteed" to get hold of the latest and most up-to-date merchandise and accessories from the very best designer stores.
Though I have to be honest here. Sometimes instead of checking out the usual famous streets of Paris, I often feel more inclined to discover what secrets are tucked away in the backstreets and hidden passageways of more "local" Paris. Those narrow roads and alleyways can be more appealing as they hold secrets that you and you alone have to uncover for yourself. It shows me more of what actual life is like.
It all depends on your mood at the time but that's the magic of this beautiful and spellbinding place. :)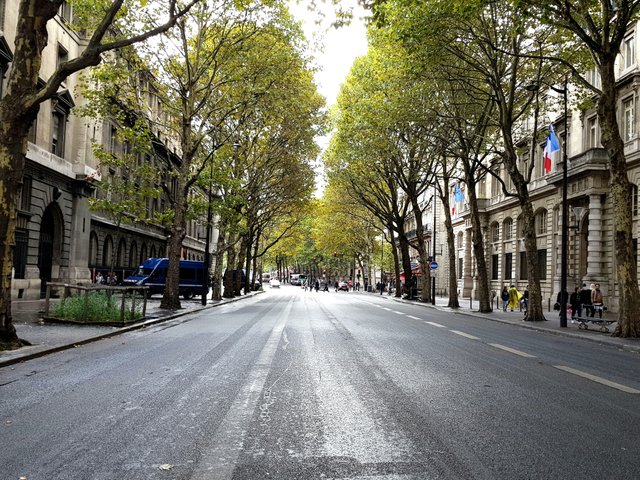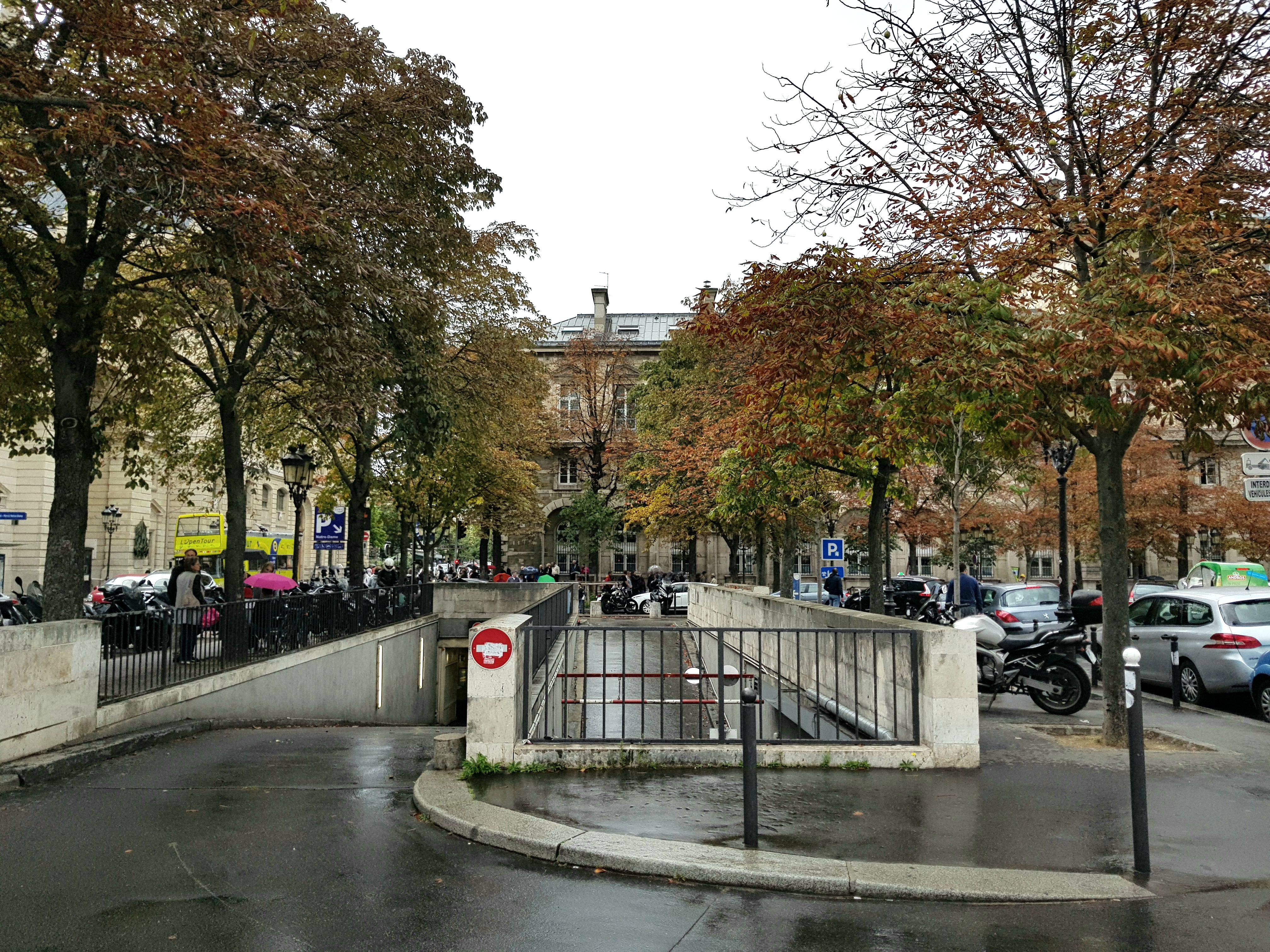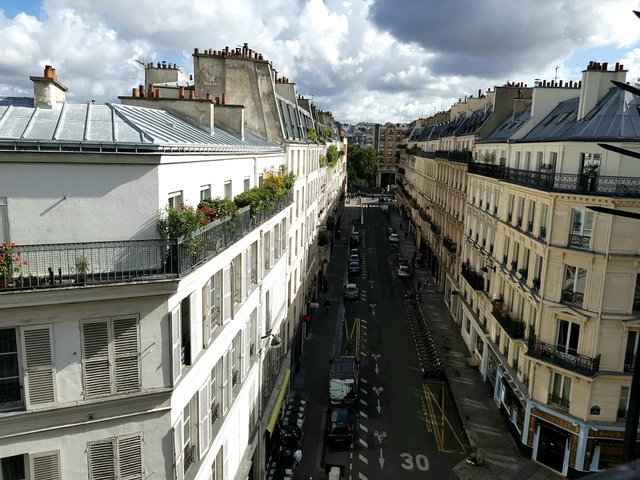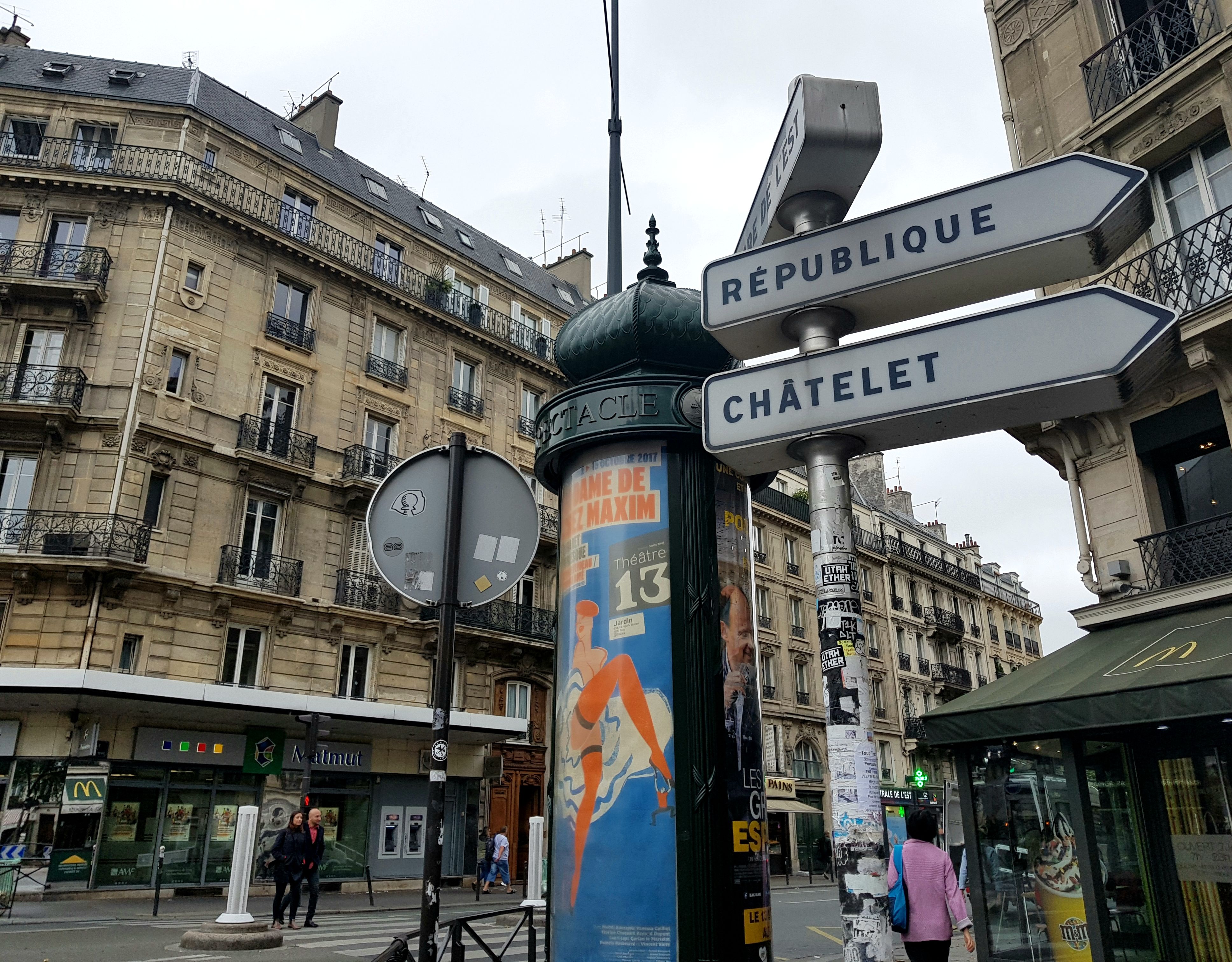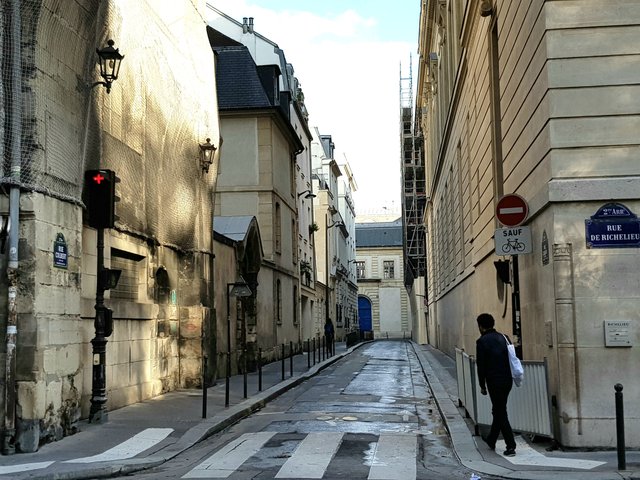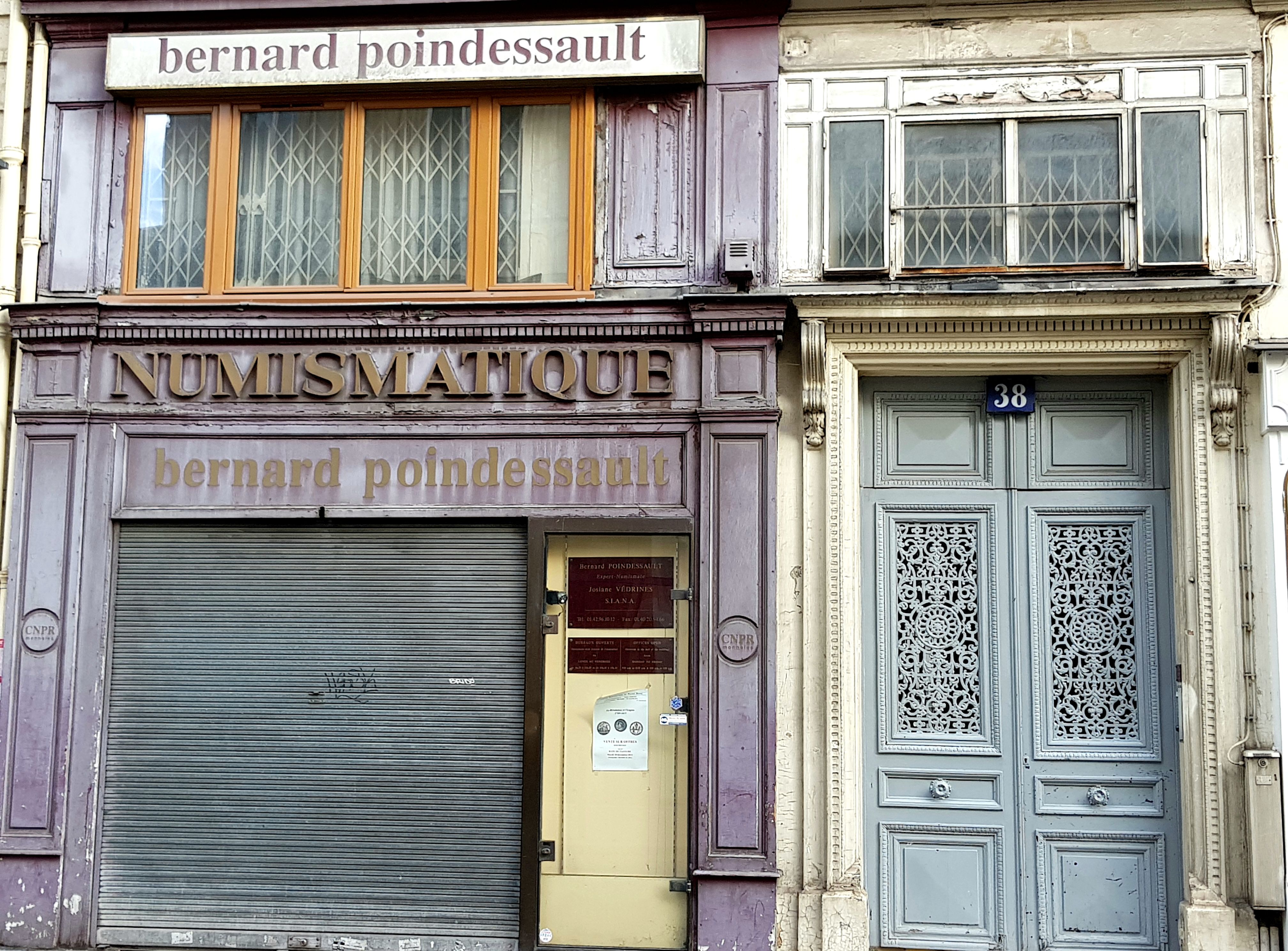 The Power of the Spray Can
The "culture of Parisian art" seems to be everywhere you turn. I spotted so many different varieties and forms on my exploratory "hardforked" adventure to this new part of the city. It could be anything from a "Roman" style fountain to artistic contemporary designed buildings. It is like getting lost within the pages of a fascinating lost world. Here are just a few examples of what you may come across on your "random" Paris walk.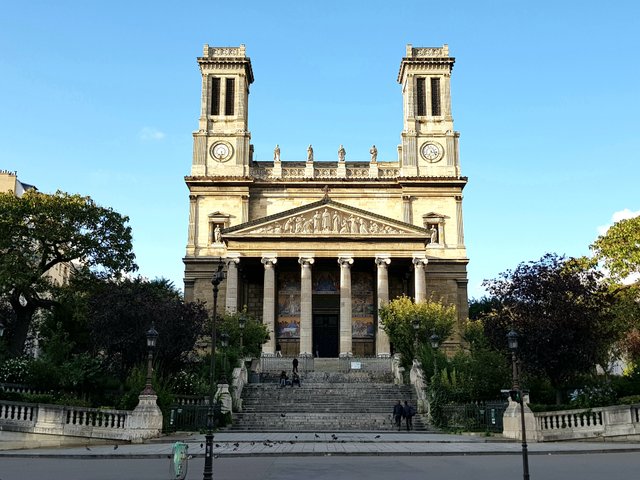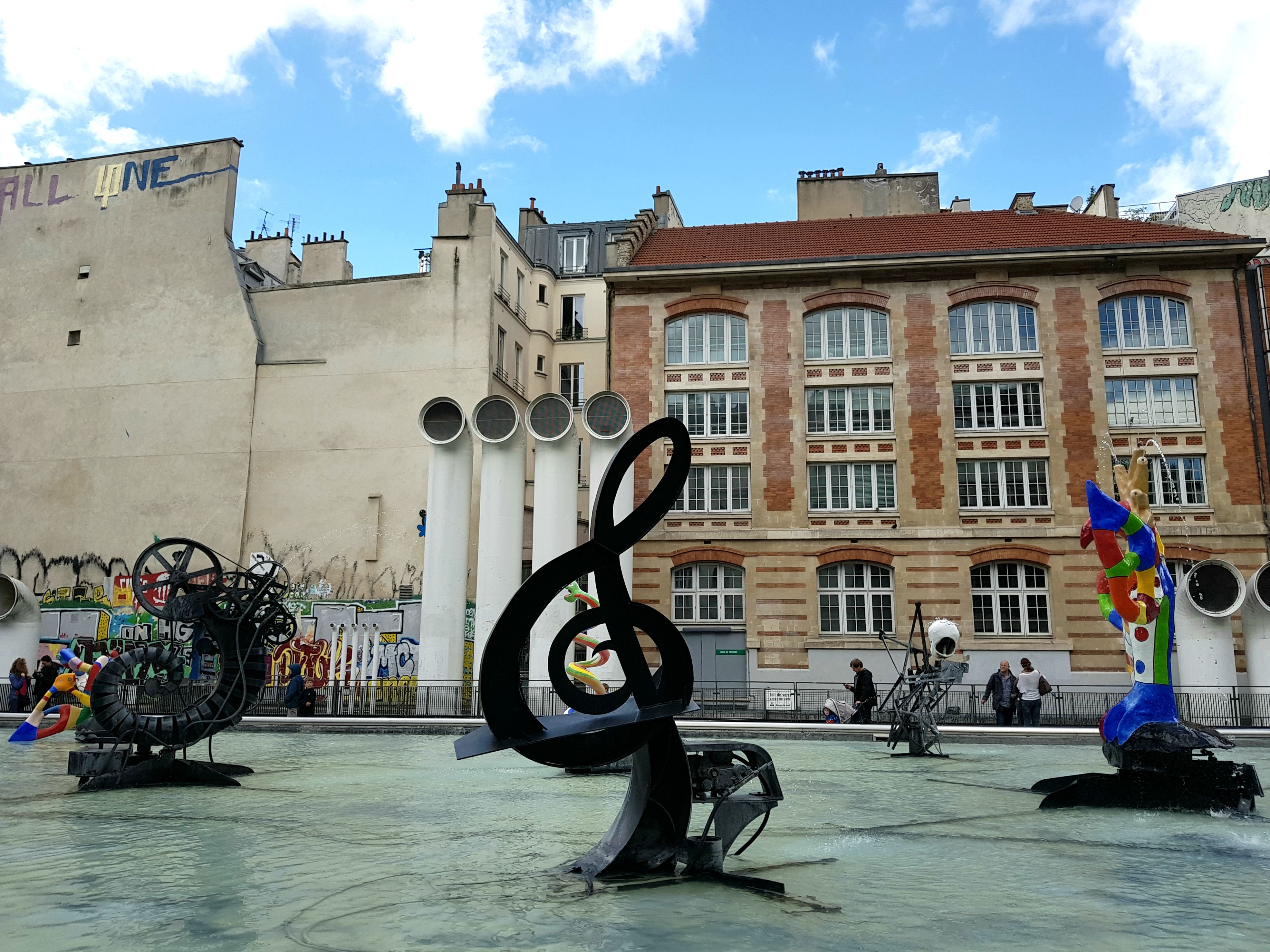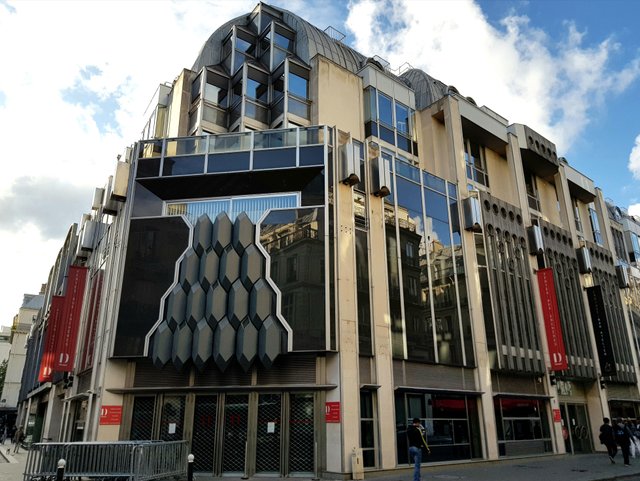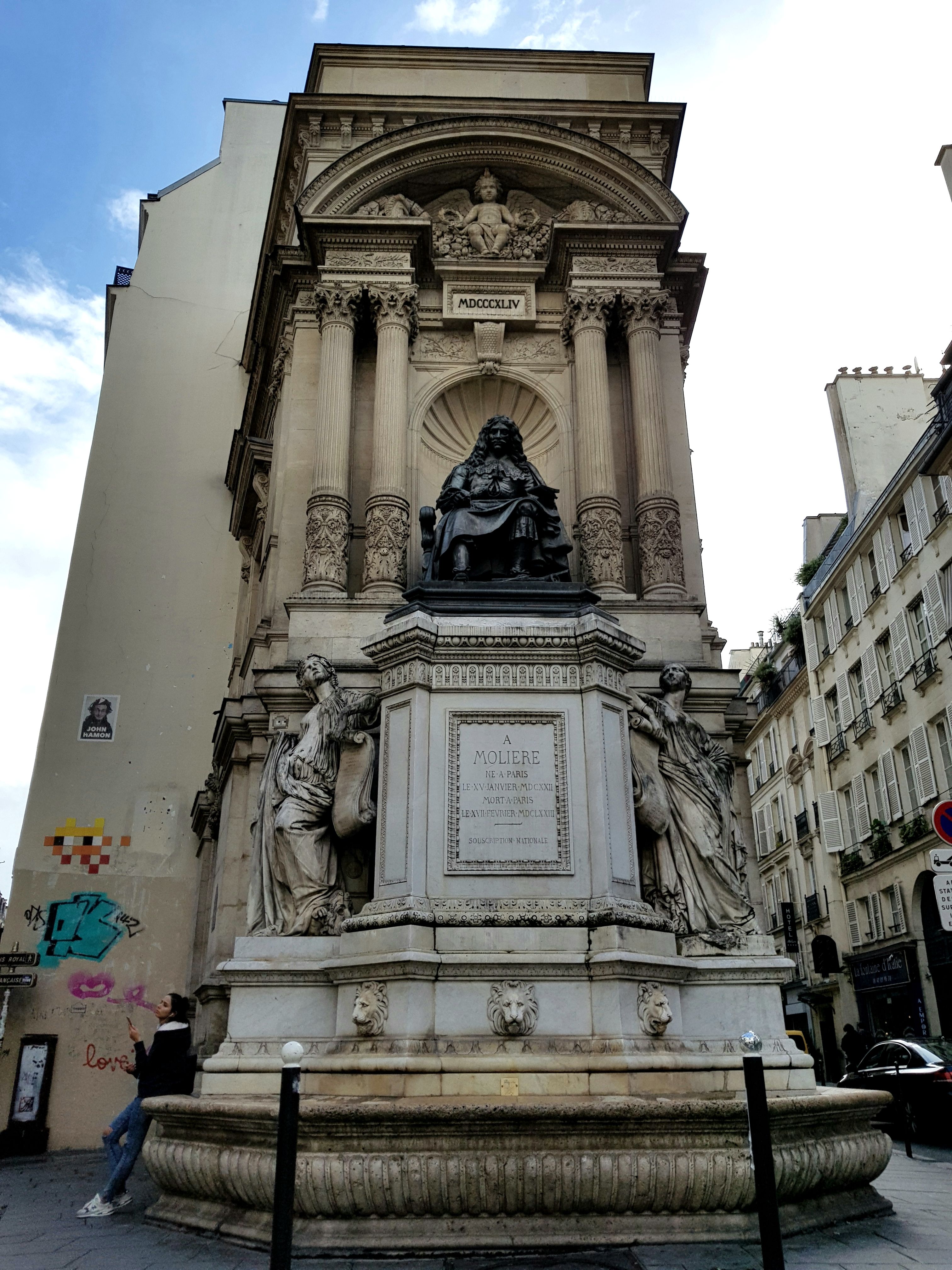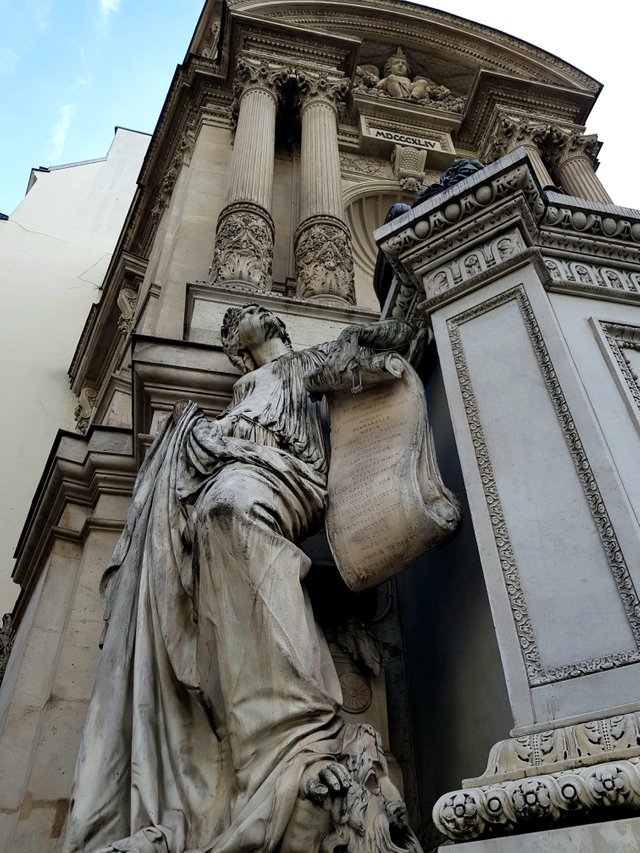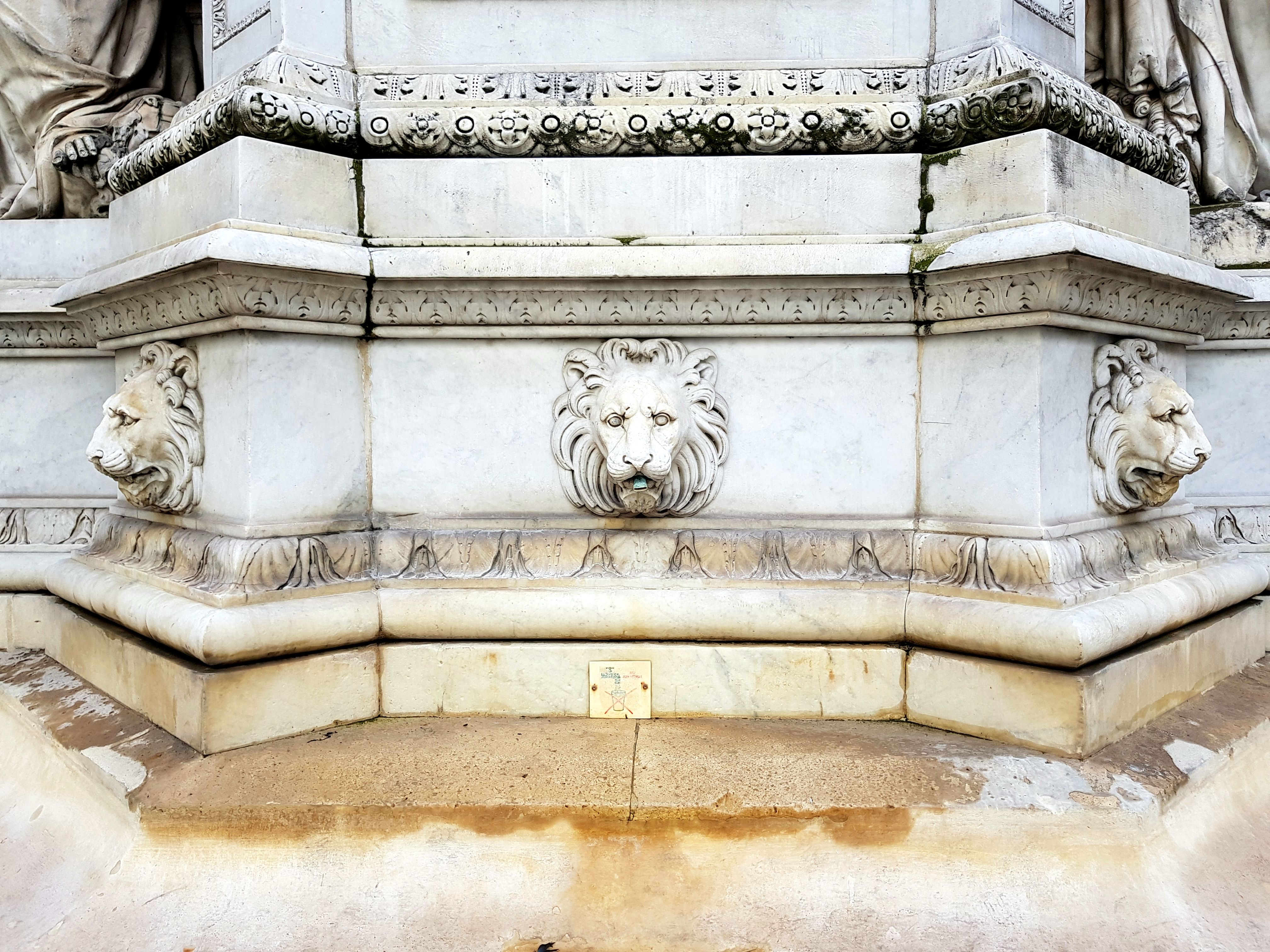 One interesting thing you are sure to see many times over are the decorative graffiti artworks dotted around. Being considered as somewhat of an anti-social pass-time, one cannot ignore the talent that went into those wonderful creations. It appears many of the works on display incorporate the existing cityscape's "unique stylization" as part of it's inspiration.
Continuing to stroll along these quiet streets, you will find it really opens your eyes to the amazing skills of those artistic individuals and what they can achieve with nothing more than an empty wall and spray paint can, lol.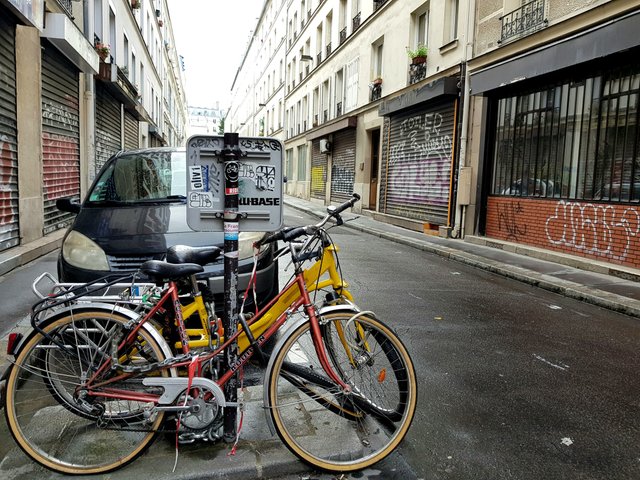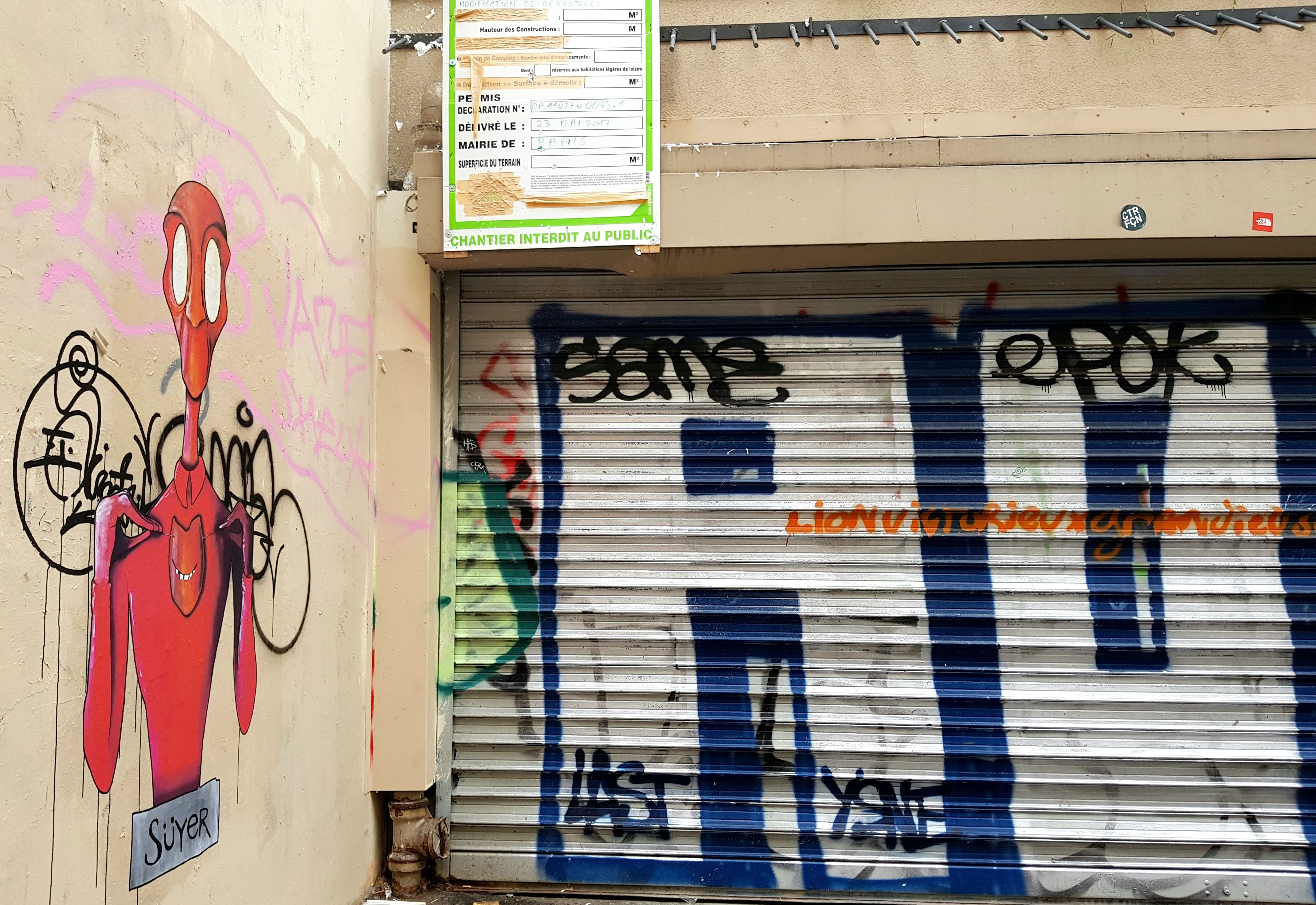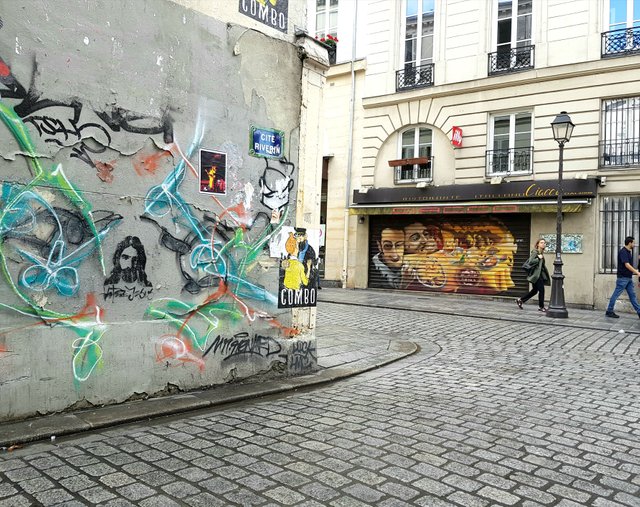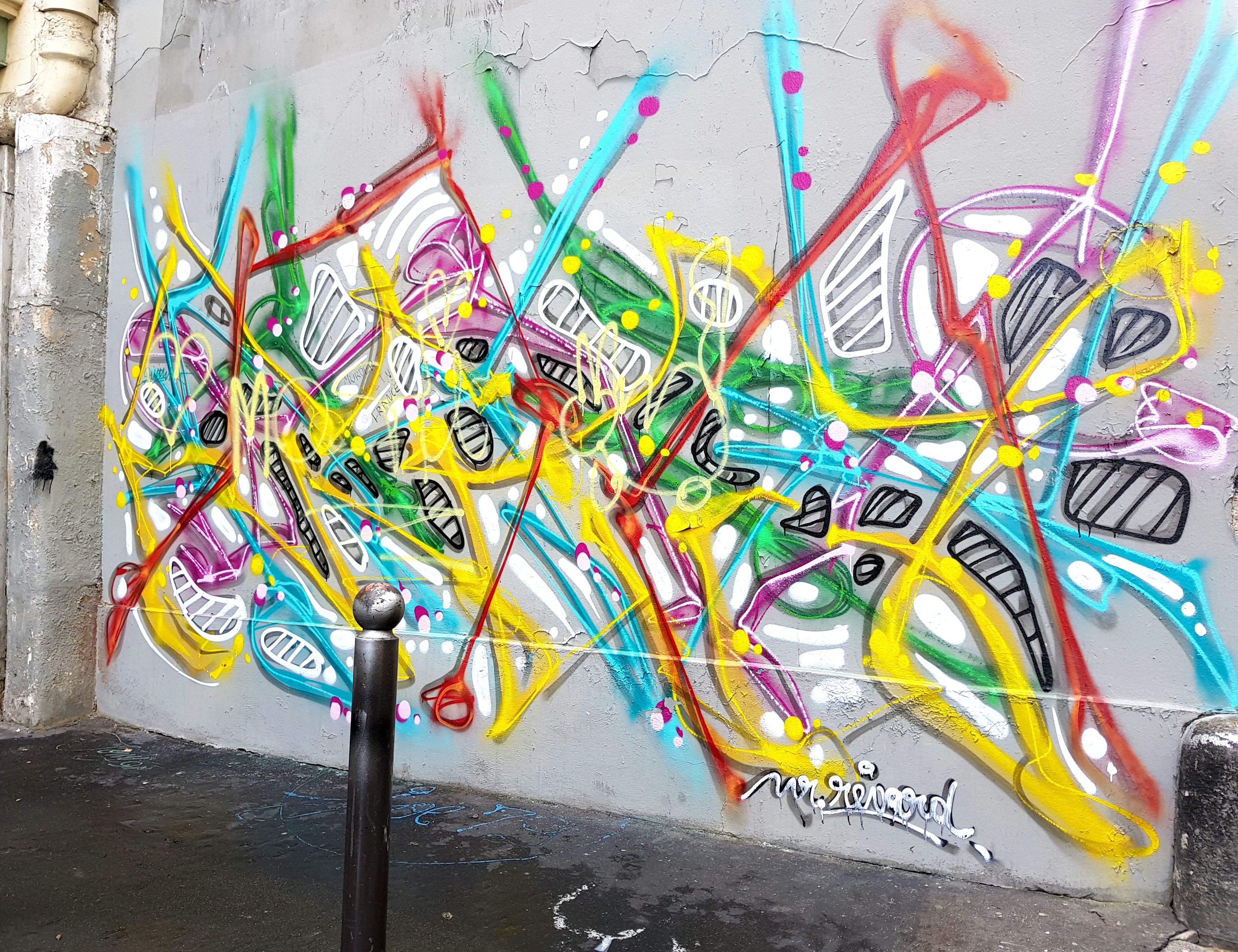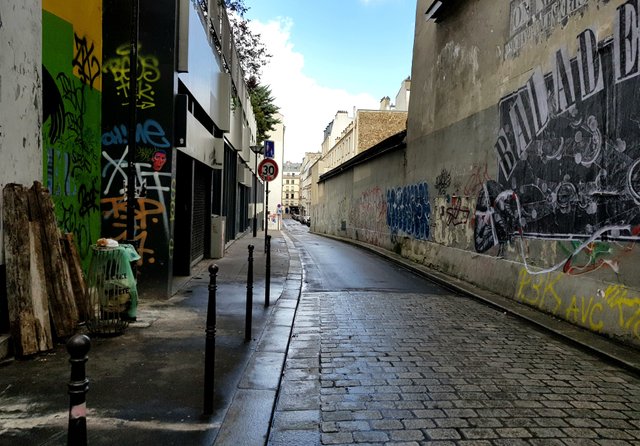 Also keep an look out for certain lamp posts and traffic light poles. Often, you will find miniaturized and humorous artworks there.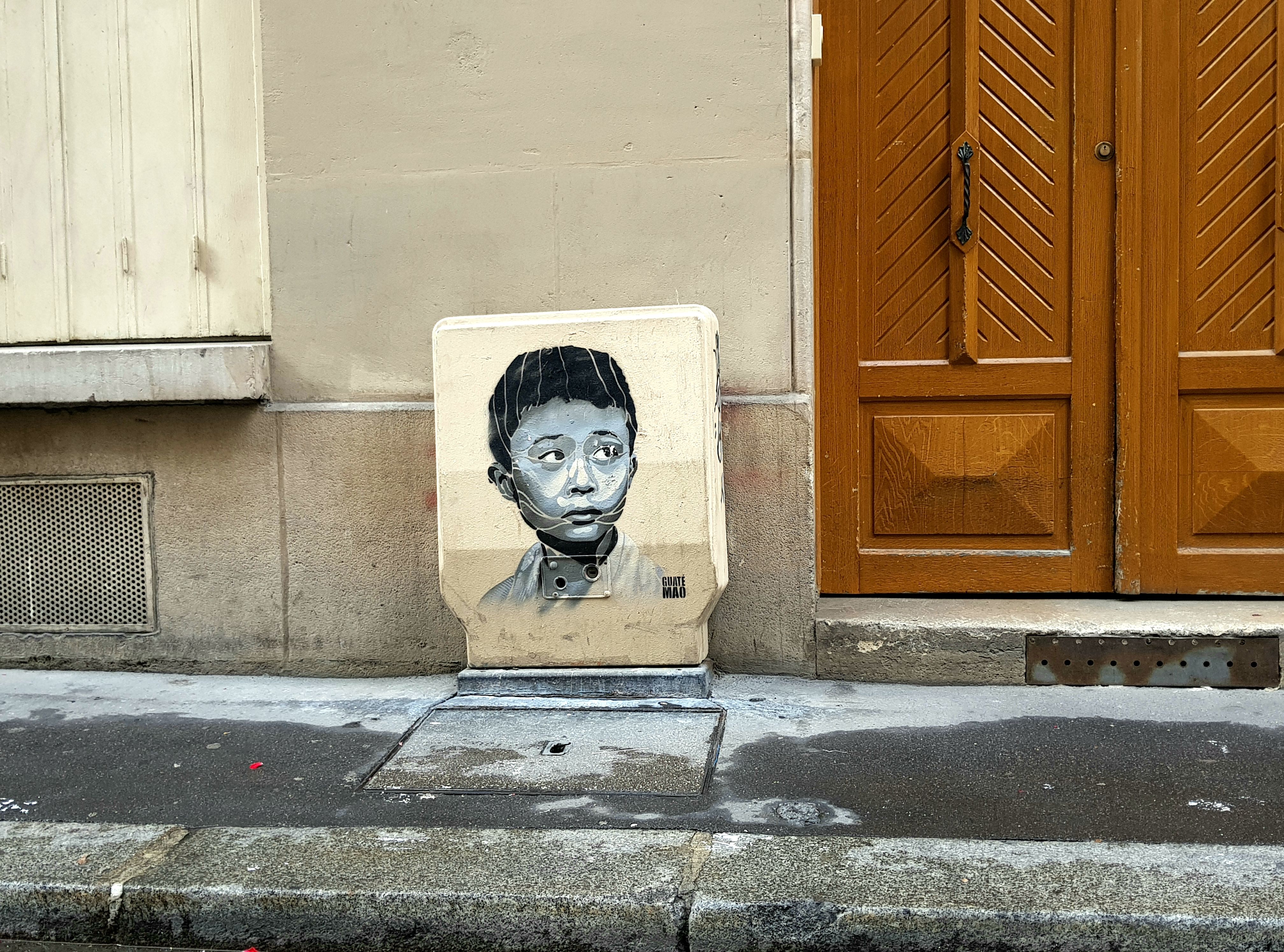 Further ahead in an open square, close to Centre Pompidou, you will find a large collection of original creations from various artists. The photograph below was taken of a wall located on Rue Brisemiche. I have no idea how these artists managed to reach that high up, but it certainly creates quite a bold statement to whomever lays eyes on it!
I studied this extraordinary drawing from up close as well as from a distance. Simply incredible.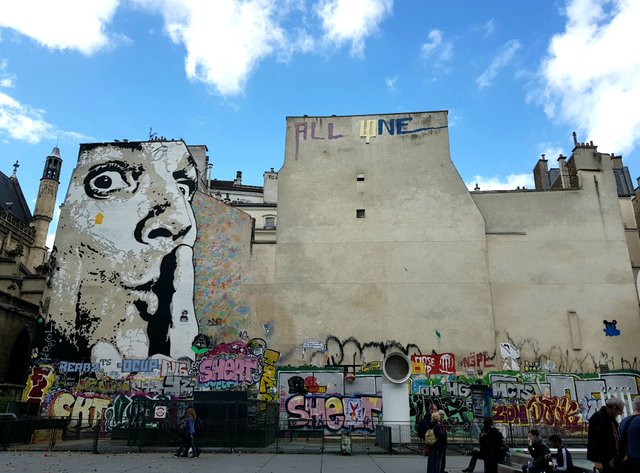 I hear the artworks are sometimes given an "update" by their corresponding graffiti artists from time to time. In order to keep the images fresh and interesting. As part of the Paris culture that represents freedom of expression, street arts are something not to be missed while you are visiting Paris.

Departure of Paris
Thank you for joining me on this little adventure through the enchanting and colourful city. A little piece of my heart has been left behind here for when I return once more. Though I have a sneaking suspicion that shouldn't be too long... :)
It was but a short two-day visit of Paris of the weekend and thoroughly enjoyed to the max. Bye bye Paris, until next time!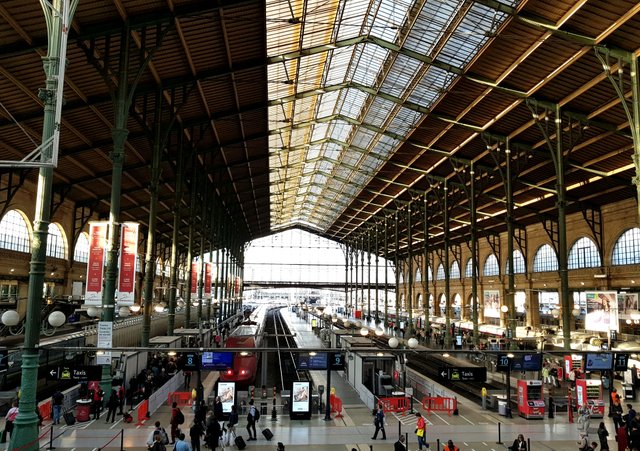 ---
卢浮宫博物馆
继徒步巴黎的上集,我们来到了世界闻名的卢浮宫博物馆。卢浮宫无疑是世界上最著名的博物馆,也是我所去过的最庞大的博物馆。远远地我就看到了那个熟悉的玻璃金字塔为中心的卢浮宫中庭,一个独特而壮观的景象!
几乎不需要介绍,想必大家都很熟悉卢浮宫的"镇馆三宝":蒙娜丽萨的微笑,米罗的维纳斯和胜利女神雕像。除此之外,从古埃及,希腊,到中世纪文艺复兴时期以及近代,展馆里的艺术珍品可谓数之不尽,展现着古代世界上最伟大的发现。
迄今为止,卢浮宫整个博物馆占地总面积为65万平方英尺,拥有7万余件艺术收藏品,因此与埃菲尔铁塔成为巴黎最受欢迎的旅游景点,每年参观游客高达8百万人次。
卢浮宫的玻璃金字塔是具有"华人建筑第一人"美称的贝聿铭的杰作。他在卢浮宫博物馆的U形广场中,设计了一个巨大的玻璃金字塔作为博物馆的入口大厅,再配上三个带有采光天窗的小金字塔与主塔相呼应,让游客们赞叹不已!有如水晶般的金字塔非常富有现代的简洁美,与古老的卢浮宫相交辉映!
我建议大家花一些时间站在卢浮宫的广场上感受一下如此雄伟壮观的建筑物。
曾经多次参观卢浮宫,这次时间有限我就没有进去了。博物馆内部之大,让我印象非常深刻。卢浮宫的展览馆分为三部分:德农馆,徐利馆和黎塞留馆。而每个馆都有四层。可想而知,花上一整天时间走马观花一遍都是巨大的挑战!即使有地图,也很容易迷失其中。所以大家千万不要有"全部看完"的念头,呵呵。我会建议大家做好规划,确定自己最有兴趣的部分或者选出不可错过的几件名作,看好了感受到了,就值了!
我个人比较喜欢的是展示古希腊罗马艺术 的德农馆,除了米罗的维纳斯和胜利女神,古希腊罗马的那些精美石雕件件都是精品!
别人都说,卢浮宫是巴黎的标志与象征,此话一点儿不假。
巴黎风情街
跟随我博客的朋友,也许感受到我很喜欢徒步旅行。巴黎城面积不大,景点十分集中,最适合徒步了,呵呵。在这里无忧无虑地漫步,你可以发现这座迷人都市的多姿多彩,感受到它的多样化,更可以细细品味它独特的文化风情!
如果你热衷于品牌商品,这里是你采购的天堂,呵呵。这里拥有各类世界顶尖名牌店,其中最著名的要数古色古香的香榭丽舍大道,被誉称为"全世界最美丽的大道"!
相比之下,我更喜欢闲逛巴黎的后街小巷,发掘特色小店或一些没有经过大改造的街区,寻找最古老的,原汁原味的老巴黎街道,呵呵。
街头涂鸦文化
巴黎有艺术之都的美誉,有数不尽的博物馆和美术馆。即使在街上,也随处可见古罗马的喷泉或是当代设计风格的建筑物。
而让我很感兴趣的却是在巴黎街头各式各样五彩缤纷的涂鸦。各种房子建筑,地铁门窗,都是涂鸦者任意施展想象力的地方!
这里很多街头小巷是可以进行涂鸦的,在那里你可以看到街道墙壁上到处都画着有趣的涂鸦。在布满街头涂鸦的艺术小胡同里,所有的建筑会让你有崭新独特的感受。
在灯柱和交通灯杆也会有微型和幽默的涂鸦艺术作品,呵呵。
离蓬皮杜文化中心不远的广场,聚集了大量的涂鸦艺术作品。以下照片就是其中一个,覆盖了一座几层高的建筑物外墙!真的无法想象这些艺术家是如何在这么高处进行涂鸦的!这些新颖独特的涂鸦和有趣的主题,无论是远观或近赏,都令人难以置信。我情不自禁地沉浸在涂鸦世界里,呵呵。
据说这些涂鸦艺术家会经常更新涂鸦,让街道小巷持续呈现不同的充满活力的涂鸦作品。如果你想充分感受巴黎自由文化风格的涂鸦艺术,一定不要错过这些小巷子哦,而且每次参观都会有不同的新风格!
回程
短短的两天时间结束了我的巴黎之行,傍晚的时候我和同事一起乘坐欧洲之星回伦敦。感谢大家和我一起分享巴黎的徒步之旅。虽然对巴黎依依不舍,但相信不久我会再来这个多姿多彩的美丽城市。