From Miniprogram to Steem, WhereIN miniprogram is now online | 从小程序到Steem, wherein小程序上线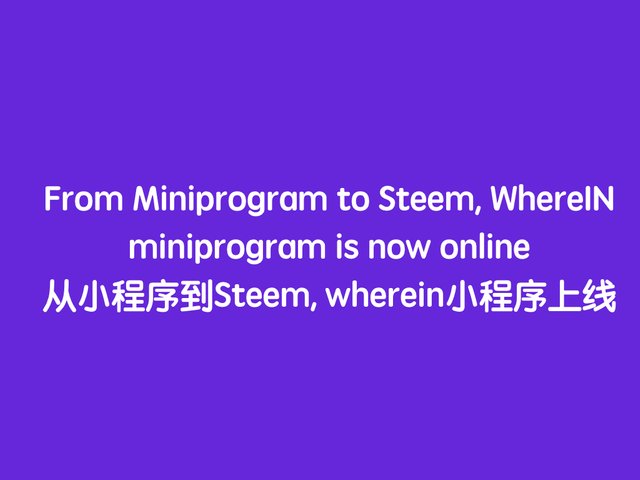 After months of struggle, with the assistance of @robertyan, finally WhereIn miniprogram is online and sync with Steem!
Miniprogram
As we have previously mentioned, Miniprogram is a mini application that is reside in Wechat. It does not require installation, it's convenient, small resource requirement. User can use QR code scanner or link to gain access to. To date, WeChat has more than 3.9 million Miniporograms, and daily active users up to 450million. It's expected to have 1.5 million Miniprogram developer. QQ, Baidu, QR Pay and many western entrepreneur has started their development in Miniprogram, and having their own community. The total amount of Miniprogram has far exceeded the total number of App available.
From Miniprogram to Steem
We've always been finding ways to include Mini Program into Steem Blockchain due to its compactness and low cost maintenance. We have included Mini Program API as WordPress plugin for the convenient of WordPress user to sync with Steem. As at now, we have more than 10 thousands of active MiniProgram installed with our wordpress plugin.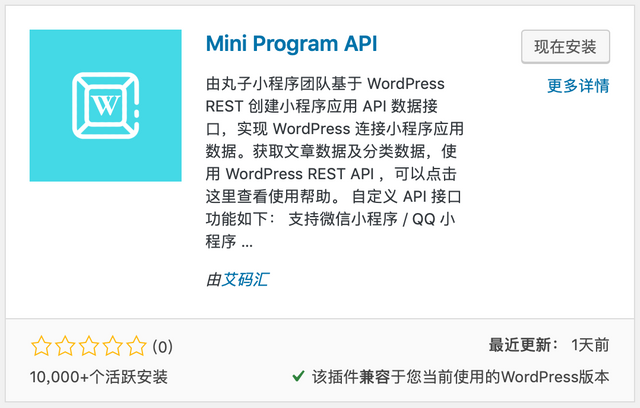 In order to meet the requirement, we have came up with a customized login portal(there is a widely known Steemconnect, we built something similar but can be used in Mainland China) for Chinese citizens whom resides in Mainland China. We have also came up with Steem For Wordpress plugins, in order for us to bridge the gap between WordPress and Steem. The final result is as below: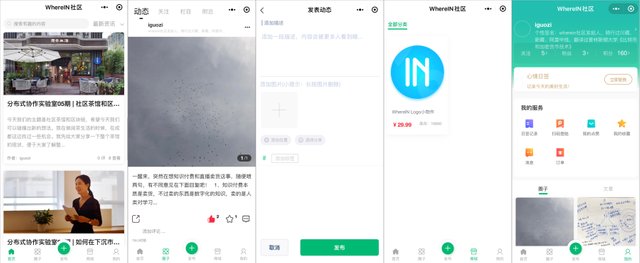 Users are now able to use WhereIn Miniprogram to author a post, comment and upvote. And all fo these activities will be automatically synchronized with Steem network. At the same time, WhereIn has it's own business section available for product trading and dealing. In future, we will be looking forward to incorporate STEEM as trading currency between transactions. Meantime, WhereIn Miniprogram has an extra function for private messaging, allowing fellow users to direct messaging each others.
With this, any business owner will be able to build their very own WeChat Miniprogram on top of Steem Blockchain, gathering like minded people, and thrive in their community. There's already more than tenth's of thousands of Mini Program API that similar to WhereIn existing in the market, with a little bit of improvement and alteration, we will be seeing a lot more of similar miniprogram to be inline and sychronized with Steem Blockchain.
At the moment, we are also actively involved in SMTs testnet, in the hope of once SMT going main line, we will be seeing a lot of different Miniprogram be able to connect with SMT. We believe, SMT will be the future of Steem.
News and Social Network based on SMT
SMT has always been aiming to get in line with Reddit. Matter of fact, common.com is one of the best example of reddit alike, but blockchain based social network. In order to accommodate blockchain based social network, we managed to developed our very own Miniprogram.
With Miniprogram, community organizer will be able to developed their very own condenser based on steem community, launch their own token, and have their very own network media. These media condenser will be similar to steemit.com, using steem a like ecosystem to operate. What makes a different is, community member will be able to utilize their stakes(token holding power) to vote for their community leader, to decide certain rules and regulation, and have a contract permenantly written on the blockchain.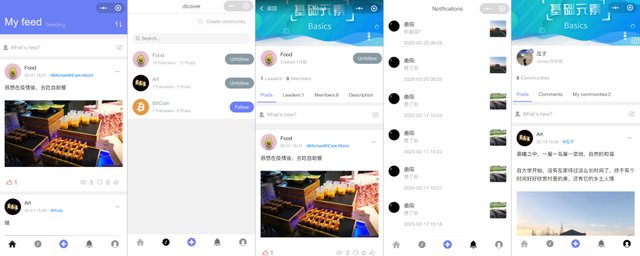 As at now, we are working our way to finalize this Miniprogram, at the same time trying to incorporate it on to SMT testnet.
We understand there are much challenging things happened in the #steem network recently.We urge you to stay focus on SMT as we certainly value that as the arsenal of our blockchain. Let us work together, leave whatever in the past, and kick starting SMT from now on.
--中文--
经过@robertyan 近期的不懈努力,搭载Steem的wherein小程序终于上线了啦!
小程序
之前我们多次提到,可以把小程序看成一个简单的App,由WeChat率先推动。它是一个不需要下载安装即可使用的应用,用户扫一扫或者搜一搜即可打开。至今为止,微信小程序突破390万个,日活跃账户数4.5亿,仅微信生态就有超过150万小程序开发者。QQ、百度、美团、支付宝也都跟进开发,拥有了自己的小程序生态,小程序总的数量已超过App数量。
From 小程序 to WordPress to Steem
我们一直在思考将小程序低成本引入到Steem生态,为社区类小程序安装上Steem区块链发动机。首先,我们通过Mini Program API将小程序与WordPress打通,让任何人都能基于WordPress非常容易地拥有一个小程序,目前这个插件的活跃安装数已超过10000。
为了实现这个目标,我们开发了steemconnect中国版,以便中国用户能够通过steemconnect登录小程序。最后,我们实现了Steem for Wordpress插件,将WordPress与Steem打通。进而,将小程序与Steem进行了连接。最终,呈现的效果是这样的:
用户可以在wherein小程序上发布文章或动态、评论和点赞,这一切都将同步至Steem。同时,wherein小程序还有商城模块,支持上传、出售商品,未来甚至可支持STEEM购买商品。wherein小程序亦支持私信,用户之间可在小程序上点对点聊天。
这样,任何企业家都可轻易而举地拥有一个基于Steem的微信小程序,聚集志趣相投的人,发展他们的社区。目前,使用Mini Program API的类wherein小程序已超过10000个,待进一步优化后,可让大量类wherein小程序快速接入Steem区块链。
我们正在参与SMTs的测试,希望SMTs上线后,以上众多社区类小程序能迅速接入SMTs。我们坚信SMTs是Steem的未来,并且一直在为SMTs做准备。
基于SMTs的社群社交新闻平台
SMTs一直对标的是reddit,commun.com也已推出基于区块链的类reddit平台。为了迎接SMTs的到来,我们也开发了全新的小程序,以打造基于SMTs的社群社交新闻平台。
有了这样的小程序平台之后,社群主将非常方便地创建基于Steem的社群,发行社群Token,并拥有一个社交媒体空间。当然,社交媒体空间与Steemit.com类似,依据Steem目前类似的机制运转。特别的是,社群成员可以依据自己手上的Token选举出自己喜欢的社群领袖,进一步决定社群规则,并将其写在区块链之上。
目前,我们正在逐步完善这一小程序,同时亦在尝试将其搭建在SMTs测试网上。
我们知道,最近社区发生了很多事情。但我想说的是,Steem最大的价值在于SMTs,请停止争执,让我们先推动SMTs正式上线吧!