CoinsIO.com - Earn, Trade, Spend Crypto in one platform. Marketplace & Bounty Network! Start your journey right now!
CoinsIO.com - Earn, Trade, Spend Crypto in one platform. Marketplace & Bounty Network! Start your journey right now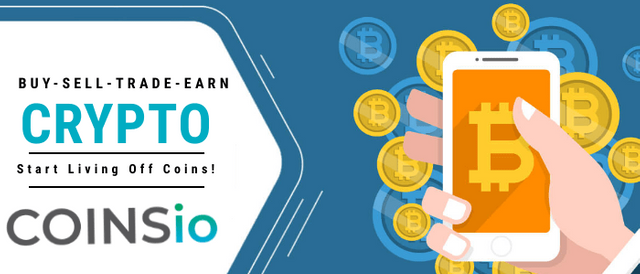 Good day to y'all mates! Hope things are going fine over there?
Want to get some cryptocurrency in an easy way? let me present CoinsIO to you.
On CoinsIO you have a lot of things to do, for example, you can register right now, do your KYC and join some Good bounties: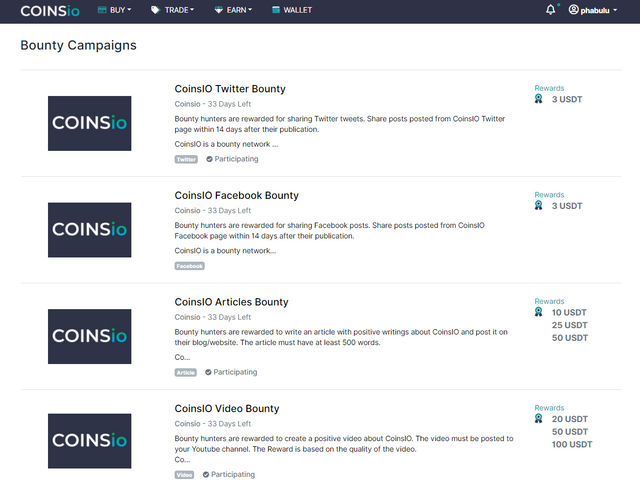 The opportunity is there, it's never been so easy to earn cryptocurrency online, no refers needed, no investment needed, just need to user your skills, writing, creating a video, using your social media, and more.
Our lives are made of good opportunities, like bitcoin, which you need to grab when you see one, I've not seen a good bounty platform like this one in months.
Not only Bounties
Yes, you can use CoinsIO not only for bounties, but you can also trade crypto there, directly with other users, using all the safety of the platform, you can create an order, set your price, or you can just check the available orders and grab one: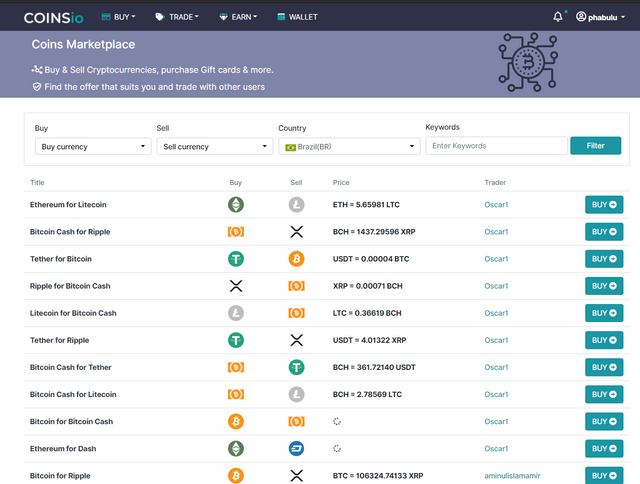 https://coinsio.com/user/trade/marketplace
Multi-Currency

There is a lot of cryptocurrencies that you can choose on the platform, you have a favorite one on the list? Go ahead, you can use it :)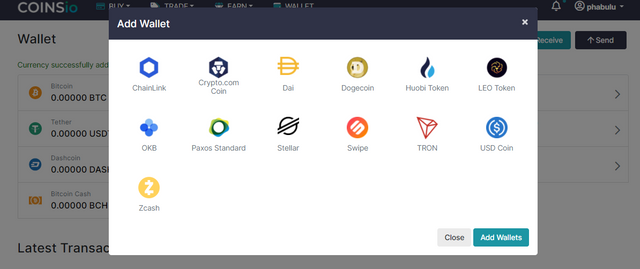 Then you can use it any way you like it, for sure there is a lot of options to use it, without the need to withdraw, but of course, if you want you can send it to your personal wallet, no strings attached, it's your money, earned, deposited, yours :)
You can do even more!
CoinsIO allows anyone to exchange cryptocurrency to Gift cards inside the platform, it's really easy and fast to do, bounties, trades, and Gift Cards, one place, everything!



Just need to filter the options, by choosing the coins, country, so you can check all the available options that fit your purpose.
The cryptocurrencies are making the world change, news platforms, new use cases, new products are appearing every day, for sure, platforms like CoinsIO are being a part of the new world-changing, for better, allowing us to use cryptocurrencies whenever we want, and even better, to earn it, online, on the comfort of our home.
To avoid any problem, please be sure to read the website, the rules are quite simple to fit in, be original, do your best, and for sure you can earn crypto, stop wasting time, start earning crypto, start using crypto.
It's been a long time since I was looking for a platform that I can do everything with cryptocurrencies, some places you ear, but you can't spend, you need to pay high fees to withdraws, in some places you can get a gift card, but you can't earn anything, making you to use different websites and platforms, paying high fees to transact every time, that is the big deal on CoinsIO, you can do anything you want, withdraw, trade, use, buy gift cards, you are free.
Don't miss the chance to join now, for sure will be a lot of new ways to earn some crypto, you are a lucky person to meet this amazing website in the beginning, be happy.
Official CoinsIO Links:
Grab the chance, join CoinsIO right now, and happy new year, earning crypto.
Earn, Trade, Spend Crypto in one platform.
http://CoinsIO.com Marketplace & Bounty Network!
.
#Bitcoin #EarnBitcoin #CoinsIO #cryptocurrency #BTC #earncrypto #ico #airdrop #eth #promo #blockchain #giveaway #earnmoney #makemoney #Earn #cryptoexchange #cryptotrading