CoinsIO - The best all in one platform to Earn, Trade and use Cryptocurrency
Never too late to get into Crypto!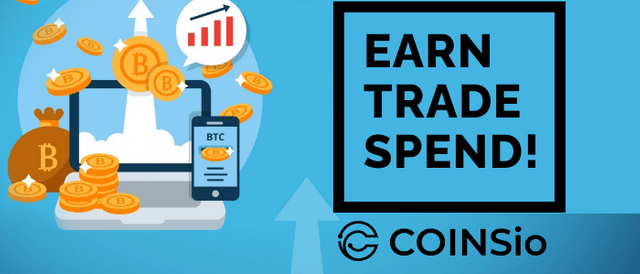 CoinsIO.com is The best all in one platform now with the great feature of working from home to earn crypto.
CoinsIO offers to you a complete option to use cryptocurrency and you can do, even more, are you a newbie into cryptocurrency? No problem, join CoinsIO today, earn free crypto and start to use it, you will see that this crypto world is magic and you can do everything without needing any bank anymore, and the best part, It's free!
I hope this got your attention, in fact, you can earn some money online, or better, earn crypto, we all know that crypto is the best store of value in the past years, and I'm giving you an opportunity to earn some, you need just to follow the rules and requirements and join bounties (Bounties are reward campaign that pays you to do some work, it can be a video a blog post or even a tweet, and it's amazing.
You can earn money on Twitter, you already post for free, and what about Earn 3$ just to make a post on Twitter?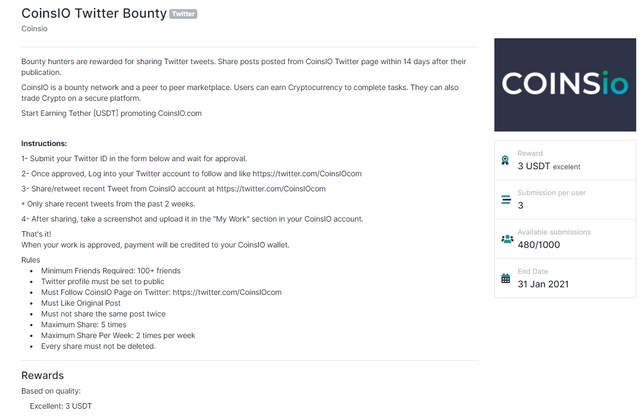 Yes you can, on Coinsio.com
Just make sure your Twitter account meet the requirements and apply for the job, in just one Bounty you can earn up to 9$! This is amazing, it won't take more than 5 minutes of your time, stop waiting time in faucets or platforms that pay you only cents, start living on crypto right now.
Earn, buy gift cards, use, trade crypto, everything, you can be a regular user or a newbie, there is no problem, the opportunity it's right there and you can go and grab it.
I'm already earning, almost 100$ in one month using CoinsIO, and I enjoyed the ETH pump too, exchanged my USDT on the platform into Ethereum and made my withdraw after that, which is really cool, you have the choice to keep your money more stable with USDT or you can get real crypto-like BCH, ETH, LTC, XRP and more, you can check all the option on the marketplace: https://coinsio.com/user/trade/marketplace
So with this, you don't need to worry about any exchange to send or what you will do with your rewards, choose the best crypto that fits your purpose and exchange it and remember, it's your money, you can withdraw or do anything your want, that the magic of cryptocurrencies, it's yours 24/7
Want to know more?
Check those nice videos talking about CoinsIO, showing how the platform works, and my Own experience exchanging and withdrawing my Crypto.

In this video I'll show how you can earn cryptocurrency on CoinsIO, you can trade then too, exchange for gift cards, and more, check it out how it works :)
Earn Crypto with Video Content, Articles, Social Media, and More.
CoinsIO.com - My Own Experience, Start using Crypto BUY - TRADE - EARN
This one is talking about my own Experience using CoinsIO, I've been using it for a few days just after they launched the service, and I've used Almost everything, I've joined bounties, traded crypto, and withdraw my crypto, well, everything runs smoothly and incredibly fast, let me show how you can use cryptocurrency for some nice stuff on CoinsIO without needing to use any other service.
Official CoinsIO Links:
https://coinsio.com/
https://twitter.com/coinsiocom
https://www.reddit.com/user/coinsio
Grab the chance, join CoinsIO right now, and happy new year, earning crypto.
.
#Bitcoin #EarnBitcoin #CoinsIO #cryptocurrency #BTC #earncrypto #ico #airdrop #eth #promo #blockchain #giveaway #earnmoney #makemoney #Earn #cryptoexchange #cryptotrading