REVIEW ON THE COLLECTIVE
The Collective provides its clients with a variety of services, including managing existing social media accounts, creating content on social networks, moderating telegrams, coordinating third-party service providers, and general advice on the blockchain. The Collective platform put the community at the heart of everything they do. They listen to them, empower them, and take action based on their suggestions. In doing so, we raise each other up which is an impressive feature to behold as a community.
The Vision of the Collective platform is to bring listing and liquidity back into the hands of the community instead of leaving the decision making up to people with only their own interests in mind. Run by a group of crypto-enthusiasts, our goal is to give back to the community. We will accomplish this by giving loyalty rewards to our CDEX users for trading on our platform. We will also offer a reduced fee structure for qualified users. Members of our community will be given an opportunity to help review companies we are considering listing on the exchange. When the community gets treated right, then ultimately they will lift up the companies they support and everyone will have an enjoyable experience.
The Community Management Services of The Collective are their foundation and make up their minimum viable product(MVP). Their services are already generating revenue from several quality blockchain companies and they have a team of over 60 dedicated and professional members from all across the globe.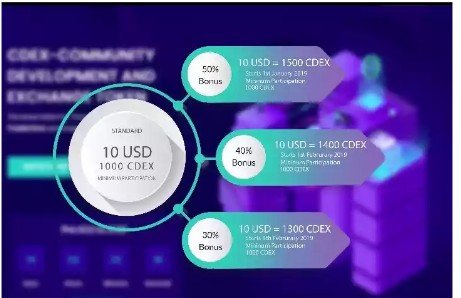 It is Worthy of note that Without real users with actual value, not only does the crowdfund fail but the reputation of the project is harmed as well. A strong community is a beacon for high net individuals and institutional contributors, as it shows that such project has the reach it needs to build their company. This is where The Collective is uniquely poised to bring value to your project. With access to massive real users and followers, and a highly effective team of crypto enthusiasts we can bring the trust back into the crowdfund and provide a robust and engaged community of people who love your idea.
The Collective platform bring further value by effectively offering our services for free as we don't charge fiat, btc, or eth, but instead work entirely on the value of your native tokens. Since, the Collective platform only work with clients whoa they have a 100% believe in, so they tend to spend more time and energy on projects and actually have a vested interest in the success of such project. They furthermore work on a week to week basis with a short minimum time frame so that seed capital can be used for operations and in the places that are more suited for fiat.
TEAM
The Collective is a highly responsive team of independent contributors, who deliver a broad range of content and community support during an ITO to build awareness and provide answers to prospective supporters.
The Collective provide team clients with guidance on strategy, partnerships, influencers, and other factors vital to realise a successful community driven blockchain company. The Collective have own crypto EXCHANGE managed 24/7 by their professional team.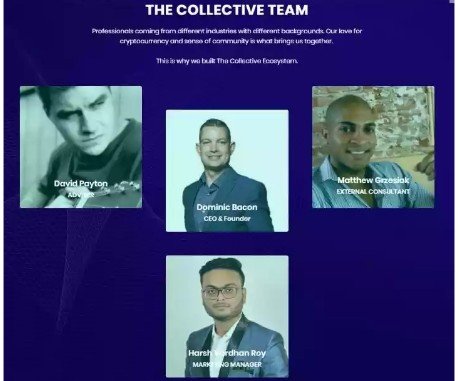 The Collective provides its clients with a variety of services including, but not limited to, existing social media account management, social media content creation, telegram moderation, coordination of 3rd party vendors for services, and general blockchain consultation services. The social media platforms that The Collective may engage on include, but are not limited to Twitter, Facebook, Instagram, Medium, Reddit, Telegram, and Youtube.
The services rendered are as follows:
INCUBATION: All you need is an idea, a team to deliver, and the drive to manifest your vision.. We can complete full incubation of your ICO/STO and make your idea a reality. Having your ICO/STO incubated with The Collective puts you in front of thousands of ready and eager financial contributors.
COMMUNITY DEVELOPMENT: The Collective refer to themselves as Social Influencers. The Collective has thousands of hours of community development experience, from managing Social Medias for viral growth – to developing fan art and engagement hack
COMMUNITY MANAGEMENT: The Collective provide their clients with guidance on strategy, partnerships, influencers, and other factors vital to realize a successful community driven blockchain project.
EXCHANGES: We all are aware that Getting listed on exchanges is a difficult and costly task, But Clients of The Collective get exclusive access to The exchange partners, with promotion to boot.
THE COLLECTIVE TOKEN DETAILS :
Token Platform : Ethereum
Token name: CDEX Token
Token Symbol : CDEX
Token price: 0.01 USD
ICO Goal: 20,000,000 USD
Total supply: 8,000,000,000
Amount Of Tokens To Be Sold : 2,000,000,000
For More Information
Website: https://www.thecollectivegroup.org/
Whitepaper: https://www.thecollectivegroup.org/ico/WP_Collective.pdf
Twitter: https://twitter.com/TheCollectiveGo
Instagram: https://instagram.com/thecollectivego?utm_source=ig_profile_share&igshid=swl04js8rjqa
Facebook : https://www.facebook.com/groups/1176407375842141/
Telegram : https://t.me/thecollectivego
LinkedIn : https://www.linkedin.com/company/the-collectivego
Bounty0x Username: Joygalz