FREE Comic Books 4 Kids at Conquest Comics!!!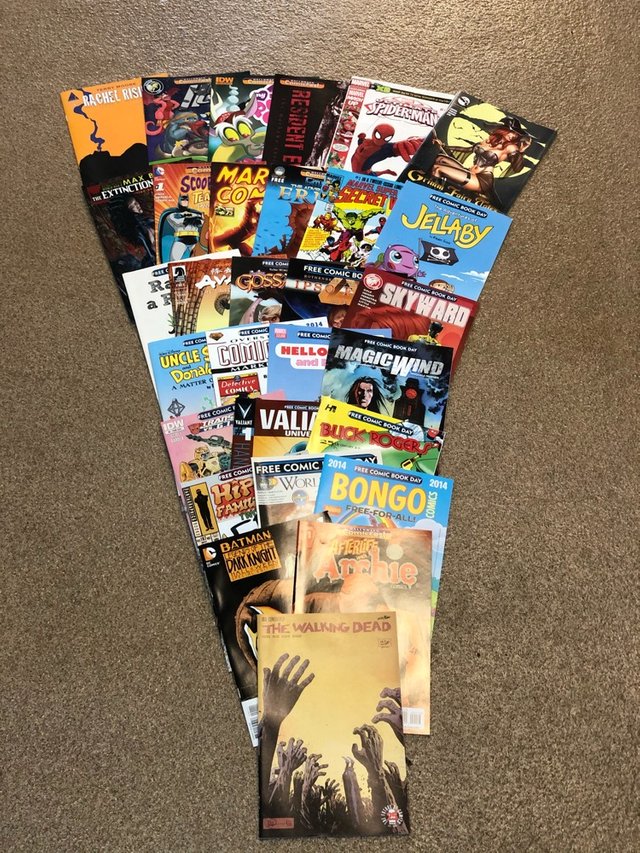 Hey all,
While we all go through this difficult adjustment of closures, illness, and social distancing...it can seem a tad overwhelming at times. As a parent myself, having the kids home from school for an extended period of time can run its course in a hurry. Keeping them busy in productive ways can also be challenging and an uphill battle as we all try to keep life at home as close to normal as we possibly can. That's why finding creative ways to keep the kids preoccupied is of utmost importance.
That's why we at Conquest Comics have popped together 100 Togo packs of comic books that are available for pickup while supplies last. Each pack contains 5 random comics from our past Free Comic Book Day events, ready to take home immediately.
We ask that you please respect a 1 per household limit so we can get these into the hands of as many different folks as possible. As you can see in the photo attached, the selection is a wide variety of books that may contain some well known properties such as The Walking Dead, The Simpson's, My Little Pony, Spider-Man, Batman, Archie, Gi Joe, Transformers, Avatar, and many more.
A handful of the titles may be geared more towards teens and a mature crowd, so if you are planning on giving these to your little ones, please be sure to skim through each one to make sure the content is appropriate.
These are available on a first come first served basis, and there is no purchase necessary. Our hope is to try to provide even a sliver of entertainment and fun for those with some young ones at home while showcasing the benefits of reading and collecting.
So please feel free to pop on in this week at pick up a FREE comic book Togo pack! Thank you, stay well, and remember to practice social distancing as much as possible during these strange times.
Chris
Conquest Comics
659 Route 9
Bayville NJ 08721
Posted using Partiko iOS