Help Us Encourage More Human Curation by Sending This Post to the Top of Trending! Read to Find Out More!
Welcome to the Minnow Votes Project, One Day, One Post, One Vote! If You're New, Please Read The Post before Upvoting!###
If you came to help get this post to the top of trending, you're in the right place!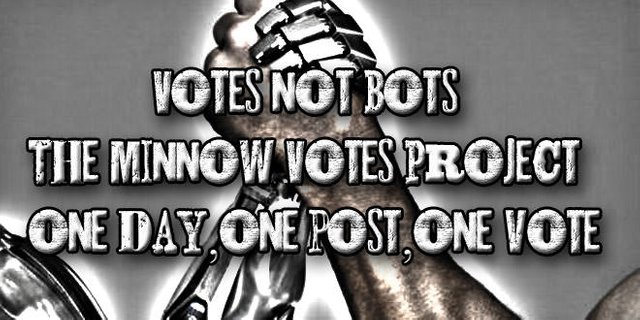 If you found this post, we've succeeded in our experiment, to get a post seen without buying votes. It all started with an idea I had about two weeks ago. I wanted to launch a new dolphinschool bootcamp from this blog. I worried the small following would reduce the impact for the students.
For those who don't know, you can look up #dolphinschool bootcamp on steemit to find the awesome project.
I had noticed that the top hot and trending posts each day were mostly put there by votes purchased, rather than earned from followers and readers. So, I wanted to see this go under the power of "organic" votes.
Why does this matter?
After all, we're just here to make money and one great way to do that is to buy/sell votes.
I agree, you are free to do this, but, you might want to consider a few things first.
Throughout both white and blue papers, (the "founding docs" of steemit) content creation, and community consensus through voting, (aka "proof of brain) is described as the strength of steem. Buying votes, does not develop community consensus on the quality of content.
On the Welcome page, several authors expressed a natural feeling of distrust for bot interaction and what it would do to steemit. In fact, Beanz, declared a "War on Bots" in her article "The Unwritten Rules of Steemit"!
The idea behind steem is different from other coins. Partly because of the superior blockchain. But mostly, it's because of the subjective "proof of brain" content creation/community upvote cycle, that puts the best content at the top.
The flipside of being rewarded for good content is risking downvotes on your content. When vote buying/delegation becomes the main mode of profit, that risk is taken out. The quality of the content will always fall to the lowest common denominator, or in webspeak, minimum viable content.
(If payouts can be bought, why shoot for the best content? All you need to do is create enough value to avoid flagging. There is not much incentive to compete for real votes.)
For a fuller explanation of the vote buying/selling issue, check out this video.
The top of trending has not always gone to the high bidder. In fact, ALL of the literature selected as helpful for new users, points this out. Here are some examples.
Quotes taken from the welcome section of Steemit, and both white and blue papers, relating to vote buying.
Steem is the first cryptocurrency that attempts to accurately and transparently reward an unbounded number of individuals who make subjective contributions to
its community.

-Abstract of the Steem White Paper
Don't bribe people for votes, re-steems, follows or ask directly for money
This is fairly easy to understand. It is likely to get you flagged as well as potentially annoying others. Plus once people have followed you there is no guarantee they will keep doing it. So you will just be wasting your money AND ruining your reputation. I have also heard of people asking directly for cash - this may be OK in the case of charitable causes but NOT when the charitable cause is your own wallet. It looks bad and will also damage your reputation.
The Complete Steemit Etiquette Guide Rule 10 @cryptofiend
The first step in rewarding millions of users, is to commit to distributing a fixed amount of currency, regardless of how much work is actually done, or how users vote.
The next step is to reward everyone who does anything even remotely positive with something.
-The Steem White paper
Fortunately, any work that is getting a large concentration of votes is also gaining the most scrutiny. Through the addition of negative voting, it is possible for ..small stakeholders to nullify..collusive groups or large stakeholders
The Steem White paper
It is my belief that by avoiding the "proof of brain" concept altogether, "collusive groups" and whales with bots, are refusing to subject their profit taking activity to the scrutiny of the crowd, as was intended. So, while we attack Haejin and Bernie and Grumpycat for upvoting and downvoting (public actions) they all laugh all the way to the bank on the SBD earned from you buying and selling your votes through them, with no subjective judgment from the crowd.
So, what do I want you to do about it?
First, let me say a couple of things.
I am not declaring war on bots. It's a libertarian platform and this is allowed within the existing framework.
A positive campaign, encouraging others to use their influence themselves, instead of blindly giving it up to bots, delegation rentals, curation guilds, or even autovoted curation trails, is the best solution.
Authors who "succeed" on purchased votes, may find the followers they gain are not truly followers.Most of them come for quick profits and will leave just as quickly.
Authors who manage their "influence" (ie. VOTES) can build community and faithful audience.
Here is what I am pledging. If you want to join me,upvote this post and sign this "petition" with a comment.
I will not upvote content I have not read, or at least read enough of the author/group's work, to believe in its value to the platform.
I will encourage personal curation/upvoting by as many users as possible instead of fighting against vote buying/selling. Positive change is for the best.
When I find users abusing the system, I will encourage them to a better way; introduce them to groups and guilds, help them learn to produce better content, and promote without skipping the community vote process.
I will personally manage my SP to ensure I am supporting only content I believe in.
I will consider the good of the platform and my own profile, long term, over short term profits in my voting, curating, content production and other activity.
I have always believed that a high tide raises all ships, and the best for all steemians is a higher price for steem and sbd. This is how we will increase the prize pool and ensure the opportunity for more users to come.
I further believe the current method and frequency of vote buying is not building the wide base for steem, designed to be the main foundation of this platform, but is undermining it and creating huge profits, without subjecting the work to the scrutiny of the crowd, as is called for.
If you agree, in principle, please upvote this post with me and leave a comment. Thanks!
The Proceeds from this post will be used in the following way:
Half of the SBD rewards will be shared with one upvoter, based on a post they write. I'll explain more in my next post tomorrow.
Half of the SBD will be used to help support dolphinschool, by buying more SP for this account to help support more plankton and minnows!
These fine steemians have already pledged their support, so go say hi, follow, read and support their content! We've got to stick together if we hope to make a change!
@joannereid
@focusnow
@simplymike
@cmbugua
@lahvista
@honeydue
@vincent848
@tibra
@simms50
@liketimmy
@kachee
@ironshield
@rayaa
@outtheshellvlog
@debbietiyan
@brayias
@davemccoy
@cryptojade
@lil-mich
@derasmo
@jan23com
@losthippie
@cryptkeeper17
@peggyhazelwood
@basicstoliving
@oncebey60
@queenvick
@veenang
@conradsuperb
@lahvista
@zool237