Hey Communities! We Would Like to Feature You on the Steem Onboarding Website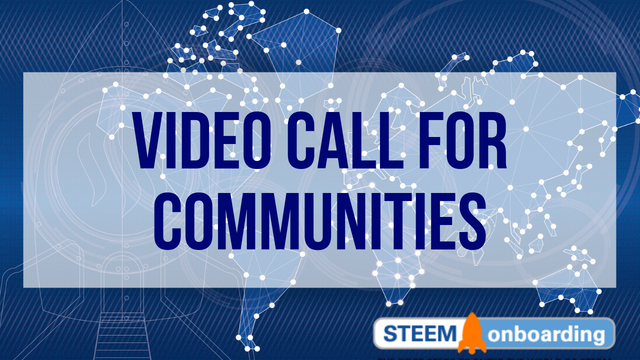 One of the main issues a newly onboarded Steemian faces - is finding a community that they are interested in being part of, a place where they can find people who shares the same interests. A Steemian who feels like he/she doesn't belong anywhere will feel like a lost fish in a big sea and start to get discouraged.
Steem Onboarding will focus on solving this issue - among other things - by providing a helpful tool that supports all Steem communities. We will create a hub of information that features the various communities on the Steem ecosystem and helps to pair up new users with communities that fit their interests.
We are excited to partner with communities in several ways. First, we will be able to funnel quality steemians that are interested in your community. Second, we can help to do some of the legwork needed to help them become fully functioning steemians. You will no longer need to worry about spending time explaining all the different nuances of using the blockchain - you can simply send them to our site for some educational information.

---
We Want to Feature Your Community on Steem Onboarding
Just like we are providing bite sized, informational videos during the onboarding process - we'd like to have on our website something similar from each community. Just a quick 2 minute elevator pitch on what your community does and how a new Steemian can get involved.
We want the onboarded Steemian to listen directly from the founder or a moderator, what is your community about, why was it created, what type of members you are you looking for.
Why do we want to feature your community on Steem Onboarding?
Any idea or project that has a group or community around it on the blockchain is valuable for the healthy growth of our general community. We want to show the onboarded Steemians what the Steem ecosystem is about. Everything from Dapp based communities like @ddaily, to opportunities for musicians like @openmic, to groups that are specific to demographics or interests like @steemitmamas, to communities for travel bloggers like @travelfeed, to groups to support newbies like @helpie, and much more.
There is a whole universe in our Blockchain and we know that every kind of person can find an interesting community to join.

---
Video Requirements
You must be the founder or a moderator of the community to submit a video.
The video should be approximately 2 minutes in length and talk about what your community offers, why someone would want to get involved, and how they can best get plugged in. This is your chance to impress incoming users! Think of it as a sales pitch. If the Steemian is interested in the topic your community is about, now is the time to make sure they join your discord channel or start using your hashtag.
The simpler the better, don't go to much into detail about how the community operates, just introduce it and explain what it is about and what can a new Steemian expect from it.
Upload the file to Dropbox, or another file sharing site and send to [email protected]
If the file is large - you can use Handbrake - a free software - to compress your video file size.

---
Questions?


Please drop your questions either in the comments below or email @coruscate at [email protected] Please also pass this along to anyone you know on the blockchain that runs a community and would want to be featured on the Steem Onboarding site.
---
Our Fundition Campaign is Live!

If you think this project will be valuable to the steem blockchain - then please consider donating to our Fundition campaign to help fund the initial development of the project. We are offering some pretty great prizes to fundition donors such as 100 alpha booster packs, a ticket to Steemfest 4, tickets to the Steem Creators Conference in Austin, exclusive Steem Onboarding merch and more. For all the details - check out our campaign HERE.
---
Let's reach mass adoption!