1er Concurso: Diseña un Logotipo Original para la comunidad de Steemitas Club | 1st Contest: Design an Original Logo for Steemitas Club
Steemitas Club
te invita a participar en el concurso del diseño de un logotipo para nuestra comunidad.
Para registrar tu participación
debes colocar el logotipo ORIGINAL de tu propuesta en la caja de comentarios antes del
10 de octubre de 2019
.
Las bases del concurso son las siguientes:
1. El diseño debe ser original.
2. El logotipo debe contener una ilustración de un Pez Minnow. No se tomaran en cuenta los logotipos que ilustren delfines, tiburones o ballenas.
3. El logotipo debe tener el nombre de la comunidad (Steemitas Club).
4. La resolución de la ilustración debe de ser de al menos 500 x 500 pixeles en formato .PNG.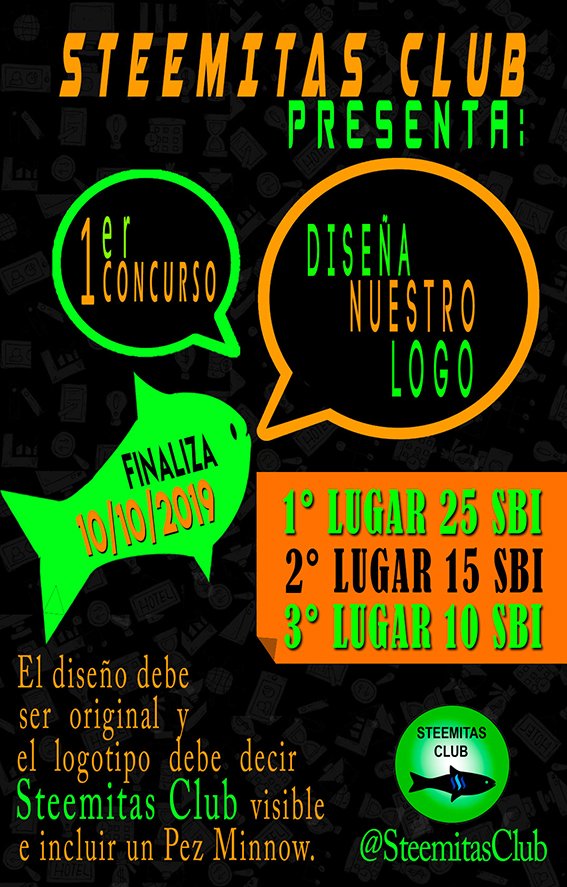 Los premios se enviarán a través de la comunidad de Steemitas Club. En donde el 1er lugar recibirá 25 SBI, el 2do lugar recibirá 15 SBI y el 3er lugar 10 SBI. Se seleccionarán los diseños ganadores por el equipo de trabajo de Steemitas Club y se enviarán las recompensas en SBI.
Las unidades de SBI del proyecto
@steembasicincome
te permiten obtener votos regularmente en tus publicaciones, en donde el valor del voto dependerá de la cantidad de SBI con la que cuentes. Para obtener más información acerca de este programa puedes visitar el
link
.
Recuerda dar Re-esteem a esta publicación para llegar a más usuarios que deseen participar y ganar unidadades de SBI. Al hacer Re-esteem recibirás Tokens de Steem-Engine en tu monedero de parte de Steemitas Club.
[ENG]
Steemitas Club
invites you to participate in the logo design competition for our community. To register your participation, you must place the ORIGINAL logo of your proposal in the comment box before October 10, 2019.
The rules of the competition are as follows:
1. The design must be original.
2. The logo must contain an illustration of a Minnow Fish. Logos illustrating dolphins, sharks or whales will not be taken into account.
3. The logo must have the name of the community (Steemitas Club).
4. The resolution of the illustration should be at least of 500 x 500 pixels in .PNG format.
Prizes will be sent through the Steemitas Club community. Where 1st place will receive 25 SBI, 2nd place will receive 15 SBI, and 3rd place will receive 10 SBI. Winning designs will be selected by the Steemitas Club team and rewards will be sent in SBI.
The SBI units of the
@steembasicincome
project allow you to get votes regularly in your publications, where the value of the vote will depend on the amount of SBI you have. For more information about the SBI program you can visit the
link
.
Remember to Re-esteem to this publication to reach more users who wish to participate and win SBI units. By doing Re-esteem you will receive Steem-Engine Tokens in your wallet from Steemitas Club.
Agradecimiento a nuestros delegadores
Steemitas Club agradece el apoyo a los delegadores que le dan confianza al proyecto:
@ritch
(550 SP),
@marpa
(100 SP),
@wiriwiri
(55 SP),
@ficcion
(21 SP),
@team-mexico
(21 SP) y
@wesphilbin
(50 SP).
Saludos cordiales,
Steemitas Club
Únete a nuestro servidor de discord: https://discord.gg/dYMsF7a
---
Posted from my blog with SteemPress : http://steemitasclub.repollo.org/2019/09/28/1er-concurso-disena-un-logotipo-original-para-la-comunidad-de-steemitas-club-1st-contest-design-an-original-logo-for-steemitas-club/
---