25 Takeaways from The 10X Growth Conference
Last March the first 10XGrowthCon was held and I wanted to share with you 50 things I took from the conference. It was amazing to have a collaboration of twenty-four of the most respected authors, speakers, and business experts alive today in one room. What follows is a list of just some of the high points I took from the three-day power-packed weekend that you can think about today:
There is no one key to success, it's a combination of things.

Non-refundable minutes you are either wasting time or investing it.

If you want a million dollars, solve a million peoples' problems.

Analysis paralysis is the #1 mistake in business.

Timing will never be perfect for anything.

Life is a series of mentors.

When leading people don't make suggestions, make decisions.

An investment in knowledge always pays the best interest.

To craft the perfect pitch you have to work on creating an irresistible offer.

You can never out-earn your self-esteem.

Know your value or the world will never reward you for it.

Think and act like you're broke and you will be more equipped to win.

If you can't brand yourself in two to five words you don't understand your brand.

There is a big difference between being busy and being productive.

It is not a sprint, it is a marathon, but the people that win the marathon are sprinting.

Go harder when everyone else has had enough.

Don't allow someone else to set your goals.

You can always make more money, but time is your greatest currency.

If you want spectacular people, it starts with you being spectacular.

Connect with other power players through collaboration.

Whatever business you are in you are in the business of people.

You can't help others if you can't help yourself.

If you're going to have an empire, decide who's included and who's excluded.

Those who don't like or want control are the ones with the control problem.

There's no shortage of money only a shortage of people who have money.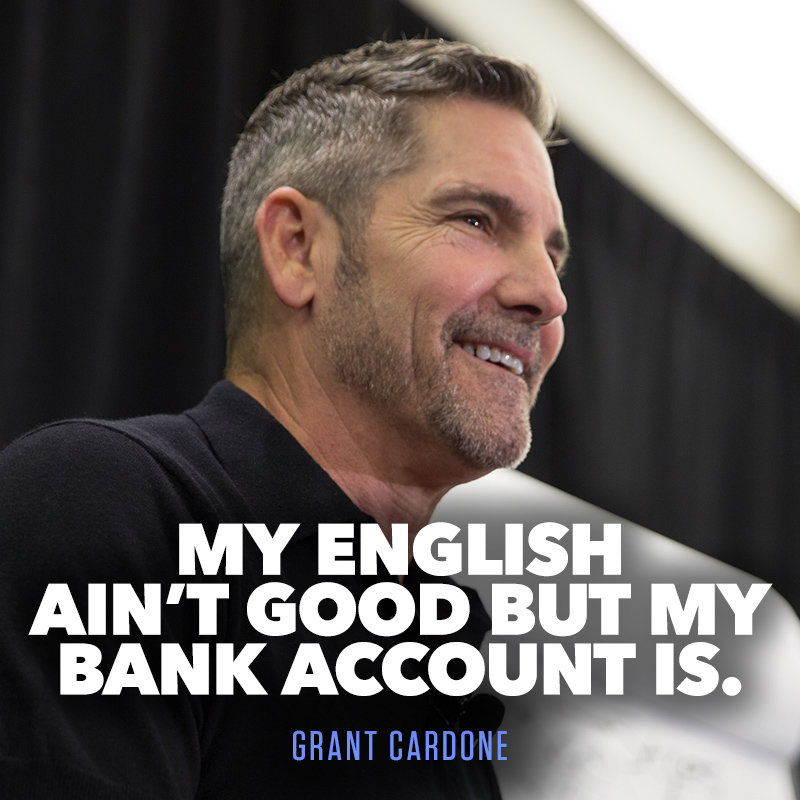 10X GrowthCon 2018 is going to be 10X better than our first event. Last year was a truly magical event with people literally growing their businesses while they were in the room.
If you're looking to...
Grow and Scale Your Business
Increase Sales and Margins
Build a Real Business
Hire and Keep Great People
Create Confidence
Find Investors
…then reserve your VIP seat for 2018 today. You'll have meet and greets with all the speakers, VIP lunches, and the best seats in the house where you'll be connecting with Shark Tank's Daymond John, social media master Tai Lopez, and Michael Jordan's trainer Tim Grover. This is the best networking event of 2018 and you'll be able to write the whole weekend off as a tax deduction.
Be great,
GC
Grant Cardone is a New York Times bestselling author, the #1 sales trainer in the world, and an internationally renowned speaker on leadership, real estate investing, entrepreneurship, social media, and finance. His 5 privately held companies have annual revenues exceeding $100 million. Forbes named Mr. Cardone #1 of the "25 Marketing Influencers to Watch in 2017". Grant's straight-shooting viewpoints on the economy, the middle class, and business have made him a valuable resource for media seeking commentary and insights on real topics that matter. He regularly appears on Fox News, Fox Business, CNBC, and MSNBC, and writes for Forbes, Success Magazine, Business Insider, Entrepreneur.com, and the Huffington Post. He urges his followers and clients to make success their duty, responsibility, and obligation. He currently resides in South Florida with his wife and two daughters.