When Lies Change Reality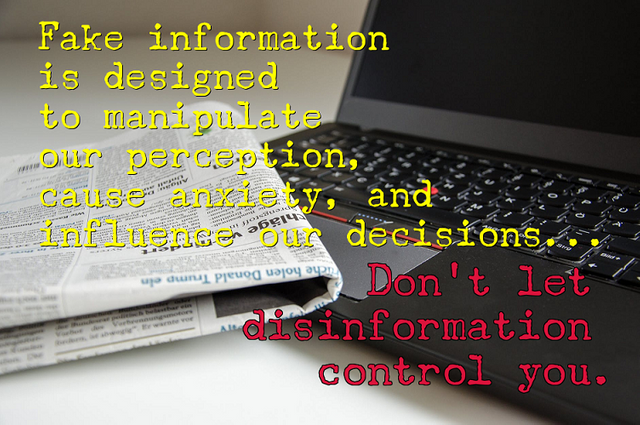 09142009 —It's really difficult for me to write an article about this date because receiving a court paper stating that my mother was "DECEASED" since August 27, 2009 scared me so much that day. I was stunned by an unsolvable dilemma; traumatized to the point that I had night terrors and panic attacks. Thrice I wandered around our soon-to-be-vacated house sighing; even the comfort of home didn't make me feel any better. Endless questions filled my exhausted mind. What's the cause of my Mom's death?
Dammit, I went through each paper again and checked every freaking statement. It turns out that everything was a disinformation!

I WAS MADE TO BELIEVE THAT MY MOM WAS DEAD!!!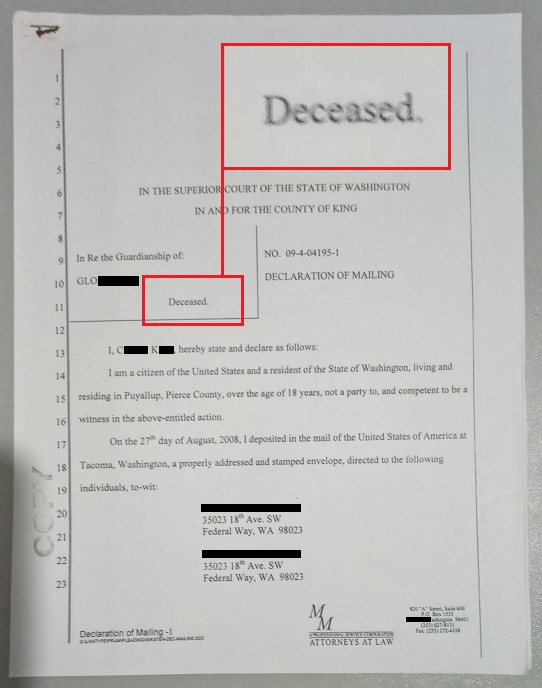 Citizen CK had addressed the mail to seven individuals, namely a woman with the initials J.M., my uncles M and F, my aunts A and R and, of course, to ME— my mother's only son. The seventh recipient should be my sister, but Lisa was not her first name.
If CK was mentally competent, s/he should've noticed the typo. If it's intentional or not, I don't know.
That scourge of fake information was designed to manipulate my perception, cause anxiety, and influence my decisions. Either unintended or accidental, that false info on the legal notice signed by citizen CK was meant to harm and paralyze me and my sister!
Information is a very powerful tool, but disinformation can engender paranoia and overrule sanity. I even thought of missing a funeral and saw a great crowd cursing me for non-attendance. I was perspiring and shaking. I was suffocating. The kind that lets fear just lodge in into my throat to choke me. Anxiety distracted me from focusing on what's urgent and important.
What would you do if you're in this circumstance?
Imagine surrendering your mind completely to that lie that could alter reality.
How far will you go in your battle for the right information and truth?
I was going through uncertainty like I was the one who was actually in a coma.
Not just that.
Something went off and it would soon do great damage!
Do you know what it means?
It means I lost my Mom!
I can't count how many times I've cried and had sleepless nights.
Literally it felt like all things were falling apart.
Losing Mom would be a major loss.
Aargh! I was like going out of my freaking mind!
F—!
F—!
F—!
That sense of loss triggered a lot of cuss words!
It seemed that at that very moment, I would never see my mother again.
Yes, I even blamed God!
It was stupid... I was stupid...
I was totally worn out by loss that I was cussing at Him.
Oh, I wasn't drunk!
I was contending with blame, guilt, and regret.
I had groaned in prayer, I held my breath but I continued cussing.
Curse you, Dad! You've abandoned Mom for a bitch!
Curse you, Aunt A! You're with Mom that night of August 8, what have you done?!
Curse you, Aunt R! You're a nurse and you've became one-sided, withholding information from us!
Curse you, Uncle M! You've signed the guardianship papers and forced my Mom to believe that I'm not there for her!
Curse you, Uncle F! You've prevented me from speaking to my Mom when she woke up from comatose state!
Curse you all for distorting reality by making yourselves saints and accusing me as the cause of my Mom's stroke!
I wasn't even there in Federal Way.
My Mom didn't call us that day. She did not call us for weeks!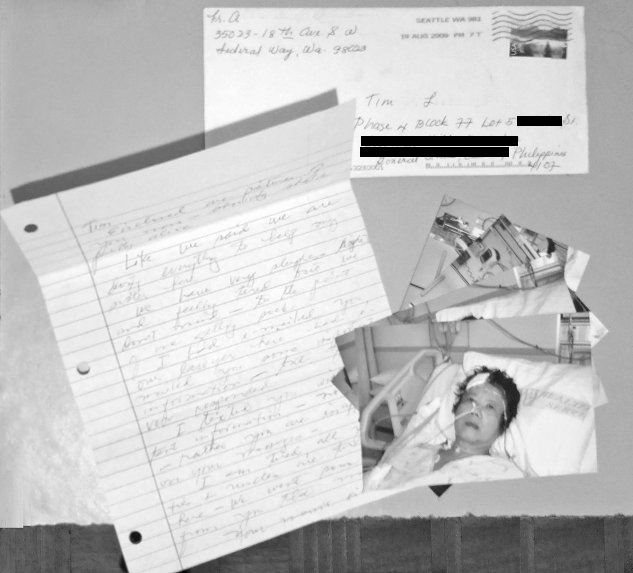 I may think that my mother might have had a stroke that day of August 8, 2009. But how can I verify the exact event from her siblings who denied us important info and made conflicting statements?
Another thing, why did they send the text messages to my wife's cellular number from August 8-13, telling her first that my mother had a blood clot in her brain?
That's BS! They know my contact number!
In August 17, 2009, around 2:30-2:40 PM, my wife received a FedEx envelope containing a letter from St. Joseph Medical Center. It narrated the case of my mother, her condition, and an instruction for me to process my emergency travel to the United States.
Fate did not allow it to happen!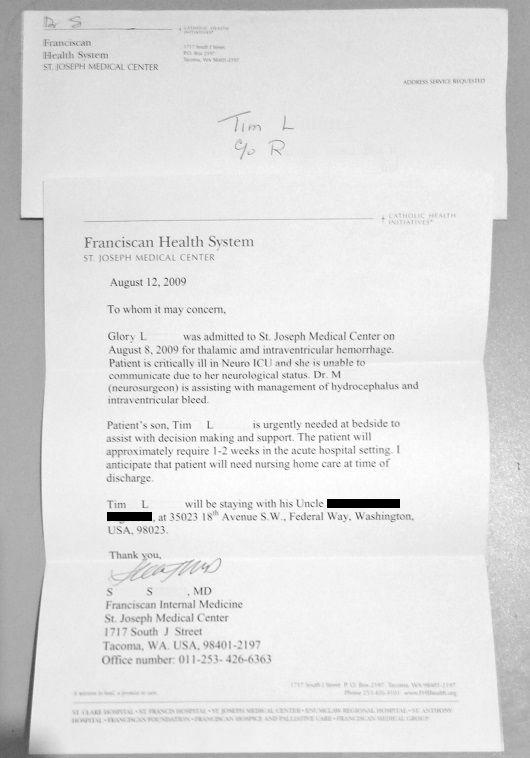 Geez, I was scared but I fought the imaginary wrongs they've blamed on me instead of begging for their mercy.
I wiped the tears from my eyes and gasped.
I was cussing and praying at the same time when I found out that it's part of their disinfo moves!
But I needed to know if my mother was okay, if she's still fighting for her very own life!
In all the stress of deceit, I had to shook my head from side to side, not because of uncertainty, but because I disagreed with what I was made to believe. Although I was so mad, so sad, I wasn't frightened anymore! And, yes, I did not sit back and do nothing.
When I realized the conspirators had committed perjury, I just closed my eyes for a while, prayed over it, then chose the right words to message those who have access to my Mom's welfare, posted that legalized lie online, and did not give in to whatever they've devised against us.
In my desperate attempt to counter the disinfo, my nape felt really hot and I freaked out, so I let the muckraker in me take the dreaded path — deal with the falsehoods — tell the truth no matter the consequences.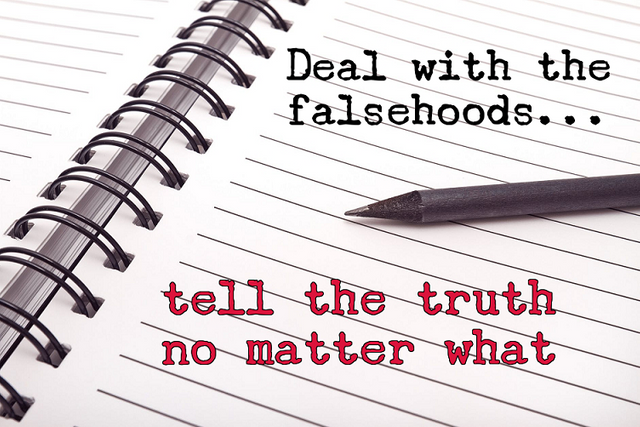 I really don't know if the documents were genuine. According to Atty. JWR, the lawyer of the guardians, there was an error in those "court papers." Via an email sent February 14, 2010, she stated that my mother isn't dead and the guardians were appointed last September 15, 2009.
Was that false info intentional? Five (5) months have passed before they've admitted in writing that there was a mistake. Whenever there was gloomy silence, it was lengthy — like you're being intentionally shunned for just being your mother's son, or for having a legal right — time was lengthened and I was excluded from decision-making.
Unable to stand it anymore, I felt the rush to write a series of muckraking blog post about it. And I did just that.
I wasn't sorry at all for exposing those questionable records. I was overwhelmed by love, truth, and justice. So I posted my aching heart's content. Even if it means not talking friendly to someone for years.
Since the day that I got that erroneous legal notice, I've fought against disinformation, ostracism, and every psychological trauma that they were punishing me with. They wanted me to lose everyone, not just my mother. They made sure that I would not have any sympathizer nor helper. They conspired until they've convinced our relatives, my sister and nephews, to shun me as well.
As I write about these things, I force myself to forgive the conspirators everyday. I'm still hurting and mad because of the lies they've brainwashed my mother with but she's no longer ignorant of what they did.
I might have lost many relatives and friends through this ordeal but I'm happy that Mom is with us now. ■
---
Can any of you relate to what I'm sharing?
Care to comment... Thanks!