[CONTEST CLOSED] Altcoin Fantasy + EventChain 10 SBD Giveaway! (Guess the price of "Bitcoin")
NO ONE GUESSED CORRECTLY AND ALL GUESSES WERE OVER THE ACTUAL PRICE OF BITCOIN WHICH WAS $7347.14 - BETTER LUCK NEXT TIME!
Win 10 SBD by guessing what the price of BITCOIN will be by JUNE 9, 2018 (6:00pm PST)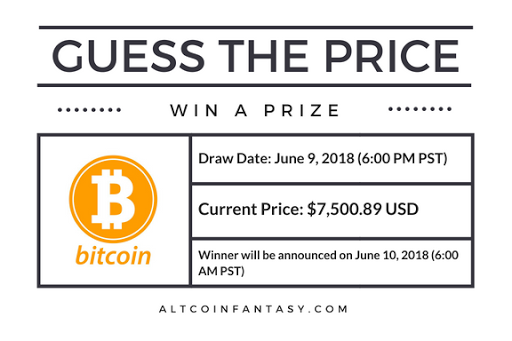 Mechanics:
• Participants must follow, upvote and resteem this post to qualify.
• Leave your price guess and your ACF username on the comment section section below. (No ACF username? Head over to Altcoin Fantasy and get yours now!)
• Guessing is open until June 9, 2018 (12:00AM PST) ONLY - NO EDITS AFTER THIS TIME!
• The first 5 persons to get the correct price (without going over) will win 2 SBD each.
The actual price of Bitcoin will be taken from coinmarketcap.com on June 9, 2018 (6:00pm PST). A new post announcing the winner will be put up on our Steemit blog shortly afterwards.
Check out our previous contests here:
5 SBD Giveaway brought to you by Altcoin Fantasy
20 Steem Giveaway brought to you by Altcoin Fantasy
Steemit Private Contest brought to you by Altcoin Fantasy
Want to learn how to trade with actual crypto? Play our online cryptocurrency trading simulator at altcoinfantasy.com and get a chance to win cash or crypto on our free weekly contests!