Help my sister out LOGO CONTEST 35 SBD
Help my sister out
Dear Steemians! One of my beloved sisters asked me for help with her logo. I really want to do her this solid, but although I'm an artist, fonts and logos aren't really my talent... So I instantly thought, where better to turn than my Steem family? There is so much talent here, that I'm sure I can get her a proper design by doing a contest!
So here goes, this is the sketch she send me.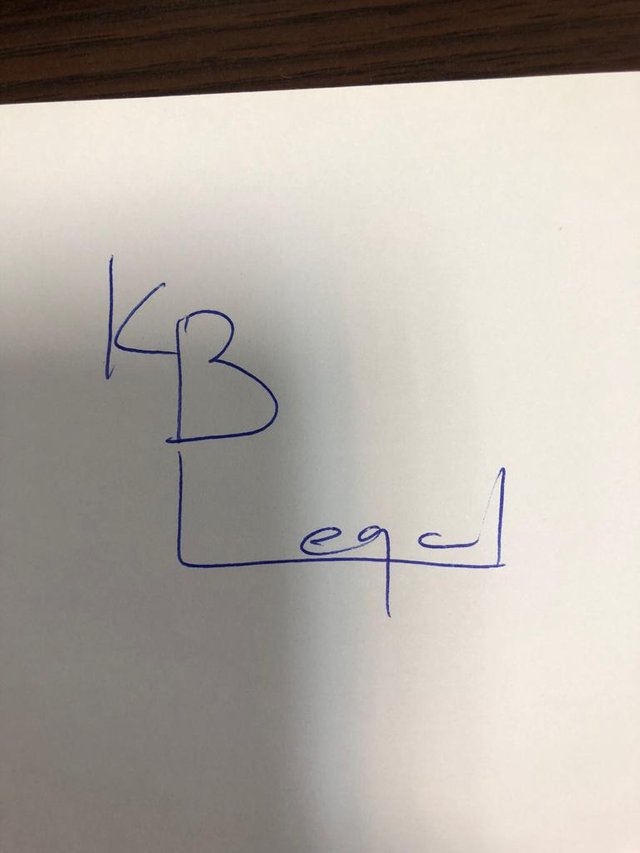 My sisters sketch
What is my sister looking for?
She would like a sleek and modern design. She wants a modern font (she mentioned modeka, achi, parley, metria, arenq, qg) and letters overlapping in a creative way. She mentioned she would like the K and Legal in one shade, the B in another, and she would like the B to pop out 3-d style. Honestly, I trust your creativity though, so you can create a logo based on these parameters and/or also submit an entirely different alternative conveying KB-Legal.
In terms of colors, she prefers one of the two tones to be a shade of blue, and the color combination to portray calmness (she doesn't want purples or pinks), the font and Logo should be easy on the eye.
How to participate?
-Make a logo design for KB-Legal (up to 3 participations, all eligeble to win and get honorable mentions)
-Make a post including your design and tag KB-legal <-important you use KB-legal as one of your tags so I'm sure to find all the participations.
-Post link in the comments below <- Again to make sure I don't miss any of the participations
Prizes
The winner, decided by my sister, will receive 25 SBD
Our next ten favorite participations will win 1 SBD and an honorable mention
If the participation is overwhelming, I'll up the amount of Prize money and honorable mentions
Your help is much appreciated!
Thanks a million fam! I really hope I can do my sister a big favor with this one... Your participation and creativity are very much appreciated.