Cyclocross Contest: REMINDER - 21/10 Boom - 22/10 Koksijde -- 100% of SBD to the winner
Cyclocross is a very exciting sport to watch. Races last about an hour, riders go full gas the whole time, and tracks are technical and usually muddy.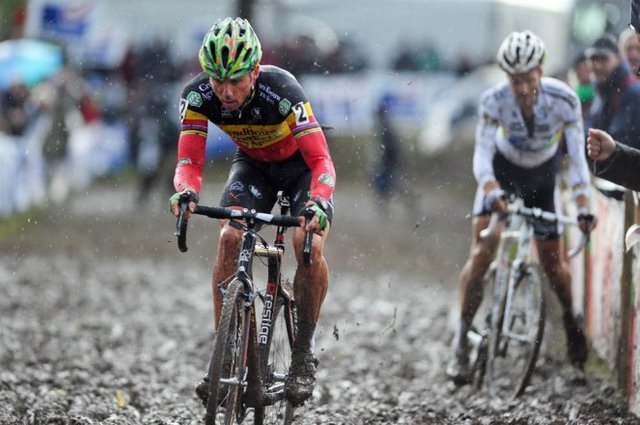 (not my pic)
The contest will develop as follows: 100% of SBD to the winner of each contest and 100% of SP will accumulate for the grand event: the World Championship (04 Feb 18)
In every race we will have points for each participant depending on its final position. The participanst who accumulate most points on the leaderboard before the World Championship will have a multiplier on the event.
Season leaderboard
| Position | Points |
| --- | --- |
| 1º barcalogia | 27 |
| 2º maarnio | 12 |
| 3º davor27 | 10 |
| 4º richard78624 | 7 |
Pot: 0.292 SBD + 0.314 STEEM POWER
Cyclocross Contest: 21/10 Superprestige - Boom
Cyclocross Contest: 22/10 Telenet UCI Cyclo-cross World Cup, Koksijde
Double fun this weekend!! Participant with most points adding up the two races wins!!
Beware that some riders may rest on Saturday to be fresher on the Sunday event.
Start: 21/10 - 15.00 GMT+2 (Entries closed 10 minutes before the race)
Pick one rider from each tier. The tiebreaker will be the difference between the winner and the runner-up.
Tier 1
Mathieu van der Poel
Wout van Aert
Tier 2
Kevin Pauwels
Laurens Sweeck
Tom Meeusen
Michael Vanthourenhout
Toon Aerts
Lars van der Haar
Tim Merlier
Tier 3
HERMANS Quinten
VERMEERSCH Gianni
ADAMS Jens
SWEECK Diether
ISERBYT Eli
VANTHOURENHOUT Dieter
BOROS Michael
CORNE VAN KESSEL
DAVID VAN DER POEL
DAAN SOETE
VINCENT BAESTAENS
KLAAS VANTORNOUT
all rest
Example:
Wout van Aert
Michael Vanthourenhout
Klaas Vantornout
40 seconds
| Position | Points |
| --- | --- |
| 1º | 20 |
| 2º | 15 |
| 3º | 12 |
| 4º | 9 |
| 5º | 7 |
| 6º | 5 |
| 7º | 4 |
| 8º | 3 |
| 9º | 2 |
| 10º | 1 |