Tell A Story To Me #6 - Another Chance to Win - Story Round Up - Tell Me Your Favorite To Win @steembasicincome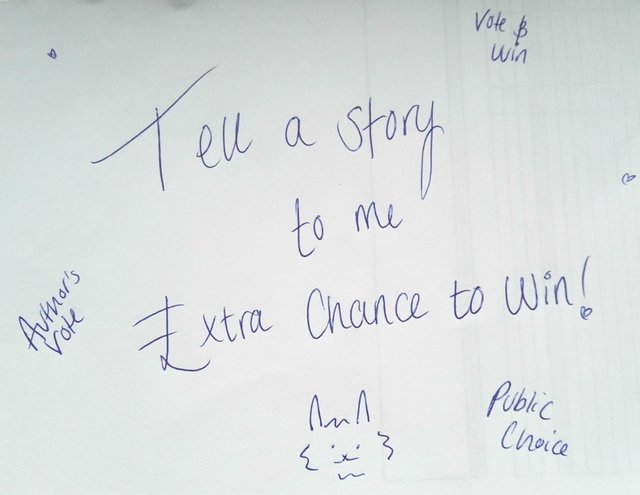 Win A Prize when you vote for your favorite story!
Welcome back to the second part of round 5 - help me give even more prizes away!
Read the entries below, let me know which one you liked the most, and why, for a chance to win 1 @steembasicincome
The winner will either be the most well thought out nomination, or if we get a lot of good nominations, chosen at random from those. You don't have to have written a story to vote and win! Just tell me which stories you liked, and why, and which one was your favorite!
Authors Vote
All the authors have also been invited to come back and vote, their votes will be tallied and Authors Choice will be an additional 1SBD and 1
@steembasicincome
share
Public Vote
If we get more than 5 votes from people who did not enter a story this round, I will be offering an additional prize based on those votes, if we have less than 5 public votes, they will be combined with the authors votes. If we get a lot of public votes, I will be offering an additional 1SBD to the most well thought out votes that don't win!
The Entries
In no particular order the entries to vote on! Cast your vote by commenting with the user who you think should win, let me know why you are voting for them to be in with a chance of winning yourself!
I am so sorry if I have missed anyone, give me a shout in the comments and I will update the post and notify the other entrants
---
@alisabelsilva with Thermal Apocalypse
@seesladen with Death By Degree
@sofiapaola with Thermal Apocalypse
@whitelite with Apocalypse - Earth Burning
@f3nix with The Sound From Outer Space
@sneikder with Cataclysm
@alito942010 with A New Beginning
@jhnmunoz with Icarus
@mervin-gil with Celsius
I missed @mervin-gil in the first posting of this, sincere apologies!!
---
I am allowing a whole week for voting this time, results and next round will be up next weekend (aiming for June 30th)!
Thank you so much for the fantastic stories, I am so excited to start judging. I have made myself wait until all the entries are in and collated to read them, and it has been so hard to resist!
I am so honored to have so many great entries, and so pleased that the @curie vote has found it's way to a fair few entrants over the rounds, it really does reflect what a talented group of authors you are.
Love, Sparkle, GOOD LUCK, & hope to see you again in the next round - Calluna
By no means is anyone asked to resteem, but of course, if we get enough public votes, there will be another prize on offer for the authors!