100% SBD Give-Away Contest 0035. (Over 101 SBD and 350 Pocket tokens awarded already!)
Note the new requirement and that 4 weeks of rewards have piled up!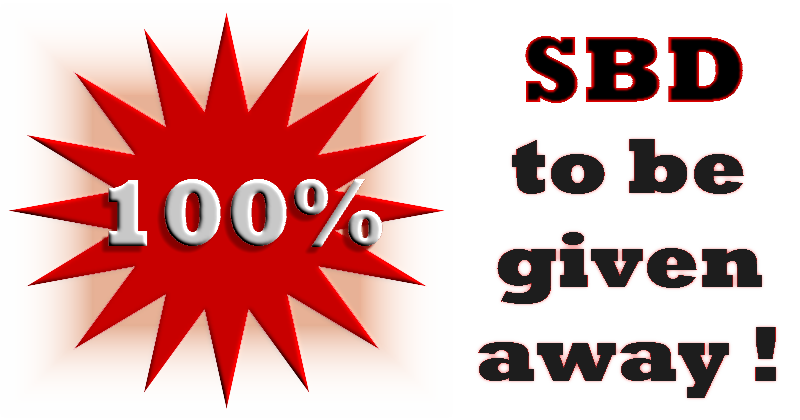 Since the original idea behind these giveaways was to help redfish and minnows, and with the proliferation of autobots in the system, I believe we need a method of building REAL community. As long as I have enough Steem Power, I will be up-voting those who participate in these weekly contests so that at minimum participants will receive increased rank and a small amount of Steem. If each participant ALSO up-votes the others here, we will form a small community of little fish helping each other out! Participating here involves actually reading the post and making a reply, which is what the platform is asking us to do.
Each week's contest will require entrants to select a number between 111 and 666.

How this contest works
The contest is intended for lower-ranking members who could use the money (whales and dolphins are encouraged to upvote and increase the prize pool and/or comment rewards. Your support is greatly appreciated!).
The contest will run for 1 week and close on Feb. 7, 2018.
Entrants will select a number between 111 and 666 and in the replies to this post they will write, "ENTRY GUESS" followed by their chosen number. This should be the first thing they write, followed by anything they feel will add value to the post. This can be something as simple as a famous quote you copy and paste from the Internet (as long as you provide attribution), something of interest to you that you would like to share, a joke, etc.
The winner(s) will have guessed all 3 numbers in the correct order and if nobody guesses correctly, then at least 2 of the 3 numbers rolled by 3 6-sided dice rolls must be achieved or the prize rolls over to the following week. (NOTE that there will be no numbers 7, 8, 9 or 0). Example: Dice rolls = 456. Players guessed 152, 256, 416, 555, and 645. Guesses 256 and 416 would split the prize for each having 2 of the 3 numbers in the correct places.
The prize pool will consist of ALL the SBD earned by this posting PLUS 50 Pocket tokens Plus the total prize pool not won previously (now at 4 weeks worth!).
In order to win, you MUST have upvoted the original post, resteemed the latest #happystore post and written something interesting. Suggested topic: How would you promote the #happystore ?
Upvoting this posting will increase the prize pool, so be sure to ask your friends and followers to upvote, even if they are not entering!

Dice rolls were: 3,1,4 for 100% SBD Give-Away 0034 (last week) and nobody guessed at least 2 numbers correctly. The prize amount from #0032 to #0034 will be added to the prize amount for #0035. (At time of writing, worth over $15 USD)

To vote for a witness, you need to be logged in with your active key, so have it handy when you are ready to vote. To vote for witnesses not in the top 50, simply insert their name into the text box at the bottom of the witness list and click on the VOTE button.



I sincerely thank you for your input!



In case you missed it, you can buy chain-link jewellery here using Steem!