DnW Poetry Contest #5 New Theme and Announcement of Winners!!
UPDATED!!! PLEASE DO READ THE PRIZES PART
---
---
HELLO HELLO HELLOOOO!!
---
The host for the fifth-week contest wants to apologize
She was so busy jumping and screaming on the ground
For days, the joy and the smile extends and amplifies
As she witnessed her favorite rock band performs with a loud sound
The announcement is delayed for two days
But that doesn't mean she forgets the poetry
So the winner's entry will now put on array
And will be rewarded by @deeday31 accordingly.
---
FIRST
Wear A Smile
by @devjanes
Unexpected, I was formed inside with joy
God heard you love to have a boy
He didn't hesitate to give gift to you
Using the guy you thought would love you too.
Your lips wears the biggest smile
I wanna see them as you stare for awhile
You had no idea that I was inside
Until you're unwell, you just can't hide
Your smile went away as you knew I was there
Trying to convince yourself that you don't care
You pulled me out and threw me through
I knew my dream won't come true
Mom, I was not a decease
Don't take me out, the pain I can't ease
Turned your back and leave a mile
Never had the chance to wear a smile.
SECOND
Perpetual Smile
by: @lapizlazuli
Your actions so versatile
Your sharp words and striking guile
How I love to see your sense of style
That I always check your online profile
If you get bashed for a while
I'd become very volatile
My heart will rage with a rising bile
From these voices that only know revile
If I see you when I pass a turnstile
I think I would stop at my aisle
You make me happy since I was a juvenile
I'll adore you 'til I'm aged and senile
I always make an effort to compile
All the moments that I see you smile
But meanwhile, I think it's futile
Because you're only a jpeg file...
Third
She Continues To Smile
by: @giraffeonskates
I walk into the tall building,
hands shaking, thoughts racing.
A desk of frowning faces ignores me.
I lean forward and say "excuse me, I am lost, can you please point me to room 203?"
A lady with a face full of botox and makeup,
who looks at me like I've ruined her holiday in Balingup,
glares at me as she gets off her desk chair and shows me to the room.
The room 203, where my grandmother rests, I assume knowing her doom.
I reach out and pull down on the handle,
she's laying on her bed reading a book by some woman called Maybel.
She looks up at me, and instead of looking despondent,
she beams up at me with delight and contentment.
We sit and talk and we laugh and we smile.
She doesn't stop smiling at me the whole while.
She rests her head down as I watch her eyes turn glossy.
She is still. She is quiet. She continues to smile.
FOURTH
Your Smile, I Won't Forget
by: @sistem
The reason I smiled within was you
A smile that's clear like the morning dew
Everything I did, I did for you
But my heart kept asking if this was true.
The first day I saw you, I will never forget
It's a day I choose to never regret
I was a sharpshooter but you were a hard target
When you were mine, I made you my best pet.
Two years have gone and we were not the same
I used to be your baby but now you call me by my name
To us, I would say ''what a shame''
But on me, you can put the blame.
Like an angel, you had the best smiles
A smile I would run to get a thousand miles
In my tummy, I felt butterflies
Now that you are gone, I wish I took you down the aisle.
FIFTH
She Smiled
by: @tomogiroe
Her chances of passing were slim, but still, she smiled.
Her parents' faces were grim, but still, she smiled.
She's unsure if she'll make it, but still, she smiled.
She was not ready to do it, but still, she smiled.
Every fiber in her protested, but still, she smiled.
She was not even comforted, but still, she smiled.
She was worried for her sister, but still, she smiled.
They're nervous for each other, but still, they smiled.
The bride selection has come, but still, she smiled.
For her it was burdensome, but still, she smiled.
Her sister was not chosen as the bride, but still, she smiled.
Her sister had mournfully cried, but still, she smiled.
She advanced to the final round, but still, she smiled.
They said the bride has been found, she still, has smiled.
But when they said it was her, she lost her smile.
For she knew the prince doesn't love her, at last, she cried.
---
CONGRATULATIONS GUYS!
---
The month of February is fast approaching
and with that, this week new theme is
I N F A T U A T I O N
---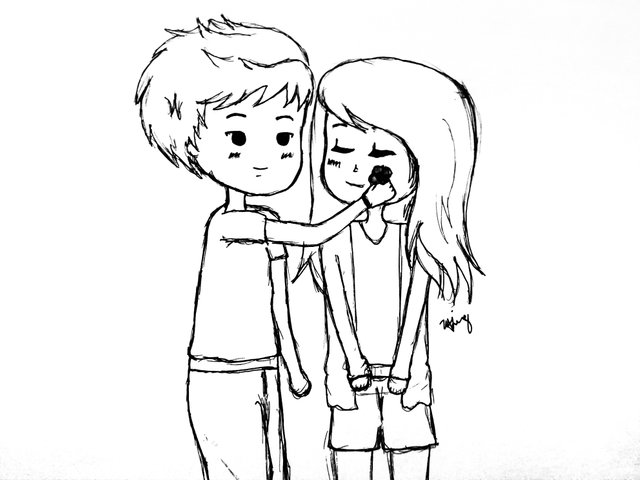 ---
THE RULES
---
There will be some changes. Please do read carefully, dear Steemians!
Your poem must be original.
Upvote and resteem this post.
Use #dnwpoetrycontest as your main tag and #poetry as your second tag
Your title must start with "DnW Poetry Contest #5: + Your own title."
Comment you entry link below.
Any types of rhyme are acceptable.
Every participant must draw an image that is relevant to the given theme. ( No pressure on this part. We just want you to use your own header image.)
Your poem must contain four quatrains. Each quatrain contains four lines.
Deadline runs until Tuesday 20:00H (8:00 PM, February 6, 2018, Philippine Standard Time)
---
THE PRIZES
Note that from Steem I changed it to SBD since the value of Steem overtakes the SBD and the prizes that I'll be sending to you come from my own wallet. Hope you understand.
---
First Place - 4 SBD
Second Place - 3 SBD
Third Place - 2 SBD
Consolation - (2) 0.50 SBD
Prizes may increase depending on the support we receive.
---
THE CRITERIA
---
Entries will be judged according to the following criteria:
| | |
| --- | --- |
| Originality | 20% |
| Relevance to the weekly theme | 20% |
| Logical Structure (Shows a coherent and smooth transition) | 50% |
| Synchronization (Header Image and Poem Entry) | 10% |
---
ALL ENTRIES WILL BE JUDGED BY THE TWO LOVELY HOSTS, @deeday31 & @kneelyrac
---
---
✏️ kneelyrac ✏️
---
---
Hi everyone!!
I encourage you all to support and vote
Terry @surpassinggoogle, @blocktrades and also @precise as your witness.
Just click here and type 'steemgigs', 'blocktrades' and 'precise' on the first box.
---