Qiibee - The New Additive Loyalty Program


Image source: Qiibee Whitepaper 2.1
The thing that could make or break a company
Customer Relationship Management (CMR) is a business strategy that could make or break a company. The better a company handles its customers the bigger the revenue. It is an internal marketing at its best. It's no surprise that there are lots of strategies, books, or even software that deal specifically to help companies in CRM. One of the most widely used of CRM is the loyalty system. Customers will earn stamps or points for each transaction they made, and after a certain accumulation, the customers could exchange those stamps or points into a free product or certain discount.
The frustration behind current loyalty system
Although it's quite effective, the current loyalty system is frustrating for both the customers and the companies that give it. The company needs to create all the necessary tools (paper-based or software) that will handle the loyalty program, starting from point giving system, points collection system, to prize redeem system. Some company may need to create a division for all of this works.
The current loyalty system is also very frustrating for customers. Customers will end up with too many loyalty systems, too many stamps or software to handle the points. Each one of them is not interchangeable. Meaning, customers will end up not fulfilling the quota of the loyalty points most of the time.
The solution is here
Qiibee is solving all of these problems bringing loyalty system to a decentralized blockchain. Using this revolutionizing move, Qiibee is ensuring both companies and customers will fully take benefit of how loyalty system works. Qiibee is combining all those loyalty programs into a single platform with QBX tokens as its core.
Company / Brand perspective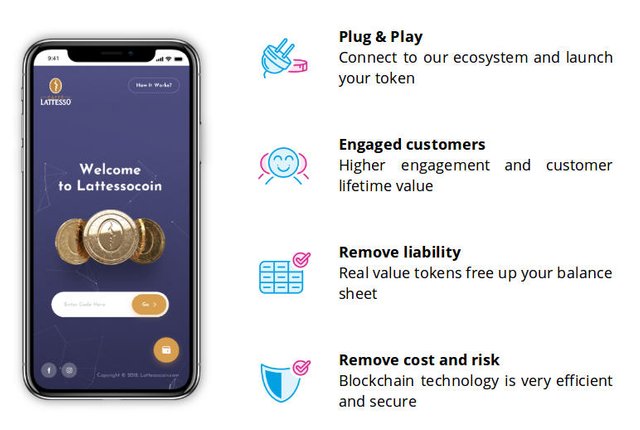 Image source: Qiibee Whitepaper 2.1
With Qiibee, companies need not invest in the laborious workforce, time, and money to develop a loyalty program. Qiibee has it. Companies just need to decide the point percentage that will be given to customers. Being on a single platform, current customers in Qiibee ecosystem will have lower resistance to new loyalty points, even when given by mom and pop businesses. Additionally, being on the blockchain means that Qiibee has a very efficient and secure technology, better than any server providers out there.
Customers perspective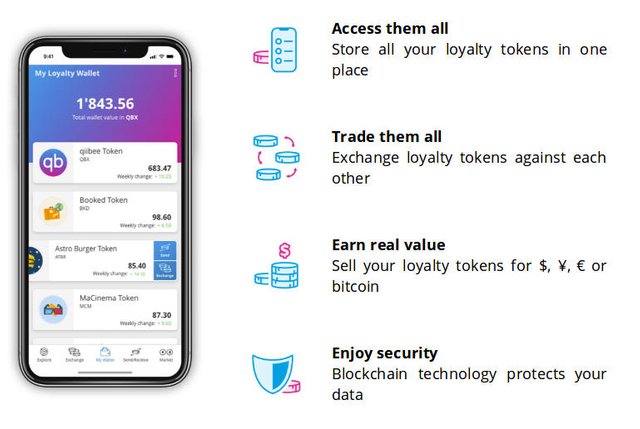 Image source: Qiibee Whitepaper 2.1
With Qiibee, loyalty points will be fun and addicting for customers. Being a single platform multiple vendors, customers can handle all the loyalty points in a single software. Furthermore, customers can exchange points from different vendors to fulfill a certain loyalty program. Customers can exchange points given by vendor A and B, to the points given by vendor C and redeem the loyalty program from vendor C. To take it one step further, all those Qiibee points (the QBX tokens) could be exchanged with real fiat money! Very cool, right?
The Team
The Qiibee team has 16 years of experience in the loyalty space. Qiibee has been able to maintain 70% of its core team since the 2015 inception three years ago. Qiibee also has a collection of excellent advisors for this project, ranging from strategic advisors to academic advisors.


Image source: Qiibee Website
Roadmap
Qiibee is currently having its private seed round. The first two (2) brands will be live on Qiibee with QBX tokens in the second quarter of 2018. Qiibee will start its expansion in DACH region, then European countries, with will then focus on Asian countries.


Image source: Qiibee Whitepaper 2.1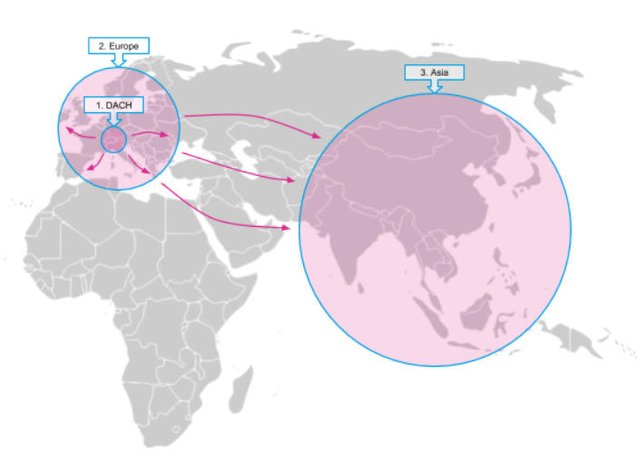 Image source: Qiibee Whitepaper 2.1
Additional Information
qiibee Website
qiibee WhitePaper
qiibee Telegram
qiibee Medium
qiibee Twitter
qiibee Facebook
qiibee Instagram
qiibee Linkedin
qiibee Google Plus
This post is a submission to OriginalWork contest here.
qiibee2018