[Updated] Why keep steeming? Survey & 100% 1 SBD + 10 SBD Lottery giveaways!
---
Why keep steeming? Survey & SBD giveaways!
---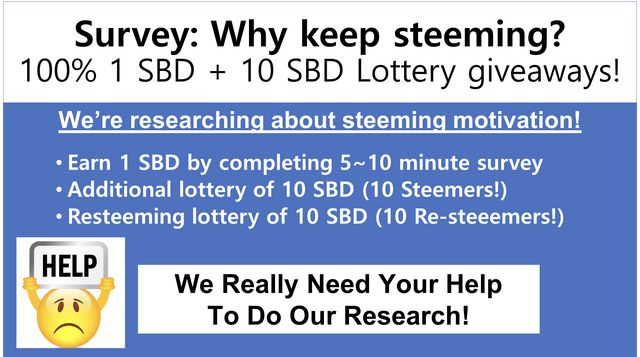 We have many steemers from all around the world! But we don't know who these steemers are, and why they keep steeming. Of course everyone wants to earn STEEM. But there are many other reasons. We'd love to hear why you keep steeming!
UPDATE:
Some of you pointed out that the questionnaire was rather lengthy(over 5min), and the response rate of the questionnaire was somewhat lower, so we raised the compensation amount to 1 SBD to reach the 500 questionnaire result that we aimed.. (I will also give you 1SBD for those who already answered the existing questionnaire.) It will be a big help if you resteem it. Thank you!
Please join us in this campaign by completing the survey. It takes about 5-10 minutes! We will give away lots of SBD!!💎💎💎
How to join us?
Just complete a survey by clicking this link: https://goo.gl/H1XeJi
At the end of the survey, you must enter your SteemitID in order to get a reward of 1 SBD (for the first 500 people) ,and have a chance to win the drawing.
All multiple choice questions! Yeah!!
There are some questions that will sound similar (this is intended; it's not an error!)
Additional lottery: Resteem this post to your followers. We will select 10 people and award them 10 SBD each.
---
What kind of survey is it?
Basically, we are asking you a bunch of simple multiple-choice questions about why you keep steeming, and whether you have any concerns. For example, we ask you to rate how much you agree with this statement: (why are you steeming?) "To meet new friends"
To respond, simply choose one of the following items: 1 – Strongly disagree, 2 – Disagree, 3 – Neither agree or disagree, 4 – Agree, 5 – Strongly agree
We also ask questions about demographics at the end of the survey
Don't forget to enter your ID so that we can transfer the 1SBD rewards!
We will check the validity of your answers
Survey period: Sept 1 - 7, 2018 (AoE)
---
💰Raffle selection💰: We will transfer 10 SBD to each of the randomly selected steemers, by Sept 8, 2018.
📊Survey results📊: After the survey, I'm sure that you will be very curious about how other steemers responded to the survey. We will post the results of the survey by the end of September!!
---
Who I am: I'm a #researcher at a public university. I'm currently conducting research to understand why people are steeming. I'm hoping that this research can help better design blockchain-based social media. The collected data will be only used for research purposes and your answers will be not be released/shared. If you have any questions about this survey, please send me an email ([email protected])