LIQUIDITY NETWORK - THE BEST OF BOTH...A (DE)CENTRALIZED PLATFORM OF PAYMENTS AND EXCHANGES
Blockchain Payments for Everyone and Non-Custodial Off Blockchain Exchange
Liquidity.Network
Financial need is something that occupies people daily. Since time immemorial banks have been used to protect the money of each person, these are entities in charge of custoriar money. Since not so much exploded the internet with the creation of bitcoin, a cryptocurrency that allows exchange, shopping and everything digitally, digital money is basically, this has triggered the creation of thousands of cryptocurrencies which behave as real money, fact they can be changed to the real world. All that wonderful world of digital economy is possible thanks to the block chains, which are the conductors designated for that digital money.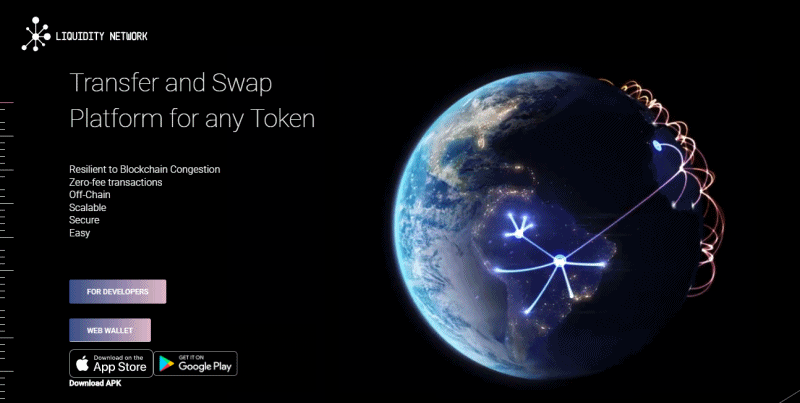 )
Source
The adoption of cryptocurrencies is on the rise, but it is not a secret that they are still failing, nothing is perfect and block chains are obviously not. Scalability is one of the problems presented by some currencies like Ethereum, this derived from another problem, the long time that you can take a transaction in a chain of blocks, since it is proven that 10 transactions per second can be carried out, for Some may seem fast, but in the world of internet and transactions it is a long wait.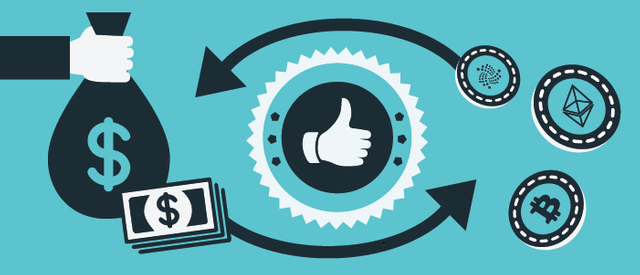 The exchanges of cryptocurrencies on the web is a fairly common issue, being used for payment of services, objects, among other things, the fact of paying something in this way sometimes represents a higher cost for the person since he must pay high costs of fee, this represents a quite common problem in all those who carry out this type of transactions.
All these problems have made the cryptocurrency experts and their transactions think, that is why they have developed solutions to attack block chain failures and thus increase the scalability of cryptocurrencies as well as the massive adoption of cryptocurrencies, not to mention the fact that it would be much more convenient and useful for the users benefited with this new exchange technology called, Liquidity Network

First of all, what is Liquidity Network?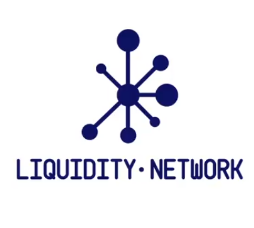 It is a network that works to improve blockchainm technology offering users greater scalability, as well as a simpler and simpler platform, on the other hand it also offers greater transparency and privacy in all transactions.
It is important to mention that its ecosystem is divided into the network and the exchange, where the first is as such a payment platform while the exchange is the one that promotes the innovative technology of off-chain changes, carrying out a significant change in the digital economy platform. Liquidity Network is an innovative platform that aims to turn around the scalability problems that the exchange network currently presents. To have a reference, it will work like Lightning Network for Bitcoin, improving the status and alternatives of the payment channels to which users have access.
According to an interview with Liquidity Network co-founder, he says:
"What we are offering is a payment center that allows bidirectional transactions between the number of people who experience this need, which we believe could be important for the Ethereum ecosystem in general. "
Enabling Micro-payments and Small Value Transfer (SVT)

Instant Payments and Exchange

No rigid locked funds


Privacy

Security

No Custodian

All these are advantages presented by Liquidity Network in a way that presents the user with a total improvement in their experience when transferring cryptocurrencies and maneuvering in this world of the digital economy. All represent solutions to improve the blockchain technology and in this way correct the faults present in it.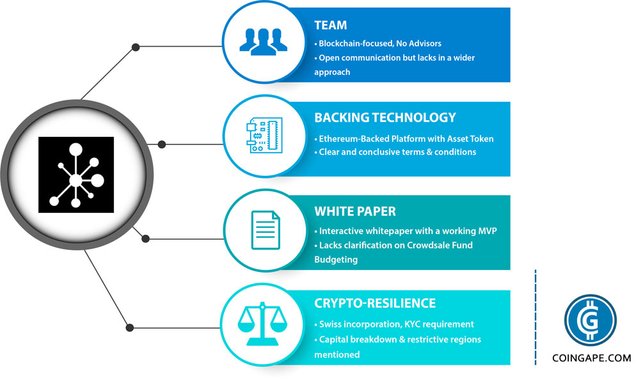 Liquidity Network is a very private and secure system, since the custodian of its funds is the same user, maintaining its key so that it becomes a very transparent platform. The cryptocurrencies are designed so they are not centralized so that all operations do not belong to a banking entity but are in a chain of blocks available to everyone, this makes the situation a little insecure and obviously zero private, this is how Liquidity Network takes the initiative to counteract that and become a platform in the middle of the two modalities, decentralized and centralized, since the transactions are off-chain, that is, outside the chain of blocks, therefore they are more private and faster.

Platform architecture
The architecture of Liquidity Network lies in the hubs, this technology is what allows users to make an off-chain connection, this being one of the innovative tools that this platform brings, since with the Hubs users enjoy the speed of centralized transactions with the benefits of the de-centralized ones.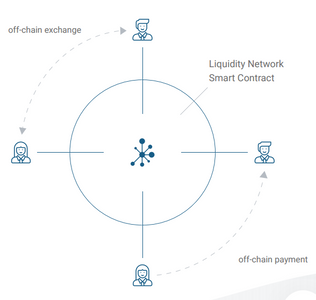 This technology is currently implemented in Ethereum which gives users an advantage in the world of the digital economy. The novel design of Liquidity Network lies in the alternative payment channels that give certain advantages such as:

No rigid locked funds

Simple design and routing

Free and instant channel establishment

Non-custodial off-chain swaps
Interconnection is a reality in hubs, since two users are eligible to be beneficiaries of transferring funds outside the block chain. The fact of being able to make transactions outside the block chain gives the benefit of having very low rates for the costs of such transactions. The off-chain is what allows users to enjoy fast and economical transfers.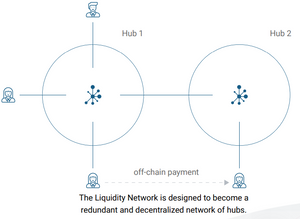 Liquidity Network technology is the best of both worlds, a decentralized platform with the benefits of the centralized so that users have their funds all the time, no lods entities handle only them with their private key, on the other hand the system is designed so that several hubs are interconnected, it is worth noting that a user of a hub can choose to take their funds out of there and simply reinstall in a new one.

keys to success: NoCust and Revive
NoCust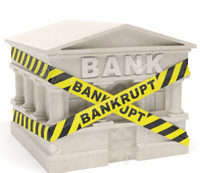 Insecurity is a problem for anyone, always people think that they can be victims of some theft or some irregularity, which is common to happen in fact.
It is customary to trust in banking entities that safeguard your money and invest it in a safe and efficient way, but not all cases are the same as financial problems and thefts may occur that lead the person to lose their money unfortunately. The digital economy is not exempt from this, because within the network are seen millions of scams, thefts or bad transactions that make the user lose their cryptoactive.
This is how Liquidity Network came to a very efficient solution, a novel tool called NoCust, its name says it all, No custody, meaning that user funds are not guarded by a specific entity, such as a bank, on the contrary, are in the hands of users, for its part also the transaction is only competent to the users involved, it is worth noting that this is done outside the chain, which gives a greater speed and low cost, but with NoCust also gives the necessary security.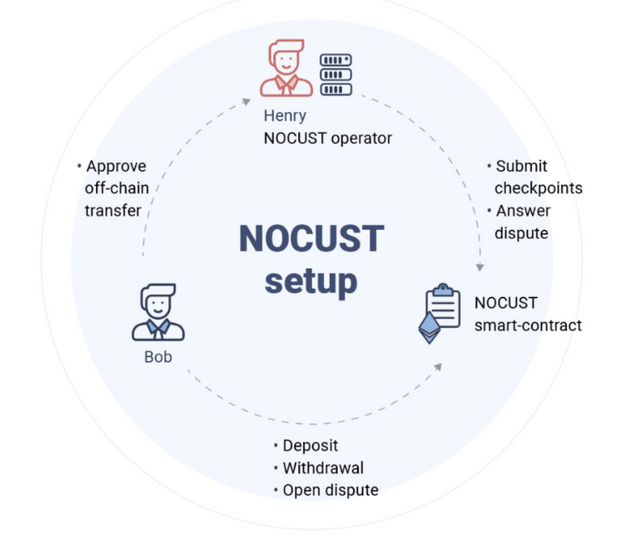 Source
NoCust takes advantage of the power of an intelligent contract as a root of programmable trust. As illustrated above, a payment center is composed of 2 crucial components. An intelligent contract in the block chain and a payment center operator. The operator is a single person who runs a server, can be seen as the "banker without custody"
NoCust provides several advantages for users since they can have instant and secure transactions, since this technology works outside the block chain.
With this technology on the platform there are guarantees that cover all possible scenarios, which gives even more peace of mind to users.
In general terms, this tool is the future in our hands as it shows that free, instantaneous and secure transfers can be made outside the chain and the exchange of digital assets are possible without the supervision of third parties. All this is possible thanks to NoCust, which is why, in a new way, Liquidity Network integrates it integrally with your system.
REVIVE
Currently the transfer of cryptocurrencies is quite common, they are made at all times, but cryptocurrencies in the block chain as bitcoin allowed the third parties to be replaced by a transaction between equals but this does not mean that all are honest. For the realization of these transactions, the so-called payment channels are used, what are these?
A payment channel is a means of transaction outside the block chain, in which two people commit funds in one direction and are paid between them by issuing payment commitments signed by the parties, avoiding having to wait for confirmations from the blockchain underlying.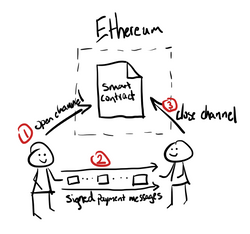 The payment channels are quite useful to be able to make transactions between two or more without having to go through the block chain, however it has its faults and one of them is the one that can not be reimbursed without carrying out chain block transactions, in this way, when the payment channel runs out, it has to be closed and we would have to wait for two costly transactions to take place in the chain in order to revitalize that payment channel.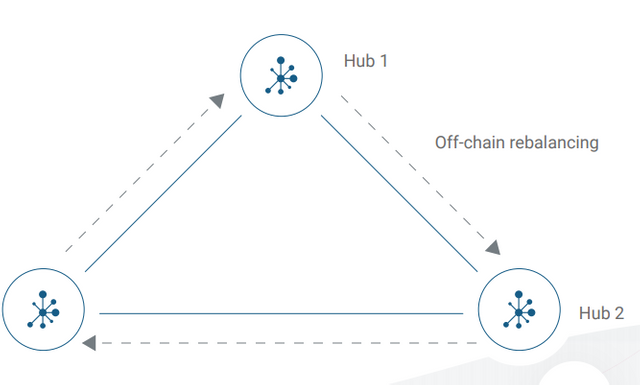 Source
Liquidity Network in its eagerness to improve the user experience implements REVIVE in order to be able to revitalize the payment channels instantaneously without having to close them and wait for them to carry out transactions with the block chain. Liquidity Network allows a group of users to change their balance between their payment channels in a secure way.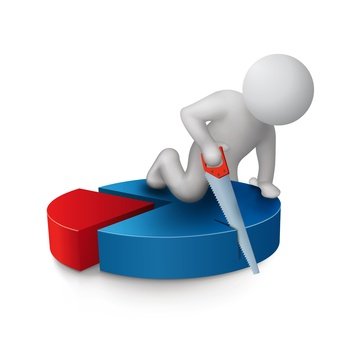 REVIVE is the first rebalancing scheme for payment channels, which allows a user to use any other channel to rebalance a particular channel.
If all the rebalancing participants are receptive (ie, honest), rebalancing with REVIVE is free. Therefore, REVIVE increases the transaction scalability of block chains without permission by reducing the frequency at which reimbursement of the channel in the chain is necessary.
REVIVE is independent of the payment channel, that is, it can be applied to different underlying payment networks.
With the implementation of these two tools Liquidity Network gives its users the best possible experience. Since formal the perfect gear for cryptocurrency transactions, people can perform their transactions through Liquidity Network thanks to these tools give the confidence, security and speed that any user wants. With NoCust and REVIVE, block chain failures, transactions and payment channels are solved.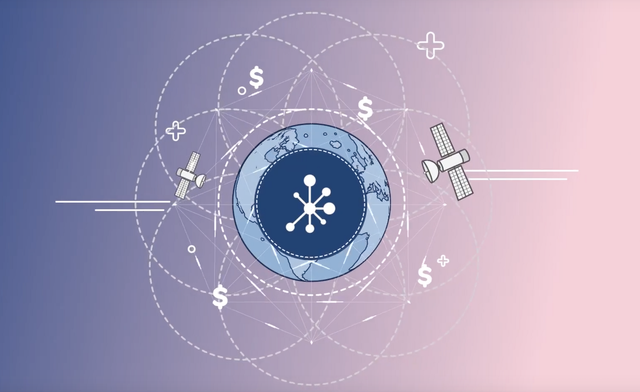 Resilient to Blockchain Congestion, Zero-fee transactions, Off-Chain, Scalable, Secure, Easy, those are the synonyms that can be described in a few words to Liquidity Network. Many problems can arise from monetary transactions, although technology is progressing enough there are always failures to solve day by day so that this is Liquidity Network, this platform puts at the disposal of the user several tools that lead to have the best experience at the time to make your transactions, among the most remarkable that the platform offers is the fact of the speed in which the transfers are made, they are instantaneous, with the implementation of hubs the problems are solved for the scalability, besides to gather many good characteristics there are two ibtegrales tools, NoCust and REVIVE, both extremely crucial since they solve failures in terms of speed, security, transparency, among many more.

The fact that it is a (de) centralized platform makes it the perfect system since it has the best of both worlds for its users. This leads them to have transactions more quickly but most importantly with very low fees, it is free practically, it is very attractive.

Type of wallet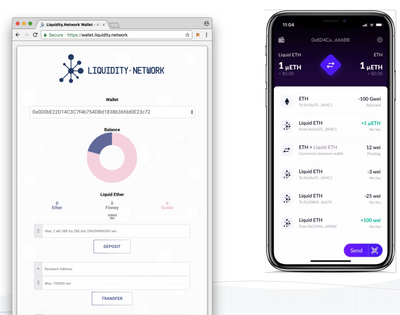 )
Source
Token LQD
The purpose of the token is quite simple, access premium applications, to have a better experience even on the site.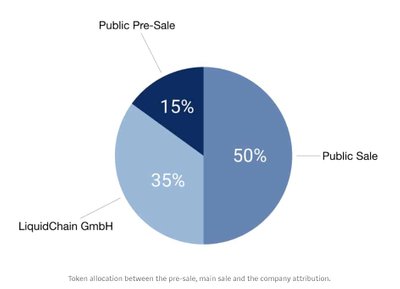 Use-case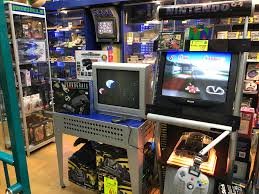 Jenn is an online buyer, is very involved in that world, she wants to open a small business selling video games and got an online seller that sells them very cheap. The problem she saw was that she had many previous savings in Ethereum and did not know how to convert it into real currency. Then she realized that the seller accepted her coin. Jenn happily asked to make the purchase, they arranged to meet at a shopping center, Jenn agreed to go and when she met the kind seller, she asked for immediate payment, knowing that it was impossible with Ethereum. I explain it to him, the boy in a good way I present Liquidity Network was how they made their smart contract and also an off-chain transaction immediately and without paying any fee, quite incredible in the eyes of Jenn who from now on is a fixed user of Liquidity Network and faithful buyer of that seller.

Here some comparisons in different fields of the industry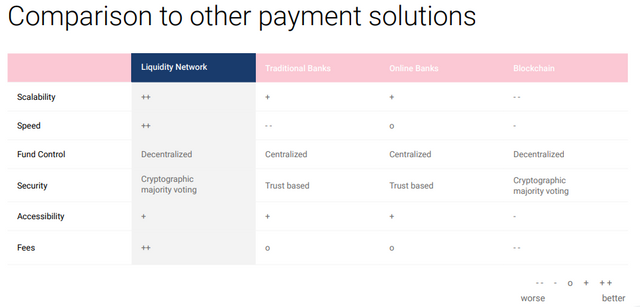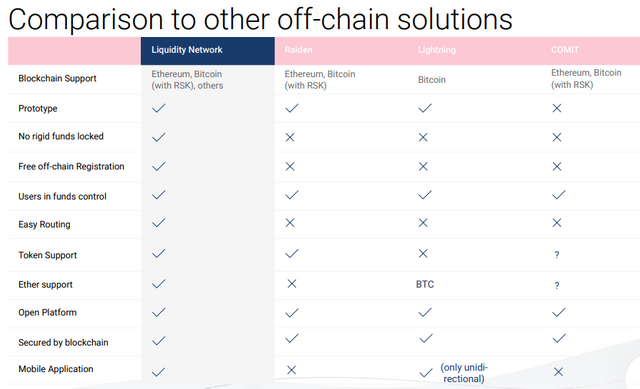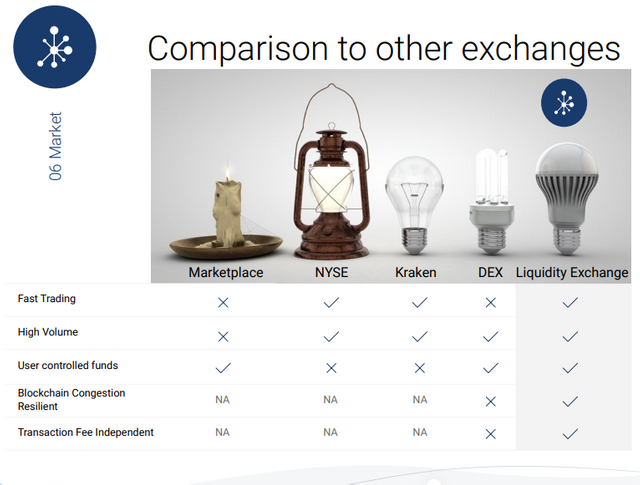 Source

Team behind everything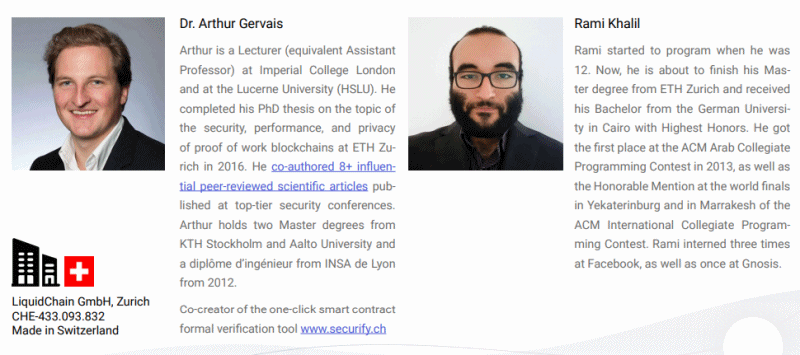 Road Map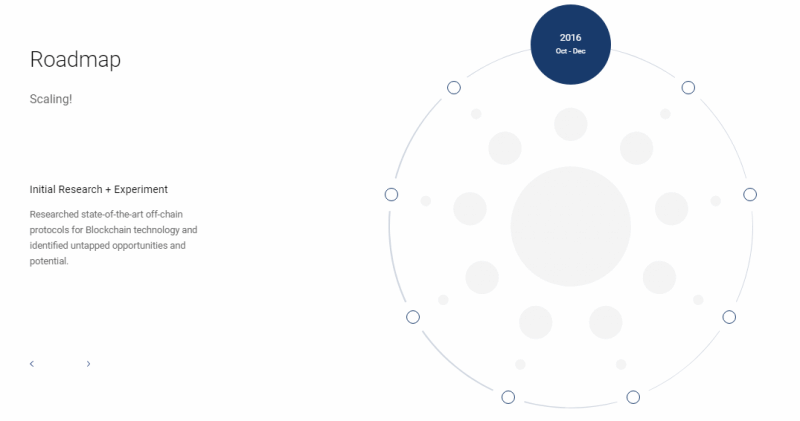 Check this explanatory video
Participation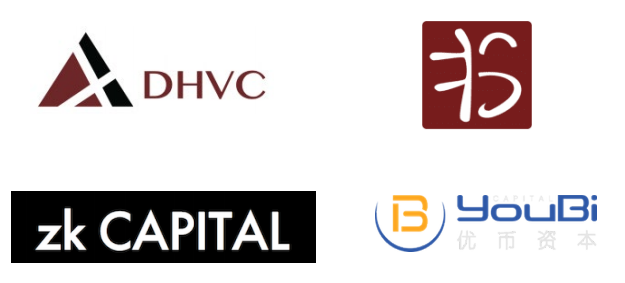 Source

Conclusion
Since time immemorial, money is important, as well as safeguarding it, at present and money is not only physical, it is also digital, this type of economy is very common, as are its transactions. The use of a banking entity that takes care of the money and manages it has become an unreliable way because of so many banking scams and losing money. On the web these cases also happen. On the other hand, people are using cryptocurrency transactions every time and they need more speed and transparency. In view of all these problems presented in the chains of blocks and transactions Liquidity Network took the task of solving all those faults, with the implementation of technology such as the NoCust and REVIVE system, as well as the hubs, all these tools work as a clock so that users have the future in their hands with the best of both worlds, the advantages of centralized and decentralized, thanks to Liquidity Network.

Check more information here
Liquidity Network Website
Liquidity Network Wallet
Liquidity Network WhitePaper
Liquidity Network NOCUST Paper
Liquidity Network REVIVE Paper
Liquidity Network Apple App Store (IOS)
Liquidity Network Google Play Store (Android)
Liquidity Network Telegram Group
Liquidity Network Telegram Announcement
Liquidity Network Twitter
Liquidity Network Github
Liquidity Network Blog

This is my entry to participate in the @OriginalWorks contest sponsored by Liquidity Network Website Click Here
lqdtwitter2019
lqd2019