Team World VS. Team Africa - Contest To Win SBD!
Hi everyone,
I know we're all basketball deprived so I thought it would be a good opportunity to follow the upcoming game and make a contest out of Team World vs. Team Africa! I know for a fact there has been some trash talk going on between the two teams so it should be fun to see how competitive it will be.
The contest is simple:
Predict the winner AND the margin of victory WITHOUT going over
User 1 – Team World wins by 15 points
User 2 – Team World wins by 12 points
Final Score: Team World wins by 14 points.
User 2 will be the winner as he had the closest guess WITHOUT going over
Contest Rules
Contest ends August 5th (tip off)
All bets must be in before this time
Winner to receive ALL the SBD earned from this post
You MUST upvote this post to qualify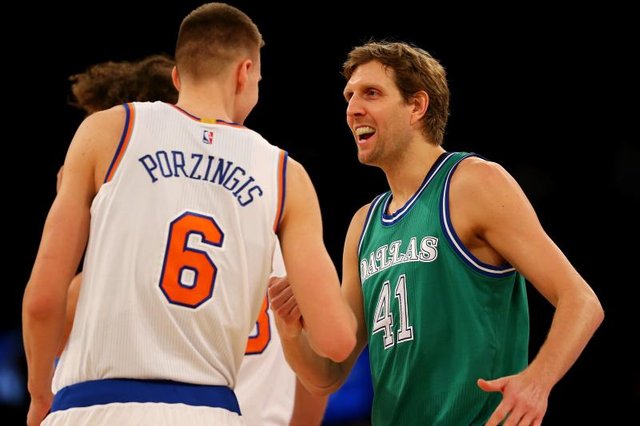 Below are the rosters of the two teams:
Team World
Dirk Nowitzki (Dallas Mavericks)
Kemba Walker (Charlotte Hornets)
Leandro Barbosa (Free Agent)
Jaylen Brown (Boston Celtics)
Wilson Chandler (Denver Nuggets)
DeMarcus Cousins (New Orleans Pelicans)
Andre Drummond (Detroit Pistons)
Courtney Lee (New York Knicks)
Kyle Lowry (Toronto Raptors)
CJ McCollum (Portland Trail Blazers)
Kristaps Porzingis (New York Knicks)
Team Africa
Luol Deng (Los Angeles Lakers)
Thabo Sefolosha (Utah Jazz)
Bismack Biyombo (Orlando Magic)
Clint Capela (Houston Rockets)
Gorgui Dieng (Minnesota Timberwolves)
Joel Embiid (Philadelphia 76ers; Will Not Play)
Serge Ibaka (Toronto Raptors)
Luc Mbah a Moute (Houston Rockets)
Salah Mejri (Dallas Mavericks)
Emmanuel Mudiay (Denver Nuggets)
Victor Oladipo (Indiana Pacers)
Dennis Schroder (Atlanta Hawks)
Good luck!