MASSIVE PRIZE POOL INCREASE - Design the Most Aussie Steem T-Shirt Competition Update!
WE'VE HAD A PRIZE POOL INCREASE!!

Our Aussie Steem T-Shirt Design competition just keeps getting better and better! We have some incredibly generous Steemians out there who have donated to the prize pool for this fantastic competition.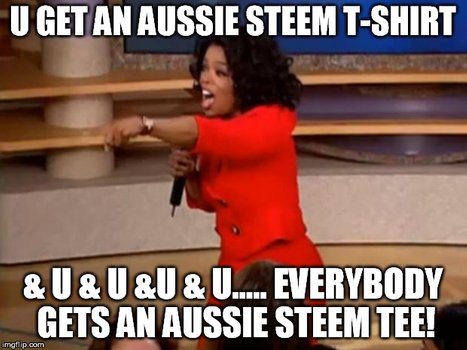 Our prize pool for this competition has had a massive boost! Our generous benefactors have provided the following to be given out as prizes for the Aussie Steem T-Shirt competition:
@jackmiller has given 10 Steem Dollars to fund the winning T-shirt design and printing
@mattclarke has given 20 Steem to be distributed as prizes.
@gohba.handcrafts has given 2 Steem to be distributed as prizes.
This fantastic news means that now we have enough prizes to award the winner, 2nd place and a third place with prizes!
The new prizes will be as follows:
1st Place will receive your own T-Shirt design printed and delivered to your door and 10 STEEM!
2nd Place wil receive 8 STEEM.
3rd Place will receive 4 STEEM.
We now also have our judges selected! They are:
Thanks Judges!
---