Bitcoin Gold Hardfork Prediction Contest Update
My fellow Steemians,
I apologize for the delay in posting this update.
I had promised a 200-steem prize for the giveaway.
Since I did well on some altcoin trades lately, I've decided to give back to the Steemit community by increasing the prize money.
As good as the predictions were, no one had it right. Most predicted bitcoin to go up to the high $6K to $7K before the hard fork, however, it "only" went up to $6177 but it actually corrected right before 10/25 the fork.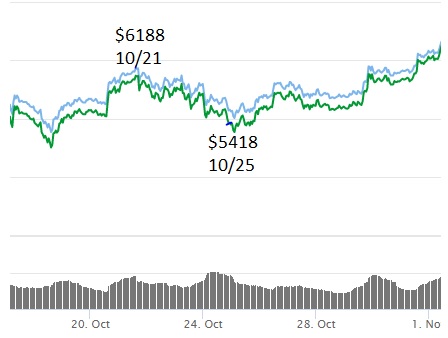 However, price did go up after the fork up pushing close to $7000 ($6730) as November 1st ends.
g-dubs made the closest prediction: "we'll be just shy of $7K come Nov 1, call it $6925"
barcalogia also made a $7K prediction: "BTC $7000 after the fork".
davor27: "[bitcoin] will exceed $7K by the end of this month"
trumpman, your crypto crystal ball was pretty good also "bitcoin will increase and pass the $6000 mark" by 10/25. The highest on 10/25 was $5739.
These are the winners of the contest. I will split 200 Steems to them (50 steems each) but I will also reward all other participants who at least gave it some thought and made a price prediction, no matter how far off they were. These are:
ackza
fred101
realitybytes
dlina-v-metrah
enolife
deimus
pandamama
gold84
Each of you will receive 12.5 steems.
Total prize fund: 300 steems.
Well this has been fun. I look forward to do the next contest.
Let me know if you have any contest ideas whether it is in sports (tennis) or cryptocurrency, as those are the only two subjects I'm most interested in.