NEW CONTEST! "I BUY STEEM" (Competition announcement)
Greetings to all steemians!
I announce a new contest: "I Buy Steem!"
I had the idea to hold such a contest for a long time. But now that the cryptocurrency market is in a correction and the price of Steem has fallen, I think our contest is timely.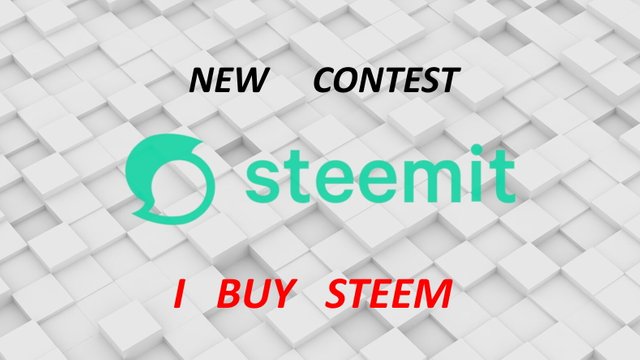 I would like to conduct an experiment and see if we, all Steemians, can unite to influence the growth of our Steem?
If each of us, and preferably very many Steemians, take part in the contest, go to Bittrex, Binance, Gate.io for two weeks and buy Steem there. It doesn't matter how much Steem you buy, what matters is that you bought it and passed it on to Steemit.
Why is it so important to buy on exchanges? To provoke other market participants to buy, so to speak, potential investors. After all, if crypto market participants see that a certain coin is increasing its volume of purchases, it implies that its price is going up, so everybody tries to get involved in this race, like it happens with Doge, for example.
Let's try to provoke this movement with Steem on exchanges - create an enormous demand for Steem!

prize of Steem - $0.79 25.04.21
The competition lasts: from 25.04.21 to 10.05.21 Announcement of the results on May 11, 2021
Contest rules:
Your post title "I buy Steem!"

Your publication must contain screenshots (received 10-1000 Steem from Bittrex.. for example.)

Share your publication on Twitter, tagging @steemit, or on any social network you prefer (you must show screenshot)

Share the link of your publication in a comment
Prize pool:
I place-15 Steem
II place-10 Steem
III place-5 Steem
The winner will be determined by the number of Steem purchased. I also take part in this contest.
I ask for informational support of the curators of national communities:
Cameroon (@njiatanga, @saxopedia), Ghana (@njaywan, @oppongk), Nigeria (@focusnow, @bright-obias, @whitestallion), Uganda (@yohan2on), Mexico (@leveuf), Argentina (@belenguerra, @fendit), Venezuela (@adeljose, @anasuleidy, @edlili24, @mariita52, @tocho2, @albenis, @inspiracion, @wilmer1988), Bangladesh (@rex-sumon, @tarpan, @toufiq777), India (@neerajkr03, @rishabh99946, @sapwood), Indonesia (@anroja, @ernaerningsih, @nazarul, @radjasalman), Japan (@cryptokannon), Pakistan (@rashid001), Sri Lanka (@besticofinder, @randulakoralage), Italy (@girolamomarotta), Russia (@filinpaul, @knopka145), Turkey (@alikoc07), Ukraine (@antorv, @olesia) and New Zealand (@kiwiscanfly).
Please, I invite sponsors:
@xpilar, @xeldal, @enki, @stephenkendal, @bippe, @cryptokannon, @dobartim
Please also support our wonderful team CC:-
@steemitblog
@steemcurator01
@steemcurator02
@booming01
@booming02
@booming03
@booming04
You can use my post: "How to buy Steem on Bittrex?", here: https://steemit.com/hive-110112/@vipnata/how-to-transfer-steem-from-bittrex-manual-with-screenshots
Thank you so much for your reading. Good luck to all!