CoPuppy: A Fantastic and Innovative Ecosystem For Decentralized Finance and Gaming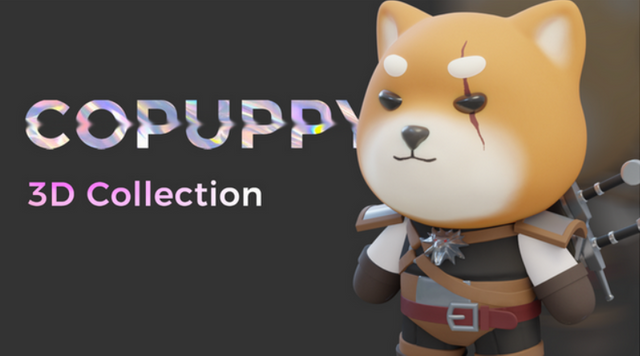 #NFT #BSC #GameFi #Metaverse @BinanceChain @BscProjectOrg @gamestarter_co @news_of_bsc @SmartBSCNews @SmartBSCNews @PlayToEarnGames @YieldGuild
The NFT ecosystem has really taken the place of prominence and originality to the next level with its trading format being put in place. One of its latest features is its amalgamation into the gaming system to attract the economic and gameFi ecosystem. In the article, The platform Copuppy truly achieves and satisfies these demographics and will only further improve on it's creativity and diversity.
CoPuppy is basically a brand new, secure dapp platform based on the BSC (Binance Smart Chain). The platform welcomes various developers in the ecosystem, making and creating the possibility of innovative Decentralized Finance products. CoPuppy is one of the most popular Metaverse programs based on the Binance Smart Chain . The Project entails various sectors such as finance, collectibles, gaming and so on. The platform also has a very unorthodox ecosystem with an economic mechanism, that innovatively merges the present traditional mining and NFTs with the Metaverse and gameFi concept.
THE PLATFORM'S 3D COLLECTION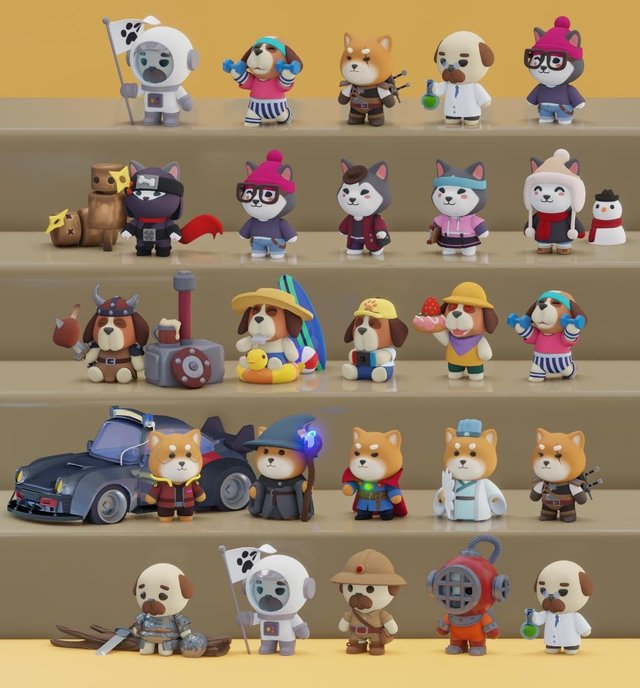 CoPuppy's GENESIS CARD
This Genesis card is basically an NFT based for governance and the foundation of Metaverse. The Genesis card consists of Ten Images of dogs, each of these images are very rare and costly. Users who have obtained the Genesis Card are empowered with the right to presume governance in "Puppy World". Through this, various rights are granted such as bonus, supervision and voting. There are 4 types of Genesis cards which are: Knight, Viking Warrior, Cyberpunk and Ninja.
CoPuppy's Share Card
These Unique Share cards are of Five types which are; R, SR, S, SSR and N. Mystery Boxes must be obtained or gotten in order to access R, SR, S and SSR, while airdrop campaigns on the platform must be accessed before obtaining N cards.
FARMING
Various users on the platform can gain CKEY just by farming and LP deposition. Users can also access the pool and gain CKEY by reserving the single token.
CP TOKEN
CP token is simply the utility token on the platform. By Burning this token, holders can get Non Fungible Tokens (NFTs) and take part in governance, meaning the ecological development of the platform. CP token holders will be granted with a lot of experiences such as streaming mediums, music, movies, games, DeFi system, Build By Puppy Series and so on, to form unorthodox NFTs on the BSC and accomplish ecosystem governance.
CP token's total token supply is 1,000,000,000 units.
CP TOKEN ALLOCATION
Out of the total percentage, 25% is allocated to Puppy battle, where four teams are in the initial battle.
20% is preserved for token liquidity mining.
2% is allocated to the Genesis Card Bonus plan, each of the Ten genesis cards will receive 0.2% of the income.
50% is allocated to the Share Card bonus Plan
3% is reserved for Team Motivation.
ROADMAP
2021:
Development Of Genesis Cards
Share Card Bounty Scheme Release
Puppy Battle Launch
DAO system launch
CoPuppy Alphace Test version launch
Puppy World gameFi pool launch
Leasing of Smart contracts
Privatization Support
2022:
Doggo Finance Release
Puppy World Arena Complete
Puppy World gameFi Accelerator complete
Partnerships
Doggo Finance Expansion
Metaverse GameFi
More Development and Optimization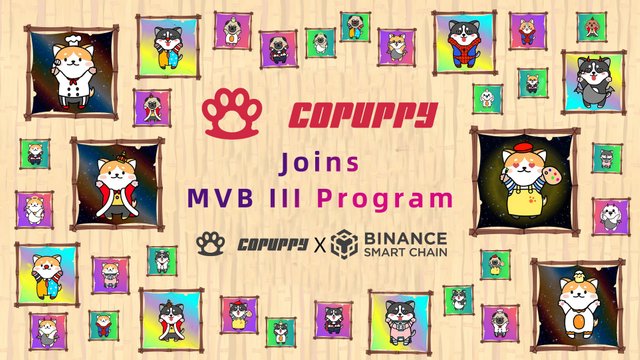 CONCLUSION
CoPuppy platform is a really amazing gameFi platform that really breaks through limits of NFT facilitation. With their various project concepts and BSC partnerships, the platform will transform into a huge decentralized or community based Metaverse Platform comprising various ecologies and projects.
USEFUL LINKS:
Website : https://bsc.copuppy.io/
Twitter : https://twitter.com/CoPuppy_BSC
Telegram : https://t.me/copuppy_bsc
Medium : https://medium.com/copuppy-bsc
Gitbook : https://copuppy-1.gitbook.io/copuppy/
Coinmarkecap : https://coinmarketcap.com/currencies/copuppy/
AUTHOR
Bitcointalk Username: LordTimothy
Bitcointalk Profile Link: https://bitcointalk.org/index.php?action=profile;u=2848178;sa=summary
Bsc Wallet Address: 0x06226dbCd61E2F2d562e5D0088F933e30449bCC3