CoronaVirus Outbreak 65 Million People may Die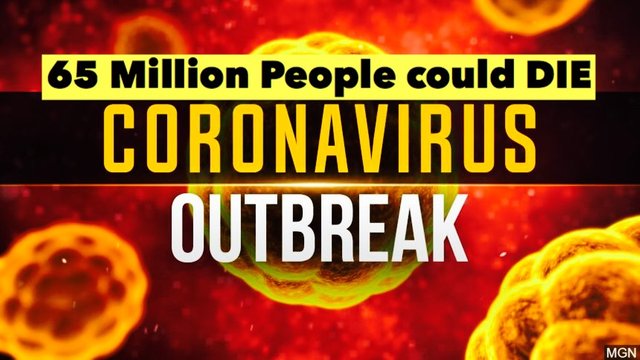 CoronaVirus is spreading out of control in China. More that 10 cities in China are in lockdown. No one can go in or out. Face masks and food are flying off the shelves as each city begins to realize that trucks delivering food may not be allow to enter.
According to some reports over 112,000 people in China has been infected with the novel CoronaVirus. Like past staged Disease Outbreaks, as in HIV, EBOLA, MEASLES AND THE MORE RECENT POLIO VIRUS, the deadly viruses were either released by military labs or transferred by childhood vaccines into the public in order to stir up fear so uneducated people would flock to get vaccinated with Danger Vaccines that contains the Monkey Kidney Cancer Virus SV40 and toxic heavy metals with Aluminum and Mercury preservatives that causes Cancers like Leukemia and brain damage that leads to Autism, ADD, OCD, ADHD, Seizures, Sudden Infant Death Syndrome ( SIDS ) and learning disabilites, very frightening is the life threatening Food Allergies that also appears after multiple vaccines are taken. What doctors are not telling you is that the so called Thimerosal, the deadly mercury-based preservatives are still added to vaccines even though the amount is smaller, especially in the FLU SHOT.
Doctors are suppose to identify and report vaccine injuries like Juvenile Arthritis, Childhood Dementia, Memory Loss, Chronic Fatigue, Seizures, Eczema, Tourette's aka Ticks, Paralysis, Autism, ALS, Multiple Sclerosis ( MS ), Lupus, Asperger syndrome (AS), Fibromyalgia, Measles like symptoms, IBS, Crohns, Colitis, Parkinson's, Microcephaly ( the skull of the child will stop growing while the brain continues to grow. Small head syndrome ), Encephalitis, Type 1 Diabetes and Neuropathy in kids and report these vaccine injuries the the Vaccine Adverse Effect Reportin System ( VAERS ) https://wonder.cdc.gov/vaers.html or https://vaers.hhs.gov/
Your doctors are not trained to diagnose injuries that are caused by vaccines so they will deny any harm inflicte by their vaccine. You need enough evidence to prove that your child was harmed by the Vaccine. I advise every educated parent to film or record their child's personality, movements, daily activies and speech before you take them in for each vaccine to prove that it was the vaccination that harmed your child. Remeber with each added dose the amount of brain damaging aluminum and mercury will accumulate in your child's brain and muscles causing lasting and continuous damage to the nerve endings. This is unlike the Mercury in fish that get taken in and removed by the system. The deadly mercury in vaccines are injected into the bloodstream bypassing all of the child's own normal immune system and goes past the brain's blood brain barrier, lodging in the brain destroying the brain's nerve endings that is used for communication, Autism, anyone?
Health Officials and Authority are usually the last to know when a disease outbreak worsens. Considering that the newly released engineered CoronaVirus from a lab in Wuhan has a more than 14 day incubation period, those that are infected can easily pass this contagious deadly virus to others without knowing it since many of inthose who have died from this virus, half of those did not have symptoms of a fever.
Doctors and the CDC will lie that there is no treatment for the CoronaVirus as China used HIV medication to treat patients living in China.
Funny though that each time one of these staged disease Outbreaks like the Measles, Ebola and Polio that's released by pharma owned drug labs or through toxic vaccines that a NEW VACCINE seems to be in approve stages even before the Virus is realised in to the unkowing public. It may take 6 months to a year to begin making a vaccine but our drug manufacturers seem to already have a toxic CoronVirus vaccine going through approval right now.
With some doctors earning as much as $700,000 per year for promoting vaccines to the less educated parents, these people in the white coats have become puppets for the drug manufacturers and the CDC who are controlled by those who own the banks and the Federal Reserve.
We are seeing schools in the States that have 100% vaccination rate with many kids developing the Measles and Mumps but yet we blame the healthy unvaccinated kids and kick them out of school because their vaccine educated parents decided it was better not infect their kids with diseases via vaccine.
A warning to pregnant women, to not get vaccinated while pregnant as the poisons within the vaccines even the vitamin K shot is laced with brain damaging aluminum, if your child is born mutated or has a brain problem, guess where that comes from? Any toxic gmo foods, unclean fluoridated water and toxins from vaccines and your silver colour amalgam dental fillings will go directly into your unborn child so beware of what you put into your mouth and have injected into your blood stream.
Watch out for the Vitamin K shot and the Hepatitis B Vaccine given to babies who have undeveloped immune systems, they are very senstive to poisons within vaccines. Many babies have gone home, stopped breathing or developed seizures and died while they were in their cribs. When they asked their criminal doctors, they would deny any link to their profit making vaccines. These babies death would be ruled a SIDS DEATH ( Sudden Infant Death Syndrome ). Doctors may accuse that the child got suffocated by their own blakets or even call the police to arrest innocent parents after the vaccines caused an allergic reaction where the body's immune system trigger by the toxic ingredients of the vaccine would create a hyper immune attack to the child or baby's own organs and brain cause the brain to hemmorage, giving a fake excuse to uneducated doctors to blame parents for physically abusing the child leading the brain to bleed.
The Senator Dr. Pan in California has brainwashed politician to believe that toxic cancer causing vaccines are safe for everyone, I'm betting that after he 'mandates' vaccines for all seniors, homeless people, babies and children, he's gonna go after all the adults and that means YOU.
These criminals doctos have created so many antibiotic resistant super virus bugs with their over prescriptions of antibiotics for viral infections that almost all hositals in the United States and Canada are teaming with bad bugs like MRSA. Beware when you go visit family and friends or get surgery there. Nasty.
Never trust anything anyone says especially the CDC, Hospitals and Doctors who's job it is to promote dangerous vaccines and deadly chemotherapy that gives you a more aggresive form of Cancer within 5 years of the treatments. Remember that the Queen of England and the Vatican who rules over Justin Trudeau, Killary, Obummer, Bill Gates, George Soros, Clintons, Bushes, Rockefellers, Rothschilds, PELOSI, the United Nations, NATO, the World Health Organization also control the FED and the Banks who will push NEGATIVE INTEREST rates to do BAIL-INS so that they can legally rob your bank accounts to pay off their own huge debts while they collapse the economies of the world and RESET the dying fiat paper currency. That is while we see so many smart investors and citizens rush into buy PHYSICAL GOLD AND SILVER plus CRYPTOCURRENCIES LIKE BITCOIN, LITECOIN and DIGIBYTE to preserve the value of their saving from plummeting.
The Cures for almost all diseases were already found many decades ago but because those in charge of the drug and vaccine manufacturers want huge profit to keep rolling in, they never taught their doctors how to cure but to use the drug companies' prescription drugs to mask the symptoms of all diseases.
The Cures for Cancer, Diabetes, High Blood Pressure and High Cholesterol are in links below. FREE INFO TO HEAL YOURSELF because your doctors won't for they lose their jobs like Dr. Andrew Wakefield who dare to question the safety of vaccines.
If you are one of the people who still have a working critical thinking mind, please remember to always look at both sides of the story instead of call vaccine educted parents who experienced their child getting vaccine injuries, CRAZY.
If you understood how big this CoronaVirus SCAM is to promote deadly vaccines to parents who are refusing vaccines because they know the truth, you'd realize that their big money making scheme like the Ebola, Measles and Polio outbreaks are for profits not for the safety or health of your kids and your family.
Smart parents and people are boosting their kids immune systems with multivitamins, iodine, cbd oil, vitmain C and lots of clean water and non-gmo organic whole food to help them battle again the man-made CoronaVirus that was release by the LAB in CHINA because their is NO WAY TO STOP this WEAPONIZED VIRUS that will help the PHARMACEUTICAL COMPANIES MAKE $BILLIONS. Remember that your DEAD body is worth more to a hospital than a live one for what they can get for selling off your organs that are gutting from your living body, yes these fresh organ need to be cut out while your are still alive, if you were guillible enough to have filled out an ORGAN DONATION FORM OR CARD.
Keeps hands washed and remind kids to not touch their face with their hands.
Law Abiding Americans and those who live in the West, NEVER, EVER LET GO OF YOUR GUNS AND FIREARMS as that is the only protection that you have against those who control the U.S. shadow government, Banks and Drug Manufacturers who are trying to stop our PRESIDENT TRUMP.
The plan is to cause great chaos worldwide with protests, virus outbreaks and gun confiscations so that the Mafia Illuminati families can bring as many Islamic Muslims into every country to silently conquer your world. In order to bring in their ONE WORLD GOVERMENT that has one global government to control the entire earth's citizens ( NEW WORDL ORDER ), these pedophile groups need to have ONE RELIGION RULE over in every country, they chose Muslim's ISLAM.
This is why you see the polic in France, Sweden and Germany turn their backs on women and children who have been gang raped, beaten and murdered by undocuments illegals, go FREE even afte there is sufficient proof that the undocumented illegal or immigrant attacked and rapped senior citizens. Your police will be order to stand down and ignore your cries for help as the goal is to let as many illegal in, just like what George Soros and the Democrats who are fighting against TRUMP, our president is doing. They are shipping, driving and transporting these illegals right to right to the Canadian and American borders. Many are carrying deadly infectious disease that have long incubation periods.
*All that is in this post is only my own opinion and NOT medical advice as I am NOT a doctor. Please see your own greedy doctor for medical advice.
HEAL YOURSELF BY WATCHING THE VIDEOS BELOW AND REMEMBER THAT YOU SHOULD NOT TRUST ANYONE WITHOUT FIRST DOING YOUR OWN RESEARCH ONLINE ON BOTH SIDES OF THE ISSUE AND FOR VACCCINES, TRY SPEAKING TO A PARENT WHO HAS A VACCINE INJURED CHILD AND FIND OUT HOW THEY WATCH THEIR CHILD REGRESS INTO AUTISM AFTER THEIR VACCINATION.
TRUTH ABOUT VACCINES

TRUTH ABOUT HIGH BLOOD PRESSURE ( HYPERTENSION )

TRUTH ABOUT HIGH CHOLESTEROL

TRUTH ABOUT CANCER episode 1

TRUTH ABOUT CANCER episode 2

VACCINES ARE KILLING CHILDREN CONFIRMS WORLD HEALTH ORGANIZATION

DEADLY MERCURY IN VACCINES IS DANGEROUS