CORONAVIRUS OUTBREAK: DEATH TOLL 17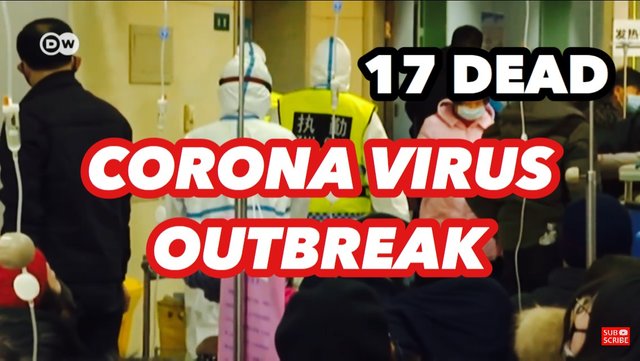 This so called CoronaVirus Outbreak is reportly said to have killed 17 patients and has infected 500 people.
This virus is supposedly transferred through the respiratory tract and is very contagious. So Chinese citizens have been warned not to travel out of their own region in fear of spreading this virus further within the country. During the Chinese Lunary New Year is the only one time for many Chinese get to see their family members that live in other locations of the country.
Hong Kong, Macau, Taiwan, Thailand, Japan, South Korea and now the United States have now reported cases of people infected with the CoronaVirus.
The World Health Organization is meeting today in Geneva to decide whether to declare this so called outbreak as a Global Public Emergency to further force citizens of the world to do what they say.
As reported earlier, this CoronaVirus Outbreak was traced to a Seafood Market in Wuhan, China ( most outbreaks seem to spring from livestock that have give too many doses of antibiotics and created many more super viruses that there is no longer any new antibiotics that can fight it ).
A virologist has said that viruses always mutate and evolve, making the virus stronger.
As it somehow happens that this CoronaVirus was released during this Flu Season making it difficult to determine is you just have a common case of the Flu which can be gotten rid of be drinking plenty of clean water, proper and adequate bed rest plus lots of multivitamins to boost up your immune system so that even if you catch the common Flu or the Flu Strain directly from a Flu Shot that your body can fight it off easily without complications. By the way, for those who do not know or have not done their own thorough research, the Flu Shot actually can give you the Influenza Virus and also plenty of Autoimmune Diseases like Lupus, Arthritis and Alzheimer's because of it's Mercury and Aluminum preservatives because it hyper stimulates your immune system in an unnatural way that your immune system attacks your own organs as in the case of the 'thyroid disease' HASHIMOTOS.
Imagine having the Flu Vaccine developing a memory loss and chronic fatigue from the ingredient within the vaccine then having these symptoms diagnosed incorrectly as the CoronaVirus, what a mess.
Many times in history, viruses have been release into the populations without notification as giant science experiments so that governments can see how many people will die and how many will become sick so that they can weaponize these viruses as war tools.
With the last few staged Measles and Ebola Outbreaks to scare populations into getting vaccinated with these dangerous injections to boost vaccine sales, the United Nations has pushed more money toward the World Health Organization to promote more deadly vaccines 'for your own good' to the uneducated populations, especially in India and Africa.
Remember, with each added vaccine, you body will accumulate higher levels of Toxic Mercury and Aluminum Vaccine preservatives in your muscles and brain when it is not easily gotten rid of by the body as Mercury eat from larger fish.
When you or your child accumulate an amount that your body can no longer handle, you will see side effect like Lupus, Arthritis, Juvenile Arthritis, Alzheimer's Disease, Dementia, Chrohns, Colitis, IBS, Seizures, ADD, ADHD, Autism, ODC (that leads to hording issues), Schizophrenia, Leukemia, Anorexia, Bulimia, Tourette's aka Ticks, Fibromyalgia, Hypertension ( uncontrollable high blood pressure)Chronic Fatigue, Heart Palpitations, Heart Failure, Type 1 Diabetes, Microcephaly (where the skull of the baby stops growing but the brain continues to grow causing mental issue with the baby as it grows up, I call this the small head syndrome), MS, ALS aka Lou Gehrig's disease, SIDS ( where the baby gets vaccinated and the heavy metals in the vaccine damages the brain leading the seizures and the breathing to stop while the baby sleeps and if it happens enough times, the baby will die from the vaccine side effect which your greedy doctors will label as a SIDS DEATH ), Parkinson's, Neuropathy, Paralysis and finally more autoimmune disease, life threatening food allergies and finally death.
All information in this post is not medical advice but just my own opinion. If you suspect that you have contracted the CoronaVirus please see your conventional doctor.
TRUTH ABOUTH VACCINES

TRUTH ABOUT CANCER episdoe 1

TRUTH ABOUT CANCER episdoe 2

TRUTH ABOUT HIGH BLOOD PRESSURE ( HYPERTENSION )

TRUTH ABOUT HIGH CHOLESTEROL

WORLD HEALTH ORGANIZATION ADMITS THAT VACCINES KILL