CORONAVIRUS OUTBREAK: Quarantine of Wuhan City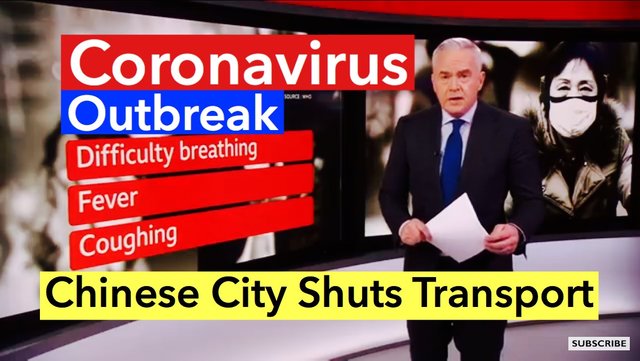 Is this CoronaVirus Outbreak another staged virus scare like the Polio and Measles Outbreaks promoted by mainstream media to sell dangerous vaccines to the world?
Recent reports has it that China has decided to quarantine the mega city of Wuhan ( population 11 million ) by shutting down the transit system in order to stop the spread of the CoronaVirus which has killed 17 people and infected more than 500.
It seems the Global Health Community still does not know too much about this CoronaVirus ( 2019 nCoV ) but yet the Vaccine for this newly appearing virus is on it's way for approval.
The Global Health Community's best guess is that the virus first appeared in bats? Then somehow transferred from animals to human and that human transferred it to another. This virus seems to kill 3% of the people who it infects leaving people with healthy immune systems with less complications.
As Mandatory, involuntary quarantines can be difficult to enforce because every person has places to go and jobs to do. The movement of people usually can't be contained so it would seem to be most logical to boost up people immune system with good nutrition rather than hinder their immune with dangerous vaccines.
The CoronaVirus was first detected in the city of Wuhan at the end of last year and now the first case near Seattle, Washington has been confirmed. This virus has hit Hong Kong and several cities within China, including the Capital Beijing and Shanghai, further cases have been confirmed in South Korea, Japan and Thailand.
Main symptoms of CoronaVirus Infection is breathing difficulties, fever, coughing and in people with lowered immune systems it may lead to Pneumonia, Organ Failure and Death.
If that is the case then boosting up everyone's immune systems to it's peak with a healthy lifestyle programs should be advised:
Eight Cup of Water per day, at least
Proper and adequate Sleep ( be in bed by 9:30 pm as your organ and body repairs itself between 10:00pm-2:00am )
Plenty of Sunshine, at least 20 minutes per day without toxin cancer causing sun tan lotion
Keep active throughout the day as exercising a few hours in the gym does not keep your body healthy
Eat organic non-gmo whole foods that has not been sprayed with Monsanto's Cancer causing weed killer glyphosate
named Roundup
Avoid the Flu Shot and other Vaccines that causes Autoimmune Diseases, Life threatening Food Allergies and Cancers
Avoid too many antibiotics for an infection that is viral as antibiotics were made to fight bacterial infections only.
Antibiotics are anti-life, meaning that they kill many of your normal healthy cells as well as some of the bad ones.
Taking too many antibiotics destroy the gut and that leads to an imbalance of the bacteria in your microbiome and
once you have that imbalance, it will lead to a condition called Leaking gut which leads to many allergies and chronic
diseases.
As there is NO CURE for the CoronaVirus, would it not be better to prevent this disease by getting your body healthier than to catch this disease and to have a healthy immune system to fight it off? Those the CoronaVirus seems less aggressive and not as lethal than the 2002 SARS outbreak ( 800 people killed ) and is harder to identify because the symptoms mimics that of other diseases like that of the common Flu.
As with many port of entries in China, people are just advised to go to their local public health if they suspected that they have the virus.
Still this afternoon, the W.H.O. has yet to decide whether this very contagious but less deadly virus warrants a call for a public national health emergency where in many countries only few people have become infected and less have died.
We know that Outbreaks of the Polio and Measles Virus, even the Ebola Virus did not amount to much as later it was reported that most of the patients were infected by the very vaccines that were suppose to protect them against these diseases and in turn these people with the Vaccine Strain of the Virus, a mutant strain went on to infected other people around them.
I believe the continue spread of this possible man-made virus will not be stopped at any borders of any country because of it's longer than normal incubation period. Infected passengers can pass through border without detection as symptoms may not show up until 2 weeks later.
The United Kingdom is confident that the CoronaVirus will not spread far as long as it is actively being contained and stamped out in China.
But be aware that the CoronaVirus present symptoms that are similar to the common Flu Virus so many patients may be misdiagnosed before an actual determination is made.
Bio security expert for the Global Health Programs says that those living in Britain should be concerned but not overly concerned as this is a novel virus like SARS and MERS and not much is know about it but it does have the potential to infect a lot of people. This experts says to wash your hand to prevent getting this virus.
Anti-virals shoud work in stopping the CoronaVirus except that not much is know of this virus and they don't know what drugs work, YET a vaccine has already been manufactured and being approved, WHAT?
All that is written on this post is just my own opinion and NOT medical advice as I'm not a doctor. Please seek a medical doctor if any symptoms of a disease arises.
TRUTH ABOUT VACCINES

TRUTH ABOUT HIGH BLOOD PRESSURE ( HYPERTENSION )

TRUTH ABOUT HIGH CHOLESTEROL

TRUTH ABOUT CANCER episode 1

TRUTH ABOUT CANCER episode 2

VACCINES ARE KILLING CHILDREN CONFIRMS WORLD HEALTH ORGANIZATION

DEADLY MERCURY IN VACCINES IS DANGEROUS